Motel Hell Collector's Edition Blu-ray Review

Written by Robert Gold

Blu-ray released by Scream Factory
Directed by Kevin Connor
Written by Robert Jaffe and Steven-Charles Jaffe
1980, Region A, 101 minutes, Rated R
Blu-ray released on August 12th, 2014
Starring:
Rory Calhoun as Farmer Vincent
Nancy Parsons as Ida
Nina Axelrod as Terry
Paul Linke as Bruce
Wolfman Jack as Reverend Billy
Elaine Joyce as Edith
Dick Curtis as Guy
Monique St. Pierre as Debbie
Rosanne Katon as Suzi
E. Hampton Beagle as Bob Anderson
Review:
Everybody knows and loves Farmer Vincent's wonderful home-cured meats. From his terrific jerky to his fabulous fritters, heck, the guy is practically a local celebrity. He runs the Motel Hello with his sister Ida, and his younger brother Bruce is the town sheriff. Vincent doesn't have time for fancy distractions and is better suited to quietly farming his land, tending his garden and smoking that special meat. How does he make it so darn delicious? Well, that's private, but I will tease that the secret ingredient is Grade-A American!

Vincent has recently caught the attention of Terry, a beautiful young lady recovering from a motorcycle mishap. She is taken by the kindness of the farmer and his sister and is in no hurry to leave their company. Sheriff Bruce is also smitten by her beauty, but knowing his older brother can be quite pig-headed, he begins to investigate the nature of her "accident" out of jealousy and spite. What he learns will shock everyone to their core, as it appears Vincent and Ida have an unbelievable number of secrets kept buried around the property. Terry defends her man until she can no longer avoid the truth, but by then, it may be too late for her to escape the nightmare that is about to become her life.

Motel Hell is a quirky movie that is as funny as it is scary, yet the horror/comedy hybrid remains a difficult trick to pull off, which makes this film particularly recommendable. If you mix the biting commentary on the evils of consumerism from George Romero's Dawn of the Dead with the pitch-black humor of Tobe Hooper's The Texas Chain Saw Massacre, you get an idea of what you can expect here. Working from a script by brothers Robert and Steven-Charles Jaffe, director Kevin Connor (From Beyond the Grave) brings a European style to the rich American Gothic material, and the results feel like a story taken from the pages of EC Comics' Tales from the Crypt. Conner knows how to balance the genres as he reaches between broad British comedy and the violence of the Grand Guignol.

Rory Calhoun (Angel) and Nancy Parsons (Porky's) are fantastic as Vincent and Ida respectively, and they share a wonderful onscreen chemistry. Both are clearly having fun with the subject matter while they deliver a twisted spin on the ever-important family values push of the 1980s. Nina Axelrod (Time Walker) is the beautiful Terry, whose growing love for Vincent is both touching and believable. Paul Linke (ChiPs) delivers most of the humor as the clueless Sheriff Bruce, and his performance never veers too far into wacky territory to distract. The legendary Wolfman Jack (American Graffiti) makes a welcome appearance as Reverend Billy and sticks around just long enough to get a few quick laughs. Audiences may recognize John Ratzenberger (The Empire Strikes Back) as one of the unfortunate band members up to their necks in trouble. He doesn't have any dialogue, but it is still fun to see the actor in an early appearance before going on to fame in films like House II: The Second Story.

Despite coming out in the middle of the slasher film craze, Motel Hell is unlike many of its cinematic brethren. The dark humor sets it apart from others, but the final act is filled with countless iconic images with which genre fans are quite familiar. The tonal shifts are a little strong at times, but the end results are satisfying. It is nice to see a movie in which every character is motivated by good intentions and nobody sees themselves as villains. Connor and the Jaffe brothers have created something special with Motel Hell and if you haven't seen this before, I suggest checking into it.
Video and Audio:
Motel Hell is presented in the original 1.85:1 aspect ratio and the transfer rescues a lot of information that was lost in previous releases. While there has been some online grousing regarding the source materials, and granted there is some print damage, honestly I can easily say this is the best that the film has ever looked. Wide shots look terrific and there is plenty of small object detail. This is definitely a step up from what I am used to seeing when it comes to this title.

The default DTS-HD MA 2.0 track preserves the original stereo mix, although the entire presentation sounds a bit low, so you'll want to boost the volume levels. While most of the action is dedicated to the center channel, there are some nice directional effects that are quite surprising. Dialogue remains clear and free from distortion and English subtitles are provided for anyone in need.
Special Features:
Director Kevin Connor provides a laid-back, conversational audio commentary moderated by Dave Parker (director of The Hills Run Red), a self-described super fan of Motel Hell. It is nice to hear the director finally get to talk about his work and systematically dismiss the mountain of symbolism attached to certain parts of the film. His comments are entertaining, but he needs occasional prodding from Parker and both are guilty of lapsing into silently watching the movie.

The Jaffe brothers are joined by Kevin Connor in the retrospective featurette It Takes All Kinds (24 minutes), in which the trio discuss the origins of the film and how each became involved. There are plenty of wonderful anecdotes that fans will want to check out. Actor Mark Silver turns up a bit later to describe his role as an unfortunate band member in the garden.

In Shooting Old School (16 minutes), Thomas del Ruth talks about his work as cinematographer on the film and reflects on some of the difficulties of the production and how it would be shot differently today.

Ida Be Thy Name (18 minutes) is a panel discussion (featuring film critic Shelagh Rowan-Legg and commentator Staci Layne Wilson) similar to the one that appeared on the recent Ginger Snaps Blu-ray. It is a somewhat confused piece that analyzes the role of women in genre films, particularly as villains. While there are some nice reflections on feminism in horror and how society is to blame for the stereotypes assigned to behavior and body type, some of the panel are a bit underqualified to properly contribute and end up sidelining things a bit. On the whole, the piece is fine but breaks no new ground, as the sources merely parrot back information culled from noted scholars.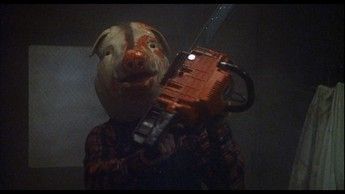 Paul Linke has a lot to say of his role as Sheriff Bruce in Another Head on the Chopping Block (15 minutes). The actor is happy that people remember the film, but doesn't take things too seriously after 34 years. He discusses the difficulties of filming the chainsaw fight and his initial reactions to a first screening.

Rosanne Katon talks about her part in the film as well as her time as a Playboy Playmate (1978) in From Glamour to Gore (11 minutes). She has nothing but nice things to say about her co-stars and offers some background on how she got into acting.

Two galleries of still photographs provide a look behind the scenes (19 images) and at the marketing campaign (132 images) including assorted posters and lobby cards.

The trailer for Motel Hell is joined by additional titles available from Scream Factory including: Without Warning, The Funhouse, Terror Train and The Fog.
Grades:

Movie:


Video:
Audio:
Features:
Overall:
This page includes affiliate links where Horror DNA may receive a small commission at no extra cost to you.