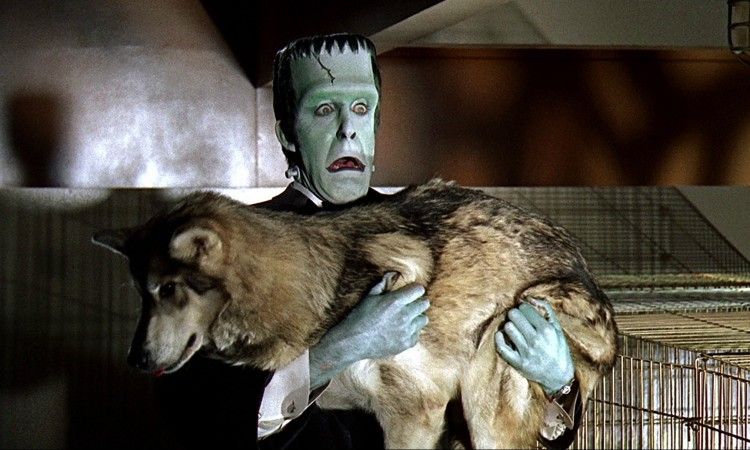 Munster, Go Home! Blu-ray Review
Written by Robert Gold
Blu-ray released by Scream Factory
Directed by Earl Bellamy
Written by George Tibbles, Joe Connelly and Bob Mosher
1966, 97 minutes, Not Rated
Released on March 31st, 2020
Starring:
Fred Gwynne as Herman Munster
Yvonne De Carlo as Lily Munster
Al Lewis as Grandpa
Butch Patrick as Eddie
Debbie Watson as Marilyn
Terry-Thomas as Freddie Munster
Robert Pine as Roger Moresby
Review:
Herman Munster inherits a castle from his late uncle and packs up the family to claim his title as the new lord of Munster Hall in England. His beloved wife Lily, Grandpa, young Eddie and their niece Marilyn are all onboard for this madcap adventure that begins with a lengthy ocean voyage. On the ship, Marilyn meets Roger, a handsome race car driver who is immediately taken by her beauty. When the Munsters reach their destination, their relatives are less than eager to share the wealth. Cousin Freddie throws tantrums that he wasn't named lord of the manor and plots with his sister Grace and their mother Lady Effigie to get rid of the Americans and assume the title himself. Munster Hall holds a secret that the Brits are desperate to protect and when their attempts to scare Herman off fail, they encourage him to enter an upcoming car race in hopes of killing him outright.
The Munsters had a successful run on television from 1964-1966, which led to the theatrical movie spinoff Munster, Go Home!. Unlike the black-and-white series, the feature was shot in vibrant Technicolor allowing audiences to see the characters like never before. In case you are unfamiliar with the show, the concept is simple: a family of monsters lives in the suburbs and get into weekly comic misadventures. Herman is a Frankenstein monster, Grandpa and Lily are vampires and Eddie is a youthful werewolf. One of the running gags is that all-American beauty Marilyn is deemed physically unattractive in their eyes, so they try to build up her self-esteem.
Most of the original TV cast reunites for the feature and it is great seeing the gang back together. Fred Gwynne (Pet Sematary) stars as Herman Munster, the gentle giant buffoon with an infectious sense of humor. Gwynne has excellent comic timing and carries the picture with ease. Herman may be physically intimidating, but is really a big-hearted innocent. Yvonne De Carlo (Play Dead) co-stars as doting wife Lily, the most responsible member of the family. She is frequently the voice of reason whenever Herman gets into trouble. Gwynne's best scenes are opposite Al Lewis (Used Cars), with whom he previously co-starred on the series Car 54, Where Are You? Lewis plays Grandpa, whose shenanigans are frequently the cause of Herman's plight. Butch Patrick (The Phantom Tollbooth) returns as Eddie Munster, the happy-go-lucky monster kid. Replacing Pat Priest in the role of Marilyn is Debbie Watson (The Cool Ones), who holds her own playing it straight to all of the hijinks.
The solid supporting cast is filled with familiar faces, starting with Terry-Thomas (Vault of Horror) as the silly antagonist Freddie Munster and Hermione Gingold (Bell, Book and Candle) as his scheming mother. Robert Pine (CHiPs) is Marilyn's love interest, Roger, and Bernard Fox (Bewitched) plays his uptight father Squire Moresby. The legendary John Carradine (The Howling) disappears into the role of Cruikshank the servant and Richard Dawson (Hogan's Heroes) plays one of the locals at the heart of the secret of Munster Hall.
Munster, Go Home! is light-hearted family entertainment that plays like an extended episode of the series. Growing up I enjoyed reruns of The Munsters, and I am pleased to find this film full of energy and a fair number of laughs. It is weird seeing everyone in color, but that just makes the big screen leap all the more fun. Herman is green, as expected, but oddly so are Lily, Grandpa and Eddie, but this is just a minor quibble. Many years later, Gwynne, Lewis and De Carlo would reunite for the made-for-television movie The Munsters' Revenge (1981), which is included on this disc as a bonus feature. The original show has become part of the pop culture lexicon and has a dedicated fan base that spans generations.
Video and Audio:
Presented in the 1.85:1 aspect ratio and sourced from an older HD master, the picture quality is striking. Colors are well-saturated and pop off the screen as only Technicolor films can. The image is bright and cheery and filled with small-object detail, particularly in hair and fibers.
The DTS-HD MA 2.0 mix gets the job done with crisp dialogue levels that are clear and always understandable. Optional English subtitles are included for anyone in need.
Special Features:
In a newly-recorded audio commentary, actor Butch Patrick (Eddie Munster) shares his memories of working on the original series and how it changed his life. He tells many great stories about his co-stars, the production of this feature film and the decision to replace Pat Priest as Marilyn. He reflects on the legacy of the program and how it affects audiences. Patrick is joined by super fan/musician Rob Zombie and moderator Justin Beahm, who ask great questions and share trivia about the show.
Bonus feature: The Munster's Revenge (1981, 96 minutes), starring Fred Gwynne, Al Lewis and Yvonne De Carlo, is included. In the film, the local wax museum has figures of the Munster family, but what nobody knows is they are really automatons programmed to commit crimes. Herman and Grandpa find themselves at the center of a jewel heist and must clear their names in time for the big Halloween party!
A collection of vintage radio interviews (17 minutes) with cast members Gwynne, De Carlo, Lewis and Debbie Watson take a few minutes to promote the upcoming feature Munster, Go Home!
The theatrical trailer is paired with four radio ads.
There are three still galleries for Munster, Go Home! – the first is an exhaustive spread of publicity shots and production stills in color and black and white (12 minutes). Next is a selection of promotional images and behind-the-scenes photos (4 minutes), and finally a poster gallery (5 minutes) featuring international poster art and lobby cards.
A separate gallery for Munster's Revenge (6 minutes) contains promotional images and publicity stills.
Grades:

Movie:


Video:
Audio:
Features:
Overall:
This page includes affiliate links where Horror DNA may receive a small commission at no extra cost to you.