Mutants DVD Review

Written by Daniel Benson

DVD released by Momentum Pictures
Directed by David Morlet
Written by David Morlet and Louis-Paul Desanges
2009, Region 2, 85 minutes, Rated 18 (UK)
DVD released on May 10th, 2010

Starring:
Hélène de Fougerolles as Sonia
Francis Renaud as Marco
Dida Diafat as Virgile
Marie-Sohna Conde as Perez
Nicolas Briançon as Franck
Review:
Oh shaky-cam, how I hate thee. You dance hand-in-hand through the meadows of "running zombie" movies and in most cases detract from an otherwise entertaining experience. Couldn't you two just, for once, spend some time apart and let us viewers see what's going on during zombie attack scenes?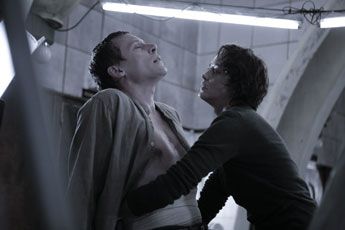 Irritating camera-work aside, David Morlet's Mutants is a refreshing addition to the increasingly popular 'infected' horror genre. Momentum, to their credit, haven't shoe-horned the word "zombie" into the title as they did with previous releases (Zombie Virus on) Mulberry Street and Automaton/Zombie Transfusion.
Set right in the midst of an outbreak of virus unknown, Mutants finds paramedic Sonia (Hélène de Fougerolles), boyfriend Marco (Francis Renaud) and female SWAT team member Perez (Marie-Sohna Conde) tearing through the countryside in an ambulance while attempting to revive a patient suffering from the virus. When that attempt fails there's only one option; Perez drags him outside and shoots him in the head.
The opening scenes set the tone perfectly for this French language horror thriller. Fear, anger, distrust and a desire to survive all pump through the veins of the central characters. Sonia has heard radio broadcasts from an army base called NOAH where she believes salvation lies for her and boyfriend Marco. And her natural immunity to the virus gives her hope that a cure can be created from her blood.
The second act emerges as the strongest part of the film, as Marco inevitably suffers a bite from an infected attacker while they take refuge in a large abandoned industrial building. The virus causes a gradual decline, both physically and mentally, and Sonia has to cope with her loved one dying more each day. The scenes between the two are completely heart-wrenching and utterly mesmerising as Sonia has to choose between killing Marco painlessly by lethal injection or keeping him contained until she can get him help. It's a fantastic alternative to focus on the raw emotion of the circumstances rather than opt for straightforward blood and guts.
That's not to say this film is light on gore. The final act sees the arrival of a small group of survivors to the building, closely followed by a larger group of the film's main antagonists. It's a battle to the death for the remaining humans, creating a series of brutal and bloody confrontations before the final curtain.

While it's not massive on originality, Mutants is extremely well-paced with just the right mix of terrifying violence and thought-provoking emotion. Think 28 Days/Weeks Later mixed with the best psychological elements of Haute Tension and you'll be somewhere near to this highly recommended slice of Euro-horror.
Video and Audio:

The French 5.1 surround track is extremely well-balanced and makes subtle use of the rears to create an immersive sound. The picture is clear and pin-sharp and given that the scenes are either in the snow-covered landscape of outdoors or the dark recesses of the building's interior, there are no signs of colour bleed or compression artefacts.


The English subtitles are clear, easy to read and well translated.
Special Features:
The disc starts by playing trailers for previous Momentum Releases Zombie Virus on Mulberry Street, Zombie Transfusion and forthcoming The Crazies (remake). The only extra presented on the menu is a trailer for the feature.
| | |
| --- | --- |
| Grades: | |
| Movie: | |
| Video: | |
| Audio: | |
| Features: | |
| Overall: | |
Click cover to purchase.
This page includes affiliate links where Horror DNA may receive a small commission at no extra cost to you.