One Cut of the Dead Movie Review
Written by Stuart D. Monroe
Released by Shudder and Variance Films
Written and directed by Shin'ichirô Ueda
2017, 96 minutes, Not Rated
Released on September 13th, 2019
Starring:
Takayuki Hamatsu as Director Higurashi
Yuzuki Akiyama as Chinatsu
Harumi Shuhama as Nao
Kazuaki Nagaya as Ko
Hiroshi Ichihara as Kasahara
Mao as Mao
Review:
Movies like One Cut of the Dead are why we're so damn in love with indie filmmaking, regardless of the genre. There's patience required – you have to ride the schizophrenic elevator of up and down responses and give it a chance to reveal all of the secrets and subtleties within. The cult following and veil of secrecy it picked up on the festival circuit (since 2017!) are well deserved and hard-earned. Prepare yourself.
One Cut of the Dead is the tale of a microbudget film crew and their experience shooting a Z-grade zombie film in Japan. The obsessed Director Higurashi (Takayuki Hamatsu) uses nefarious means to summon the actual living dead in order to give his film that authentic feel. The action plays out like a late '90s arcade ripoff of Resident Evil, complete with shaky cam and motion sickness.
At least, that's the first thing you see. The real story is a classic three act play that toys with your notions of what filmmaking is really all about. Soon enough, the credits roll and you're scratching your head until we turn back the clock to see the pre-production leading up to the manic, messy gorefest. It's slower moving stuff that allows you to get to know the wide variety of people in the ragtag crew pouring their heart and soul into the bold vision of a one cut, live streaming TV show on a zombie-themed cable TV network. Talk about pressure! The final act takes you back to the beginning again, only this time you're viewing it from the perspective of the crew with all the twists, turns, and screw-ups that are the truth of guerrilla filmmaking on a shoestring budget.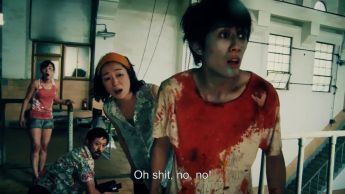 One Cut of the Dead is a film that builds a relationship with you, an experience laden with surprising laughs and genuine inspiration. It's a filmmaker's film that's made for the cinephiles, writers, actors, and those whose cathedral isn't a church but a theater. I screened this with my 15-year-old daughter, a "theater nerd" and actress who's been worshipping by my side in said cathedral practically since birth. If I could find the words to do justice to her response, it would serve as the perfect review. As it is, my pale ghost of verbal praise will have to do.
The first and third acts are easily the most rewarding and fun, but that's not to say that the middle portion is without merit. The slower pace is the real-life stuff that dreams stand on, and in that way it's the most important piece despite the lowered entertainment value. The entirety is not a work of polish or shine; it wears guerrilla cred like a badge of honor and gives new meaning to improvisation.
Where One Cut of the Dead truly excels is in how well thought out and plotted it is. The word clever gets overused to a nearly criminal degree in film review, but the precision of the writing is a thing of cinematic beauty. That "behind the camera" third act gives you all the crazy work happening just out of sight. It vacillates between whimsical and balls-out hilarious. Any filmmaker out there can tell you that it's also painfully truthful.
The performances are hammy and over-the-top, but not without their merit. Everyone involved is giving their all. Takayuki Hamatsu drives the narrative as the director and even gets a lovely and heartwarming subplot. The TV executives are so stereotypical and clueless that you'll piss yourself laughing. The location of the zombie portions is also a highlight, lending just the right amount of legitimate horror flavor and eerie ambience. I'd love to see a "serious" movie filmed there; the place drips with menace.
One Cut of the Dead is a love letter to guerrilla filmmaking and independent film, an anomaly that asks you for some patience and rewards you with a viewing experience that you'll give you a feeling of having discovered something that you'll want to tell everyone about.
God, I wish George A. Romero were alive to see this. His rebel spirit shines in One Cut of the Dead.
This page includes affiliate links where Horror DNA may receive a small commission at no extra cost to you.