One Hour Photo Blu-ray Review
Written by James Ferguson
Blu-ray released by 20th Century Fox Home Entertainment
Written and directed by Mark Romanek
2002, Region A, 96 Minutes, Rated R
Blu-Ray released on May 7th, 2013

Starring
Robin Williams as Sy Parrish
Connie Nielsen as Nina Yorkin
Michael Vartan as Will Yorkin
Dylan Smith as Jake Yorkin
Erin Daniels as Maya Burson
Gary Cole as Bill Owens
Review:
There are some films that stick with you long after you've first watched them. One Hour Photo is one of those films. There was something about it that was disturbing enough to make me simultaneously love it and not want to watch it again for a little while. It's been several years since I last saw the movie and with its Blu-ray release, it was a good time to check it out once more.

The film centers on Sy Parrish (Robin Williams), or "Sy the Photo Guy" to the locals. His entire life revolves around his job printing pictures at a local SavMart. He's been doing this work for over a decade and he's come to know some of the regulars, including the Yorkin family. Nina (Connie Nielsen) and her son Jake (Dylan Smith) are in the store frequently to get film developed. As a result, Sy has witnessed little moments of their lives for the past few years. He's seen Jake grow up in snapshots. This sounds wholesome, but Sy develops an obsession with the Yorkins. He begins to see himself as a member of their family. Good 'ol Uncle Sy. This starts out subtle with Sy giving Jake a free camera for his birthday, but it grows into something very scary as he gets more and more attached.
Sy's story is one of loneliness. You pity him early in the film. He truly loves the Yorkins, but that love is not returned. He seems okay with admiring them from afar at first, but as events unfold, Sy's world begins to fall apart. He was able to hold this obsession in check for some time, but that was with a careful and organized lifestyle. When that gets disrupted, he starts to lose control, transforming into a monster of a man capable of heinous acts.
Robin Williams gives a tremendous performance as Sy Parrish. Anyone popping in One Hour Photo expecting a zany comedy from the star of Mork & Mindy will be sadly disappointed and probably a little uncomfortable. This is a Robin Williams that is serious and contained. After seeing the man's standup and interviews, this must have been an astonishing exercise in constraint. Granted, WIlliams had done serious roles before this, but his performance in One Hour Photo stands out. It's never seen on the screen, but you know that right after the cameras finished rolling, Williams started bouncing off the walls.
The Yorkins are a very average family. There is nothing out of the ordinary or special about them. They're not overly attractive or super interesting. This makes Sy's obsession with them all the more creepier because he could have latched on to almost any group of people.
Director Mark Romanek presents One Hour Photo as a very sterile environment. Sy's world is clean and everything is in its place. The SavMart looks like it could have been a hospital wing. The florescent lighting makes it so Sy is practically invisible. He almost blends into the background with his pale skin and light colored hair.
A bit of the terror is taken out of the film towards the end when writer/director Mark Romanek tries to explain the reasons for Sy's tendencies, but the story works better without these little tidbits. It's scarier to think that Sy did all this for no discernible reason. Attempting to humanize the character at that point feels like a last ditch effort to give him some sympathy.
One Hour Photo is a downright chilling film that came out at just the right time. It's not a movie that could be made today with the advent of digital cameras and smartphones. There's a whole generation of people that will not understand the reason for Sy's job in the first place. That being said, the film can leave a lasting effect, causing you to rethink the everyday interactions you have with strangers. Is the guy at the deli or the local coffee shop secretly stalking you? Is your kid's doctor keeping a file on you? Is the custodian at your office keeping a special collection of your discarded sandwich wrappers? You probably weren't thinking of these things before, but after seeing One Hour Photo these are the types of paranoid ideas that can pop into your head.
Video and Audio:
The video quality of this disc is superb. As mentioned above, the lighting is a big part of the look and feel of One Hour Photo and it looks great on this Blu-ray. Everything is very clear and clean with no blemishes.
The audio is in HD of course, but this isn't really the kind of film that you're cranking the surround sound for. You're watching this for what's on the screen, not what's coming out of the speakers. It's good and it does its job, but this isn't a disc I'd pop in to show off my speaker setup.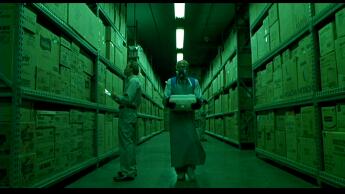 Special Features:
Fox crammed a lot of bonus content onto this, including a load of features that were not included on the previous DVD release. The content is broken up into three segments: pre-production, production, and post-production. The original features are included here such as the commentary with Mark Romanek and Robin Williams, the Cinemax featurette, an Anatomy of a Scene from Sundance, and Charlie Rose Show interview. In addition to these, there are vignettes on the scouting of the film, cast rehearsals, and more. My favorite piece was a look at Sy's nightmare scene where blood pours from his eyes. The different layers of the shot are shown without commentary so you can see exactly how it was put together. All in all, this disc is filled with content that's perfect for anyone that's interested in how a film like this can come together.
Grades:

Movie:




Video:
Audio:
Features:
Overall:
This page includes affiliate links where Horror DNA may receive a small commission at no extra cost to you.