One Hour Photo DVD Review
Written by Steve Pattee
DVD released by 20th Century Fox
Written and directed by Mark Romanek
2002, Region 1 (NTSC), 96 minutes, Rated R
DVD released on February 18th, 2003
Starring:
Robin Williams as Seymour Parrish
Connie Nielsen as Nina Yorkin
Michael Vartan as Will Yorkin
Dylan Smith as Jakob Yorkin
Erin Daniels as Maya Burson
Paul H. Kim as Yoshi Araki
Gary Cole as Bill Owens
Movie:
Robin Williams (Insomnia, Death to Smootchy) plays lonely Seymour "Sy" Parrish, a one hour photo technician at the Savmart super store. Sy has worked for Savmart for 11 or 12 years and he knows his stuff about film developing. Old Sy is the epitome of anal retentive when it comes to film developing because, as Sy says, "If pictures have anything to say, it's this: I was here, I existed. I was young and happy and someone cared enough about me to take my picture."
Nina Yorkin (Connie Nielsen – Gladiator, Mission to Mars) has been dropping off her family's film at Sy's lab for about 9 years. Sy has watched little Jakob (Dylan Smith) grow from a baby through the pictures he has developed for the Yorkin family. Sy likes to think of himself as Uncle Sy to the Yorkins. The Yorkins like think of Sy as only "Sy the photo guy". Apparently there are two very different opinions of Sy's place in the Yorkin family.
By all appearances, the Yorkins seem to be a very happy family. Will Yorkin (Michael Vartin – Never Been Kissed, The Curve) owns his own business and provides well for the family. Nina is a loving mother and Dylan is a sensitive and caring kid. But, as we all know, appearances can be deceiving. It seems that the Yorkins aren't as happy as their pictures show and there is a problem with the marriage. But do not fret! Old Sy knows everything and he intends to punish those who need to be punished.
So sit back, relax and grab your drinks and snacks because this movie is going to take you for a ride into madness.
Review:
Let me start with this: I have never liked Robin Williams. I have never felt he was even remotely humorous. I hated him on Mork and Mindy. I hated those stupid Comic Relief specials. I hated Mrs. Doubtfire. I hated The Birdcage. I almost hated him in Dead Poets Society, but I found I only mildly disliked him. Insomnia started to bring me around, but I've harbored a lot of hate for the man over the years.
Until One Hour Photo.
Holy cow, Robin Williams' performance is astoundingly good. Amazing even. Williams is so contained in this movie that I actually forgot it was the hated Robin Williams I was watching. Not only is his acting perfect, but the voiceovers he does throughout the movie are very well done. His voice is very soothing and easy to listen to. I can easily say that while the other actors in this movie did well, this movie would not have been nearly as good without Williams.
The scenes between Connie Nielsen and Robin Williams are terrifically awkward. Some of the scenes that these two did that made me squirm in my seat. At one point I felt like yelling at the television. Williams and Nielsen worked great together.
Also, I was very pleased with Dylan Smith's performance of Jakob Yorkin considering this is his first major role in a motion picture. Actually, other than "Kid #2" on an episode of Gilmore Girls in 2000, One Hour has been his only role. Watch for Dylan in the upcoming The Pirates of the Caribbean.
I also have to mention Gary Cole (Office Space, The Gift) performance. When I first saw the movie, I was happy to see Cole was in it. He has been one of my favorite actors to watch ever since I saw him on TV's "American Gothic". Cole plays Mr. Owens, Sy's manager, and the two have a few very uncomfortable interactions throughout the movie. Gary Cole nails the retail manager (as he nails the office manager in Office Space).
Video and Audio:
One Hour Photo is presented in 1.85:1 Anamorphic Widescreen and it looks good. Mark Romanek really used color well in this movie. From dark greens to crisp whites, the color spectrum was all over the place. I don't know how much, if any, influence Michael Mann had on Romanek, but Romanek's style is very similar to Mann's and that is a good thing. I found myself noticing several great shots throughout the movie. I am already looking forward to Romanek's next film because this guy already has a style of his own.
I have no complaints on the sound. There were no distortions, pops or cracks. The dialog was crisp and clear. The DVD offers 5.1 Dolby Surround (English) and Dolby Suround (Spanish and French). English and Spanish subtitles are offered as well.
Special Features:
Commentary with Mark Romanek (Writer/Director) and Robin Williams.
"Anatomy of a Scene" Sundance Channel Featurette
Cinemax "Making Of" Featurette
"The Charlie Rose Show" Interview with Robin Williams and Mark Romanek
Theatrical Trailer and TV Spots
Starting from the top, the commentary is very good. Romanek and Williams are very informative and at times Williams even made me laugh. Probably the first time ever. Nonetheless, it's a decent commentary and well worth a listen, too.
"Anatomy of a Scene" is a well done and informative 30-minute special dissecting a scene in which Sy meets Will Yorkin for the first time. The special covers everything from costumes to lighting. A great watch.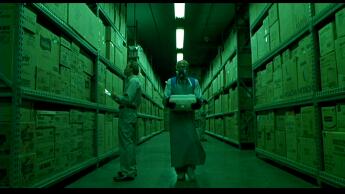 Generally, "Making Of" featurettes are pretty boring advertisement fluff. The one provided on this DVD is almost boring, but there are a few interesting tidbits that make it worth watching.
The Charlie Rose interview is very disappointing. It is all about Robin Williams trying to be funny and Charlie Rose playing along. Poor Mark Romanek just sat there waiting to be interviewed. At one point, the camera pans in on Romanek and he has a look on his face that is total disbelief. There are a few interesting tidbits in the interview, but for the most part it is a waste. Unless you think Robin Williams is funny. Which he's not.
The television spots are interesting to watch before and after the movie because of the way they portray the movie. The spots make it as if Sy is this sweet guy during the day, but at night he becomes ultra-violent. It's actually kind of humerous on how badly the spots portray the movie.
Grades:

Movie:


Video:
Audio:
Features:
Overall:
This page includes affiliate links where Horror DNA may receive a small commission at no extra cost to you.