Osombie DVD Review

Written by James Ferguson

DVD released by Entertainment One
Directed by John Lyde
Written by Kurt Hale
2012, Region 1 NTSC, 94 Minutes, Not Rated
DVD released on December 11th, 2012

Starring:
Corey Sevier as Chip
Eve Mauro as Dusty
Jasen Wade as Derek
Matthew Reese as DC
Danielle Chuchran as Tomboy
Paul D. Hunt as Joker
Ben Urie as Doc
Will Rubio as Cheapo
Review:
The world witnessed the closest thing to a super villain it's going to see since Adolf Hitler when Osama Bin Laden walked the earth. Now that he's been shot dead by a group of Navy Seals, what could possibly make it worse? Him coming back to life as a zombie, of course. Such is the case with Osombie.

A conspiracy theorist named Derek (Jasen Wade) is convinced that Bin Laden is still alive and sets out to wage a one-man-war against the terrorist, putting him down once and for all. His sister Dusty (Eve Mauro) goes looking for him in the deserts of Afghanistan and runs into a group of special forces soldiers on a secret assignment. You can probably guess what the assignment is. Despite having no training and providing little to no help outside of being eye candy, Dusty joins up with the soldiers.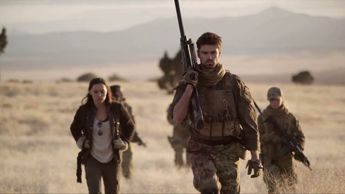 The group quickly learns that Bin Laden isn't the only member of Al Queda that's been brought back to life. There's a horde of zombies roaming the desert so the soldiers have to carefully work their way through the area to get to their target. This leads to a lot of undead slaughter as these guys slice, shoot, blow up, and karate chop their opponents.

The story for Osombie would have worked with the soldiers alone. Adding in Dusty and her half-wit brother Derek is unnecessary and adds a vein of comic relief to the film that feels completely out of place. Granted, the premise alone is a bit silly, but if handled with some more care it would have made the movie much more intriguing. As it stands, there's a forced love interest thrown into the group in a completely unbelievable way.

The fact that Derek got as far as he did and was able to survive is ridiculous. I'm far from an expert in covert or foreign affairs or even basic armed combat, but I don't understand how an untrained civilian could have made it out to the middle of Afghanistan even if he had a lot of cash to work with.


The soldiers are rather rough around the edges, falling into various army stereotypes. They're all tough as nails. They curse a lot and make gay jokes, even as they're boxing with no shirts on. Tomboy (Danielle Chuchran), the lone female soldier, has a samurai sword for some reason and actually says the line "I was supposed to have your babies." Joker (Paul D. Hunt) is the funny one of the bunch of course. DC (Matthew Reese) has a hilarious story about how he got his nickname. All of this and more is shared on their journey through the scenic landscape of Afghanistan. It's like Lord of the Rings with guns.

Zombies get dropped left and right in Osombie, but there is very little in the way of makeup effects. Instead the filmmakers opted to use CGI blood splatter and explosions, which really take away from the fight scenes. The film would have looked a lot better if they at least used some fake blood instead of the computer graphics that pop out of the zombie's skulls.

Osombie takes a pretty decent idea and doesn't expand upon it much. Bringing Osama Bin Laden back from the dead as a zombie makes sense, but he's barely in the movie. He shows up at the end after the soldiers have fought their way through a bunch of Al Queda to get to the cave where their leader is holed up. It's an average zombie movie with forgettable characters. It's something you can turn on if you just want to have some undead slaying playing in the background, sort of like a Halloween Yule Log.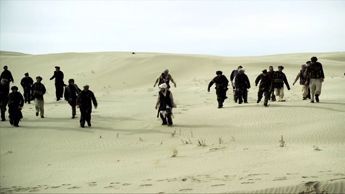 Video and Audio:
Osombie is presented in widescreen format with 5.1 Dolby Digital surround sound. Everything looks and sounds alright, but the aforementioned CGI blood and explosions stand out like a sore thumb. The film could use a bit more polish.
Special Features:
The only special feature included on the DVD release is a trailer for the film. Meh.
Grades:

Movie:
Video:
Audio:
Features:
Overall:
This page includes affiliate links where Horror DNA may receive a small commission at no extra cost to you.