Pale Blood Blu-ray Review
Written by Robert Gold
Blu-ray released by Vinegar Syndrome
Directed by VV Dachin Hsu and Michael W. Leighton
Written by Takashi Matsuoka and VV Dachin Hsu
1990, 93 minutes, Rated R
Released on May 26th, 2020
Starring:
George Chakiris as Michael Fury
Wings Hauser as Van
Pamela Ludwig as Lori
Diana Frank as Jenny
Darcy DeMoss as Cherry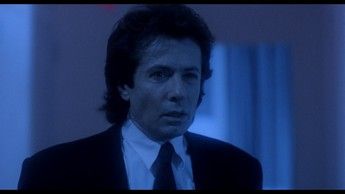 Review:
Someone in Los Angeles is killing women and draining them of their blood. The puncture wounds on their necks lead the press to dub the perpetrator "The Vampire Killer". He has claimed three victims so far and shows no sign of stopping. The crimes have caught the attention of the mysterious Michael Fury, who hires a researcher named Lori from a local detective agency to provide him with information. He has just arrived in the city and meets her for the first time at the latest crime scene where a corpse has been found in a display window downtown. Michael returns later that night to investigate when he happens upon Van, an ambitious artist/videographer documenting the scene.
We quickly learn that Michael is a vampire who differs from the lore in that he doesn't kill his victims, rather he feeds off of them sparingly, taking just enough blood to survive. He uses mind control to wipe their memories and keeps his true identity secret. He is intent on putting a stop to the murders and to expose the killer to be nothing more than a very human madman. Lori is obsessed with vampires and is intrigued by his curious mannerisms. Michael's latest prey is a lovely young woman named Jenny, who, along with her friend Cherry, is a model working for Van on his latest project. It isn't long before the killer's identity is revealed and Michael faces a foe with a dangerous plan.
Pale Blood is a high-concept tale of vampire versus serial killer using Los Angeles as a backdrop. Co-written by Takashi Matsuoka and director VV Dachin Hsu, the film places a contemporary spin on the material and introduces new elements to the classic mythos. Michael Fury may be a creature of the night, but he lives by a strong moral code not to kill. He isn't one to flash his powers unnecessarily, as he is prone to fly commercial and travel by taxi. His only luggage is a collapsible valise coffin that he keeps in his unfurnished rental condo. His nemesis is a calculating psychopath whose bloodlust is growing as he sets out to document and capture a real vampire.
Performances are generally strong, especially Wings Hauser (Vice Squad) as Van, filling the role with electricity and walking away with the picture. He dominates his screen time and is clearly having a blast with all of the character's idiosyncrasies. George Chakiris (West Side Story) stars as Michael Fury, the charismatic vampire of intense stares and few words. He does a fine job and has a good look, though close-ups are not too forgiving when revealing the heavy make-up designed to make him appear more youthful. Pamela Ludwig (Over the Edge) co-stars as Lori, the determined investigator obsessed with the supernatural. She has visions of the previous victims and is somehow capable of telepathically sharing them with Michael. Ludwig and Chakiris work well together and their relationship feels natural. Supporting players Diana Frank (Dead of Night) and Darcy DeMoss (Friday the 13th Part VI) play potential victims Jenny and Cherry, though the latter mysteriously vanishes from the third act without explanation.
The film is a time capsule of 1990s Los Angeles, featuring extensive shots of night life around the city. Cinematographer Gerry Lively (Return of the Living Dead III) brings a lot to the table with his bold lighting design and creative camera work. There's plenty of brightly lit neon and colorful fashion all set to a rockin' soundtrack featuring three songs by Agent Orange, who also appears in the movie. At one point, uncredited actress Sybil Danning (Reform School Girls) is caught walking past the camera on the sidewalk. Pale Blood gets some decent mileage out of its premise but is undone by some truck-sized plot holes that are brazenly glossed over. Logic is not the script's strong suit and characterization is often open to what works best in any given scene. Despite its many flaws the film is entertaining and worth checking out for Wings Hauser alone.
Video and Audio:
The film's interpositive has received a 2K scan and restoration with impressive results. Presented in the 1.85:1 aspect ratio, picture quality is striking, with well-saturated colors and rich black levels. There is a lot of small-object detail, particularly in hair and fibers, and flesh tones appear natural throughout.
The DTS-HD MA 2.0 preserves the original stereo recording and maintains a healthy balance between dialogue levels and the driving music cues. The track is clean and free from hiss and other distortion. Optional English subtitles are included for anyone in need.
Special Features:
Director VV Dachin Hsu (now known as Jenny Funkmeyer) enthusiastically shares her memories of the production in the newly-recorded interview Understanding Immortality (15 minutes). She talks about putting the project together while fresh out of film school and offers her thoughts on the script and the characters. She has high praise for her cast and sees this experience as a career highlight. She is infectiously energetic and positive and it is a real treat listening to her stories.
In Acting with Eggs (8 minutes), actress Darcy DeMoss reflects on her character Cherry and the joys of working on this film. She has kind words for her director and nice things to say about her co-stars, particularly Hauser, with whom she has a lasting friendship. She has some entertaining anecdotes, including one about reuniting with cinematographer Lively on a recent project.
Grades:

Movie:


Video:
Audio:
Features:
Overall:
This page includes affiliate links where Horror DNA may receive a small commission at no extra cost to you.