Pandamonium Movie Review
Written by Joel Harley
Released by 101 Films
Written and directed by Mj Dixon
2020, 86 minutes, Rated 18 (UK)
DVD released on March 2nd 2020
Starring:
David Hon Ma Chu as Jacob Jakushi
Oriana Charles as Arielle Walters
Dani Thompson as Jasmine Sands
Will Jones as Daniel Prince
Review:
An after-hours party at the office takes a wrong turn when a serial killer wearing a panda mask crashes the joint, set on slaughtering the dude-bros who work there, plus the strippers they've hired for the night. All in a night's work for the panda-headed killer of Slasher House 2.

So continues the Slasher House cinematic universe with this prequel. Certainly, Panda Mask (Stripper Ripper, or Jacob Jakushi, if you want to get familiar) has the right look to warrant his own spin-off, with the business suit and creepily cartoonish mask. The story, too, is thematically relevant, with our killer taking on mysoginist corporate sleazebags in a post #metoo environment. The slasher movie take on Wolf of Wall Street for our times.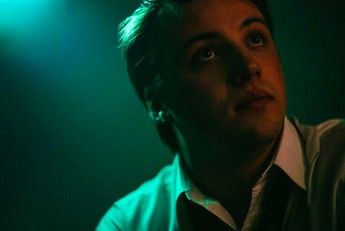 In theory, that is. Really, this is just another cheap slasher flick from the folks at Mycho Entertainment, so one would be best not to expect good acting, tidy cinematography or slick storytelling from the Stripper Ripper's solo debut. Pandamonium is cheap and ugly, from its functional but uninspiring setting, to its characters. Director Mj Dixon wisely focuses on gore and humour over story and character, with the bulk of his cast existing solely to get slaughtered and die.
All the same, its final girl, Arielle (Oriana Charles) is easy to root for, especially in the face of all the abuse she gets from her co-workers and Stripper Ripper. The Ripper himself would be a great slasher villain if he didn't talk so much – if you're not Robert England, don't bother trying to make your slasher villain a wisecracker. It rarely works out. By the end, casual audiences will be hoping to see Stripper Ripper die as horribly as his cocaine-addled victims (for that particular treat, stick with Slasher House 2).
Pandamonium does everything fans could conceivably want, or have expected, from a spin-off of the Slasher House movies. Like those movies, it's an acquired taste, chugging through on goodwill rather than technical prowess, quality or originality. Like our old friends at Full Moon Features, Mycho Entertainment have their avid fanbase, and this low-rent cinematic universe will certainly appeal to them. For everyone else, it's either going to play as a charming oddity or a cheap bore.

But if you can't find some enjoyment in a guy wearing a cartoon panda mask running amok with sharp objects at an office party, well, I just don't know what to say to you. It's right there in the title and everything.
This page includes affiliate links where Horror DNA may receive a small commission at no extra cost to you.