Piggy Movie Review

Written by Charlotte Stear

DVD released by Metrodome Distribution
Written and directed by Kieron Hawkes
2012, 100 minutes, Rated 18 (UK)
DVD released on 21st May 2012
Starring:
Martin Compston as Joe
Josh Herdman as Anthony
Neil Maskell as John
Louise Dylan as Claire
Jumayn Hunter as Frank
Roland Manookian as Craig
Review:
Not to be confused with a puppet creation of Jim Henson, this piggy heralds from London, is ruthless, cruel and determined on revenge. Joe (Martin Compston) is a reclusive man living life from day to day, just about surviving, when thugs murder his brother John (Neil Maskall) after an altercation in a pub. After this harrowing event, an old friend of John's turns up on Joe's doorstep introducing himself as Piggy (Paul Anderson). The two become close as Piggy helps Joe deal with his loss, and when Piggy starts to talk about revenge Joe follows his lead. However, Joe soon finds himself in the centre of a violent world he has feared all his life.
Piggy is definitely a film that draws influence from revenge flicks like Dead Man's Shoes and The Crow and though you may feel you know where the story is going, it has intriguing twists and turns to keep you focused until the very end. Undoubtedly Piggy will draw comparisons to the surprise hit Kill List due to its graphic content and storytelling, but this is unlike many films out there, keeping itself unique by putting its own stamp on this genre.
It's gritty British cinema at its best, using great camera techniques and lighting to produce some incredibly tense and frightening situations. A revenge film has to be vicious and uncomfortable and Piggy succeeds in that, it is gory but in careful amounts as not to cheapen the whole experience. The violence is brutal and hard to watch but it never outstays its welcome, it's there long enough to make a point and leave a lasting impression on the audience.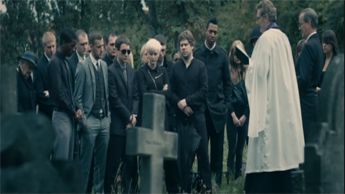 The success of Piggy's intensity relies on its two main actors, without leads as strong as these two the film would not be as effective. Both Compston and Anderson are compelling and believable in their roles, really drawing us in as the story unfolds. The character of Joe is very complex and Compston's portrayal holds a frailty that makes it all seem very real, whereas Anderson as Piggy is raw and truly terrifying so as the movie progresses, he becomes hypnotising on screen.
The film plays out over a classical soundtrack that flows steadily just beneath it, carrying you lightly from one heavy, dark scene to the next. It consists of piano and violin based music and its effectiveness is extraordinary as it contrasts to the harsh, and often, hard to watch moments on the screen. It would be all too easy to use loud, suggestive music to get an audience swept up in the violence of the film, this technique is much more successful and skilfully achieved.
Piggy is definitely not a movie to be dismissed as just another British gangster film, which on the outside it could be perceived as. It is intelligent and visually striking, and as a first time directorial effort from Kieron Hawkes, puts him right in the "directors to watch" list. You may need a strong stomach, but this is one film you will want to devour.
Video, Audio and Special Features:
Video, audio and special features will not be graded as this was a screener.
Grades:

 

Movie:
Video:
n/a
Audio:
n/a
Features:
n/a
Overall:
This page includes affiliate links where Horror DNA may receive a small commission at no extra cost to you.