Poltergeist II: The Other Side Collector's Edition Blu-ray Review
Written by Robert Gold
Blu-ray released by Scream Factory
Directed by Brian Gibson
Written by Mark Victor and Michael Grais
1986, 91 minutes, Rated PG-13
Blu-ray released on January 31st, 2017
Starring:
JoBeth Williams as Diane
Craig T. Nelson as Steven
Heather O'Rourke as Carol Anne
Oliver Robins as Robbie
Will Sampson as Taylor
Julian Beck as Rev. Kane
Zelda Rubinstein as Tangina
Geraldine Fitzgerald as Gramma Jess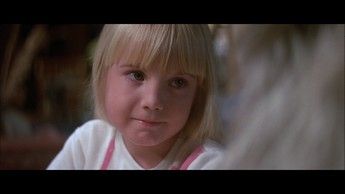 Review:
Thirty-five years ago filmmakers Steven Spielberg and Tobe Hooper teamed up for Poltergeist, putting a contemporary spin on the classic haunted house narrative. The film is a solid piece of storytelling with a screenplay co-written by Spielberg that transports a suburban family into a terrifying tale of paranormal activity that includes kidnapping and a poorly relocated cemetery.
The film's success led to the inevitable sequel in which we catch up with the Freelings four years after the events of the first movie and the titular entity is back to claim young Carol Anne. Taking the physical form of Rev. Kane, the evil tries to seduce both the girl and her father by playing on their fears and insecurities. A Native American man named Taylor arrives to protect them at the behest of the diminutive psychic Tangina. Kane comes to the Freeling's home twice, first in human form and secondly as a demonic presence concealed inside a tequila worm. The evil quickly grows and Steven is called upon by Tangina and Taylor to stand up and save his family.
Poltergeist II screenwriters Mark Victor and Michael Grais co-wrote the original film with Spielberg and do a surprisingly solid job setting the family onto their next adventure with ease. They quickly cover the history and set up the new danger in the form of Kane splendidly. There is a nice comedic banter between Steven and Taylor involving a running subplot about the condition of Steven's car. Both Carol Anne and her brother Robbie are given more to do this time around at the expense of their sister Dana whose absence is ignored completely. Director Brian Gibson (What's Love Got to Do with It?) keeps things moving at a decent pace, but the end result feels a bit jumbled at times. Faring better are cast members JoBeth Williams (The Dogs of War) and Craig T. Nelson (Action Jackson) as parents Diane and Steven trying to keep their family safe. Nelson shines as he navigates the material from frustrated father to creepy possessed rapey-guy. Will Sampson (One Flew Over the Cuckoo's Nest) is a great comic foil to Nelson and delivers much of the exposition with a fitting gravitas. The real standout in the cast however is hands down, Julian Beck (The Cotton Club) as the emaciated Rev. Kane. I was surprised how little screen time the actor gets as the impression he leaves is so powerful. The filmmakers really botched the finale by replacing Beck with rubber monsters and optical effects when he can summon a stronger reaction with a single smile.
I didn't hate Poltergeist II, but I didn't feel it was really needed either, as the original film is kind of perfect as a stand-alone tale. That being said, this is likely the best sequel audiences could expect. Expanding the mythology to include a Native American burial ground and a religious zealot were both steps in the right direction. Studio interference, extensive re-shoots and a patchwork edit all worked against the picture, but the material was strong enough to emerge mostly unscathed. Honestly, I can recommend this picture for Beck's performance alone and in fact – I think I will. See it before bedtime and try not to be haunted by his cry "You Are Gonna Die!"
Video and Audio:
Poltergeist II has undergone a new 2K scan of the original negative and the results are gorgeous. Presented in the original 2.35:1 aspect ratio the film looks every bit as good as a contemporary counterpart. Colors are strong and black levels are solid with plenty of small-object detail, though this works against some of the dated optical effects in the final reel.
Audio options include a DTS-HD MA 5.1 as well as a 2.0 mix that offer great results. The preferred 5.1 track impresses in almost every scene whether it be directional effects or music cues. Dialogue is always clear when surrounded by action and the rear channels get a nice workout much of the time.
English subtitles are included for anyone in need.
Special Features:
Writer/ Producer Michael Grais is joined by Red Shirt Pictures' Michael Felsher for an audio commentary that covers a lot of ground with only a few minor gaps of silence. Felsher continues to impress with his ability to glean the most information possible in an entertaining manner that keeps things lively.
Webmaster of the Poltergeist fan site, David Furtney contributes an audio commentary that is filled with trivia and behind-the-scenes information explaining the somewhat troubled production and the changes made from script to screen. There are more gaps of silence than in the other commentary, but the track remains entertaining.
Special effects fans are in for a treat when they watch The Spirit World (22 minutes), a piece that looks at both optical effects and the elaborate make-up effects of the film. Legendary artist Richard Edlund is joined by the always-welcome duo of Steve Johnson and Screaming Mad George who each discuss their work in detail. This piece is definitely worth the watch.
Ghosts of Giger (21 minutes) is another knockout segment paying tribute to the late Swiss artist H.R. Giger, featuring reflections by Les Barany (Giger's friend and agent), Richard Edlund, Steve Johnson and Screaming Mad George.
Oliver Robins sits down for an interview titled Robbie's Return (15 minutes) in which the actor reflects on his work in the franchise and repeatedly assures us he is now a filmmaker himself.
Three vintage production featurettes They're Back: The Making of Poltergeist II (6 minutes), Ghostmakers: The Magic of Poltergeist II (7 minutes) and Monster Shop (3 minutes) provide interviews with various members of the cast in crew including director Brian Gibson, actress JoBeth Williams and artist H.R. Giger.
The theatrical trailer is paired with a quartet of TV spots promoting the film.
Three galleries of production stills play in a slideshow format offering black and white and color images of lobby cards, poster art, press kit materials and memorabilia from the film.
Another slideshow presentation, this time featuring pages from the shooting script, allows viewers the opportunity to see some of the differences from page to screen.
Grades:

Movie:


Video:
Audio:
Features:
Overall:
This page includes affiliate links where Horror DNA may receive a small commission at no extra cost to you.