Poor Pretty Eddie Blu-ray Review

Written by Steve "Alien Redrum" Pattee

Blu-ray released by HD Cinema Classics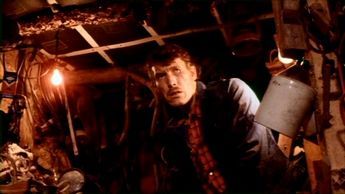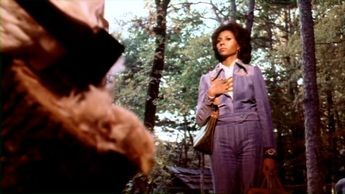 Directed by Richard Robinson and David Worth
Written by B.W. Sandefur
1975, Region A, 86 minutes, Rated R
Blu-ray / DVD Combo released on April 26th, 2011

Starring:
Leslie Uggams as Lez Wetherly
Shelly Winters as Bertha
Michael Christian as Eddie
Ted Kassidy as Keno
Dub Taylor as Justice of the Peace Floyd
Slim Pickens as Sheriff Orville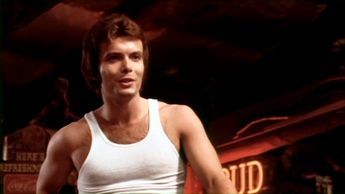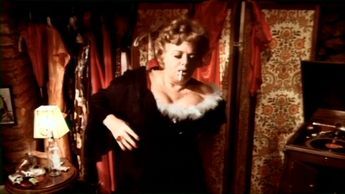 Review:
When popular singer Lez Wetherly's car breaks down in Podunk, Nowhere, she is lucky to stumble across a cabin lodge run by Big Bertha (Shelly Winers). Eddie (Michae Christian) — Bertha's boytoy, country singer, and all around creepy guy — immediately takes a shine to Lez and promises to fix her car quickly so she can be on her way. Being the sociopath that he is, Eddie sabotages her car, effectively trapping Lez in the extremely small town. That's when her ordeal of hell begins.

Poor Pretty Eddie is a scummy movie. A true exploitation film in the hillbilly/rape revenge genre, the film spends its time thoroughly humiliating Lez (Leslie Uggams). As a black woman stuck in a southern town filled with racist rednecks from the Sheriff (Slim Pickens) on down, she is left to the whims of Eddie and the rest of the townsfolk. In addition to the multiple rapes Eddie is gifting her, she is forced to give a blowjob to someone who was supposed to be helping her escape that shithole. If the forced sex wasn't bad enough, when she goes to Bertha for help, the lady refuses to assist. Bertha certainly believes that her lover is doing these things, but she still finds reasons to defend him. The whole thing is very surreal.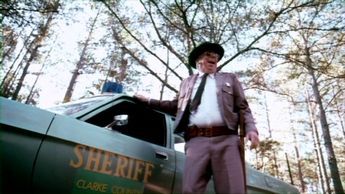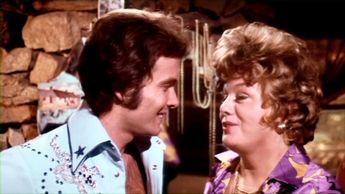 The acting in Poor Pretty Eddie is quite good, superb even for this type of movie. It certainly helps that there are two greats in the film in Shelly Winters and Slim Pickens. Winters is simply fantastic in the role of the battered woman with the buried self esteem. Already having done such movies as The Poseidon Adventure and Cleopatra Jones, she could have easily just dialed this in and taken the pay. Winters obviously doesn't do that, though, as she nails the performance, making you both loath her for her inaction and kind of feel sorry for the situation she's in — even though she does nothing about that, either. Great character actor Slim Pickens shines here, too, as the loveable racist Sheriff Orville. I think it's hard to hate Pickens, no matter what the role, as the guy just seems so damn likeable. His character in Poor Pretty Eddie is disgusting, especially when he is asking Lez to go into detail describing her rape. It's really uncomfortable because as repulsive as the character is, I still think I'd want to go out and have a few beers with the jovial Sheriff. I just wouldn't trust my daughter near him.

As good as Winters and Pickens are, though, they aren't the main stars, so the burden of the film lies heavily on Michael Christian as the titular character and Lelise Uggams as Lez. Uggams certainly gets it done for the most part, but she spends much of the movie angry. I suspect she was going for a strong-willed woman, and that does come through somewhat, but the character just seems so bitter throughout the movie. Of course she's going to be mad being continually raped by some hillbilly cracker, and that's understandable, but she's bitchy and condescending from the moment she comes on screen. It's hard to feel a great deal of sympathy for Lez since she's just mean to everyone. Michael Christian, however more than makes up Uggams' shortcomings. The absolute moment Christian steps in front of the camera as Eddie, you know he's scum. The character just oozes white trash. And Christian so seamlessly bounces between chipper and sheer rage, you completely buy that Eddie is a sociopath of the highest order.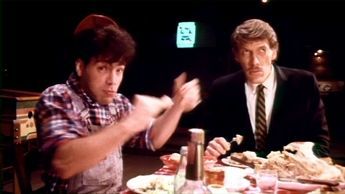 When I first saw the character Kano pop on the screen, I could have sworn it was John Holmes — which would not have been surprising since Poor Pretty Eddie was backed by a major porn producer in attempt make a 'straight' film. But nay, it is Ted Cassidy of Lurch fame from The Addams Family. While he doesn't say much, Cassidy certainly brings a presence to the movie. He silently steals each scene he's in, whether he has a line or not. Kind of like how he did in Addams Family.

Don't get me wrong, even though the acting is first rate (all things considered) in Poor Pretty Eddie, it's far from a perfect movie. There are some pacing issues slowing it down on occasion, as well as some WTF moments; most notably when Eddie rapes Lez for the first time, the scene is intercut with two dogs having sex. It's an attempt to perhaps be thoughtful or artistic in an otherwise uncomfortable scene, but it really doesn't work because it's trying entirely too hard to be something it's not. This is a rape/revenge film, nothing more.

Poor Pretty Eddie is a pure grindhouse film from beginning to end. None of the characters are ever really likeable (except perhaps Kano, but his role is relatively small) and it's a downer of a film through and through. This certainly isn't the best grindhouse movie of the era, but it's definitely a cut above the rest, mainly due to the performances. Exploitation fans would do well to give this one a spin.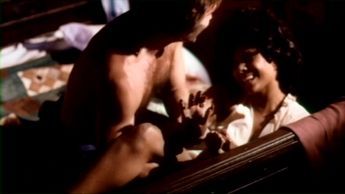 Video and Audio:
Poor Pretty Eddie has an image that is hit and miss. The before and after restoration demo shows that HD Cinema Classics has done a terrific job removing green scratches that permeated the film. However, it looks as if virtually no color correction was done, leaving an orange hue throughout the movie. In addition, the applied DNR leaves an extremely soft picture, to the point of a waxy appearance in some scenes. In all fairness, though, HD Cinema Classics could have done nothing to Poor Pretty Eddie except slap a price point on it and ship it out. While I'm certainly glad they did what they did, I have to admit that it's not a film that begs for a complete restoration.

The Dolby 2.0 soundtrack is just below average, at best. Often times hollow and sometimes blown out, you won't be using this as a demo disc, ever. Dialogue is generally clear, however, but there are times when even that becomes muddled and hard to understand.

Spanish subtitles are available.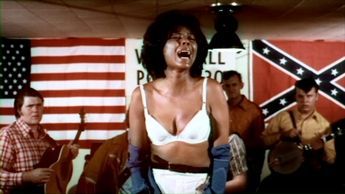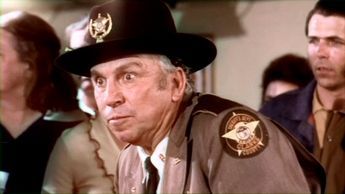 Special Features:
Movie Trailer
Original Movie Art Postcard
Before & After Restoration Demo
Audio Commentary
Historical Essay

The historical essay found in the special features is well worth a read, especially after you watch the film. It goes into quite a bit of detail on how the film came about and, most importantly, a brief history Michael Thevis, the financer of the Poor Pretty Eddie. His story is more than interesting seeing how at the time of the filming he was the leader of the porn industry, bringing in $100 billion a year. Oh, and he also ended up being convicted of murder. Swell guy.

The commentary with Co-Director/Director of Photography is interesting to say the least. He has quite few stories of the filming of Poor Pretty Eddie, both technical in nature, as well as some behind-the-scenes anecdotes. Things never get a chance to lull, either, as the moderator does a good job on keeping the commentary moving.

I recommend watching the Before & After Restoration Demo featurette at least once, as you will appreciate how damaged the print was when HD Cinema Classics got its hands on it.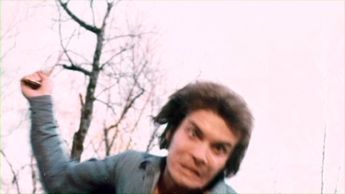 Grades:

 

Movie:
Video:
Audio:
Features:
Overall:
*Note: The screenshots on this page are not a reflection of the Blu-ray image. They were captured using the standard DVD.*
© 2011 Horror DNA.com. No use of this review is permitted without expressed permission from Horror DNA.com.