Popcorn Blu-ray Review
Written by Robert Gold
Blu-ray released by Synapse Films
Directed by Mark Herrier
Written by Tod Hackett
1991, 91 minutes, Rated R
Blu-ray released on October 3rd, 2017
Starring:
Jill Schoelen as Maggie
Tom Villard as Toby
Dee Wallace Stone as Suzanne
Tony Roberts as Mr. Davis
Derek Rydall as Mark
Ivette Soler as Joannie
Freddie Marie Simpson as Tina
Kelly Jo Minter as Cheryl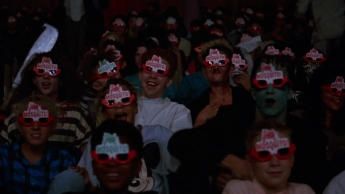 Review:
A group of film students put together an all-night horror movie marathon as a fundraiser at the local movie palace. They schedule three "classic" B-movies from the 1950s, each of which comes with an audience participation gimmick. Electric seat buzzers, pungent gas and a giant flying bug prop are all utilized to maximize the viewing experience. The event is a smashing success until a mysterious stranger buys a ticket and begins slaughtering the students in increasingly gruesome yet creative ways. The unseen killer is a special effects whiz capable of imitating his victims' physical likenesses in order to lure additional targets to their doom. There is a method to his madness and it involves one of the students and the theatre's troubled history.
Popcorn is a supernatural horror/ comedy/ slasher film and if it sounds disjointed, it is. The hodgepodge of a script is all over the map, but the end result is pretty fun – as long as you don't look too closely at the seams. Logic has never been a prerequisite for genre pics, but this film pushes a lot of limits when it comes to what audiences can easily swallow. Our villain is the most resourceful and charmed individual to grace the screen in quite some time. He frequently lucks into people behaving in the exact manner he requires in order to make his ruse work. Also working in his favor is that the audience is mesmerized by the entertainment and never notices him moving bodies about the theatre. The supernatural elements play out in the first act but never appear again as though they are relegated to a single character witnessing them.
Mark Herrier directs from a script by Alan Ormsby (Children Shouldn't Play with Dead Things), credited here as Tod Hackett. Ormsby also directed the three film-within-a-film sequences. Herrier keeps things moving at a decent pace, skipping past the largest of plot holes effortlessly. The picture has a great look and there are some really fun shots too. The cast is headlined by Jill Schoelen (The Stepfather) and Tom Villard (Parasite) as Maggie and Toby, two of the film students putting on the show. Schoelen plays the troubled Maggie not as a victim but rather someone determined to find understanding and meaning in her challenges. Villard really delivers as the multifaceted Toby, a true showman who loves cinema. Look for supporting roles from genre favorite Dee Wallace Stone (The Howling) as Maggie's mom Suzanne, and Tony Roberts (Amityville 3D) as film instructor Mr. Davis.
I saw Popcorn at the dollar theater down the street while in college and really liked it at the time. It has been several years since I have seen it and sadly I have to admit that it really doesn't hold up very well. The film has its fan base, but I just couldn't get behind it this time around. The cast is fine and I still like a lot of aspects of it, but overall it just falls flat. If you've not tried it yet, it's definitely worth a look – just lower your expectations before diving in.
Video and Audio:
Presented in the original 1.85:1 aspect ratio, Synapse films gives Popcorn a full 2K restoration from the original film elements and the transfer is very impressive. Colors are strong and black levels are rich without any signs of smearing or bleeding. There is a lot of fine detail in the image, particularly close-ups, and the picture looks stronger here than any previous release.
The DTS-HD MA 7.1 track is a lively mix that keeps things jumping. Dialogue is primarily front and center while music and effects tracks fill the rear channels with energy. The original stereo mix is included in a DTS-HD MA 2.0 option for purists.
Optional English subtitles are included for anyone in need.
Special Features:
Director Mark Herrier is joined by stars Jill Schoelen and Malcolm Danare and special make-up effects artist Mat Falls for an interesting but occasionally frustrating audio commentary. There is a lot of good stuff here, but the participants frequently talk over each other and occasionally slip into total silence as they watch the movie. Overall there is more to recommend here than not and I found the track highly informative.
Midnight Madness (57 minutes) is an extensive making-of documentary with a surprising number of interview participants. Members of the cast and crew reflect on the making of the picture, including some of the more challenging aspects like replacing both the original director and leading actress weeks into production. This is a really well-made piece that is definitely worth checking out.
Electric Memories (7 minutes) finds actor Bruce Glover reflecting on his role in the film within the film. He talks about how he prepared the character and his reaction to seeing the end result.
A still gallery (7 minutes) slideshow offers a wide selection of photographs in both color and black-and-white set to music from the film's soundtrack. Images from the movie are paired with behind-the-scenes stills.
The original theatrical trailer and eight TV spots reveal the marketing campaign for the picture.
Grades:

Movie:




Video:
Audio:
Features:
Overall:
This page includes affiliate links where Horror DNA may receive a small commission at no extra cost to you.