Popcorn DVD Review
Written by Neon Maniac
DVD released by Elite Entertainment
Directed by Mark Herrier and Alan Ormsby (uncredited)
Written by Mitchell Smith and Alan Ormsby
1991, Region 1 (NTSC), 91 minutes, Rated R
DVD released on September 4th, 2001
Starring:
Jill Schoelen as Maggie
Tom Villard as Toby
Dee Wallace-Stone as Suzanne
Derek Rydall as Mark
Malcolm Danare as Bud
Elliott Hurst as Leon
Ivette Soler as Joannie
Freddie Simpson as Tina
Kelly Jo Minter as Cheryl
Karen Witter as Joy
Ray Walston as Dr. Mnesyne
Tony Roberts as Mr. Davis
Scott Thompson as Bearded Guy
Will Knickerbocker as Landlord/Warden
Ethan Ormsby as Two Headed Guy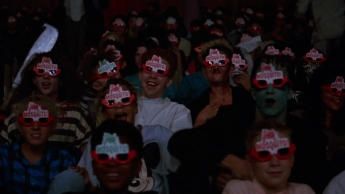 Movie:
Film student Maggie (Jill Schoen) is haunted by recurring nightmares of a freaky long haired hippy guy. Sometimes he's got a dagger, sometimes he's just a head on a silver platter. Sometimes he's just a freaky long haired hippy guy. When her film class decides to rent a theater for a 50's horror/sci-fi festival and enlists movie memorabilia collector Dr. Mnesyne (Ray Walston) to help with the William Castle like gimmickry Maggie soon discovers that her dreams may have more to do with her mysterious past than even she knows.
While digging through Dr. Mneysne's goodies, they come across a film can marked 'DO NOT OPEN' which of course they do. Inside they find an old film called The Possessor and of course have to watch it. The odd, psychedelic movie turns out to be the dream Maggie's been having for all of these years. Their teacher Mr. Davis (Tony Roberts) does some research and finds out the movie is made by Lanyard Gates, the leader of a film making cult that used to drop acid and then make movies. Gates' last film was The Possessor, but he never filmed an ending for it. Instead, he played out the film's ending live on stage during the only showing... by killing his entire family in front of the audience and then burning down the theater!
As the festival starts, a mysterious man appears and people start dying...
Review:
I like this movie for a variety of reasons. The casting is very good. Ray Walston's part, while small, is dynamic and shows what a powerful screen presence he had. Tony Roberts, who seemed to peak in the late '70s/early '80s, always gives a very solid performance. Tom Villard (who I've always thought of as the poor man's Howie Mandel) carries much of this movie and makes you wonder why he never had more leading roles (or more roles at all). Another recognizable face is Kelly Jo Minter, who had parts in The People Under the Stairs, Nightmare on Elm Street 5, The Lost Boys, and really too many other to list. Her screen time is small, but leaves you wanting more. Dee Wallace Stone unfortunately has a small but important part that she seems to sleepwalk through, and the female lead Jill Schoelen seems to have no inspiration and played the 'troubled girl' we've all seen too often in film. Stone and Schoelen are lackluster at best, while even the bit characters have good energy, enthusiasm and believability.
The story itself is good. I have to admit I have a soft spot for movies about movies, especially when they're based around a midnight movie horror-thon type scenario. One of the funniest aspects of this film is that they show clips of the fake '50s movies being shown at the festival. They're fun, campy, and a very nice tribute to that era of matinee horror and sci-fi films. On the flipside, there are so many cuts to these films (combined with so many shots of people walking up/down/through a dark passageway and of people in the audience) that it doesn't seem like there is much of the movie dedicated to actually moving the story along. I'm not so sure that is a bad thing though, as the story is fairly simple to begin with.
If you're wondering why there aren't more video captures of cool death scenes, the truth is there isn't that high of a body count. While there were some pretty good killings, most would be spoilers if they were shown. It also isn't that gory compared to a lot of movies, even though it received an R rating. No nudity and not really any offensive language to speak of. I would have given it a PG-13 myself, but nobody asked me. The band in the above picture was a great reggae/dub band and I would have liked to have heard more of them on the soundtrack. The blonde girl gets shown again because she had to have been thinking about delicious weenies. That's always a bonus.
This movie doesn't take itself seriously, which is a good thing. It knows it's a cheesy B-movie, but it plays it straight like it is a big budget flick. The filmmakers took a mediocre script and turned it into an homage to horror movies. It recognizes itself for what it is and has fun with it.
Video and Audio:
It is definitely not as good as it could be, but over all isn't entirely bad. The transfer is grainy, which I suspect is caused by the source material. There is some slight artifacting due to this, but nothing distracting, and it looks like the print they took it from wasn't that clean. You get the occasional black dot and I swear I saw a hair at one point near the beginning. Since it takes place in a theater many of the shots are overly dark which does give the feeling you are missing out on something, but at the same time works to make it a bit more suspenseful.
Not much to say about the audio quality. It's 2-channel, possibly mono. While it is clear, I wouldn't call it crisp; and like the picture, I don't think it was cleaned up at all from the original source. Once or twice you get the 'pop' sound of a reel change.
Special Features:
7 (count 'em, 7) TV Spots, Promo Trailer for the TV Spots.
Grades:

Movie:


Video:
Audio:
Features:
Overall:
This page includes affiliate links where Horror DNA may receive a small commission at no extra cost to you.