Ravenous Blu-ray Review
Written by Robert Gold
Blu-ray released by Scream Factory
Directed by Antonia Bird
Written by Ted Griffin
1999, Region A, 101 minutes, Rated R
Blu-ray released on June 3rd, 2014
Starring:
Guy Pearce as Capt. John Boyd
Robert Carlyle as Colqhoun
Jeffrey Jones as Col. Hart
Neal McDonough as Reich
Jeremy Davies as Toffler
David Arquette as Cleaves
John Spencer as Gen. Slauson
Stephen Spinella as Knox
Joseph Running Fox as George
Sheila Tousey as Martha
Review:
Newly promoted Captain John Boyd has a secret that belies his recent commendation. His heroic exploits in the Mexican-American War were achieved accidentally, following an act of cowardice. Commanding officer General Slauson is alerted to this shameful behavior and spitefully transfers Boyd to Fort Spencer at the far end of the Sierra Nevada mountain range. There, a skeleton crew of misfit soldiers under the guidance of Colonel Hart suffers the long winters and passively awaits their eventual discharge from the army. They are joined by a pair of Native Americans who tend the camp and horses, but there is very little action at Fort Spencer...until a mysterious man named Colqhoun arrives with a terrifying story.
According to this stranger, his party was lost in the snow and after eating their animals and anything else they could find, eventually resorted to cannibalism to survive the winter. Knowing his days in the group were numbered, Colqhoun fled their cave to avoid ending up on the menu. Col. Hart assembles his men into a rescue party in search of any additional survivors, but when they reach their destination they are met instead with a grisly discovery that puts everyone in danger. Without revealing too much, it is fair to say that not everything is as it seems and once the men return to their fort, a new dynamic is in place that can alter the face of the entire nation.
Ravenous is a dark allegory of western expansion of the United States with echoes of the Donner Party tragedy mixed in for good measure. The Manifest Destiny message is not exactly subtle, but the script by Ted Griffin (Ocean's Eleven) keeps things moving and is laced with ample doses of black comedy throughout. The characters are well developed and frequently placed into bizarre situations that require them to act decisively, asking essentially, how far will a man go to survive? The remote location, lack of supplies and the dwindling chance of outside rescue paints a bleak picture that is further enhanced with the introduction of the supernatural. The Native Americans warn of the legend of the Wendigo, a beast made stronger by the consumption of human flesh. So now our heroes are not only trapped in the middle of nowhere, but they are also being hunted.
The cast is really pretty spectacular across the board, starting with Guy Pearce (Memento) and Robert Carlyle (Trainspotting) as Boyd and Colqhoun respectively. Their performances complement each other, as Boyd's cowardice is crippling at times while Colqhoun is frequently over-the-top in his mania. Carlyle is perfectly cast as the stranger, who resembles a mixture of Alfred Packer and Vlad Tepes. He is so cunning that no one should turn his back on him, as he appears capable of anything. Pearce plays his role as a man disgusted with his own weakness but unable to do anything about it. He remains paralyzed by fear until he is forced to act and even then he does so reluctantly.
The supporting cast is filled with character actors that are both recognizable yet not distracting from the story being told. David Arquette (Scream) appears at times to be playing himself, but is so affable in the role of Cleaves that any levity he contributes is welcome. Jeffrey Jones (Ferris Bueller's Day Off) shines as Hart, the commanding officer who jumps at the chance for adventure after too many years sitting idle at his post. Jones handles the character reversal nicely and remains likeable for the entirety of his screen time, no matter his motivation. Neal McDonough (Band of Brothers) and Jeremy Davies (Spanking the Monkey) offer strong performances as the central core of the soldiers, each approaching the material in a unique manner. McDonough is intense as Reich, the steely-eyed epitome of machismo, while Davies portrays Toffler with an unexpected sensitivity that is really endearing. Davies' standout moment comes when his character awakens to find someone licking his wounds.
The production ran into several problems, starting with an early spring that removed much of the plot-centric snow. However, more serious issues arose when original director (Milcho Manchevski, Before the Rain) was fired two weeks into filming due to "creative differences" with the studio. Antonia Bird (Priest) was brought in at the insistence of star Carlyle and her talents were quickly put to the test and despite a rocky start, she was able to keep things on track and managed to deliver a highly entertaining yet seriously offbeat picture. Bird paints a grim picture of the American West with this melancholy tale that preserves her own vision of the material while incorporating the footage previously shot. Perfectly complementing the content is the quirky score by Michael Nyman (A Zed & Two Noughts) and Damon Albarn (of the bands Blur and Gorillaz), that is at times the best window into the emotional state of the Colqhoun character.
Ravenous is a bizarre picture that has earned a following over the past fifteen years that was absent during its initial release and I enjoyed it even more than I did in the theatre. This is a difficult film to market to audiences, as it is a historical drama with pitch-black comedy and a moderate dose of the supernatural and occasional buckets of gore. Horror fans will not get enough of the wet stuff to leave satisfied, while casual fans of Guy Pearce who loved him in L.A. Confidential are in for a rude awakening when the cannibalism kicks into gear. Watching the film for the first time in more than ten years, I can easily recommend checking it out with friends while possibly serving barbecue or beef stew.
Video and Audio:
Presented here in the original 2.35:1 aspect ratio, the picture is sharp with strong colors and deep black levels. There are few moments of occasional softness but these appear to be within the original source elements.
A DTS-HD MA 5.1 track is the default option and it is a strong one. Nicely balanced music cues complement the action and there is a fair amount of low end activity. A DTS-HD MA 2.0 stereo mix is also provided and while it is also decent, the 5.1 option is the way to go. Dialogue remains clear and free from distortion and English subtitles are offered for anyone in need.
This release also includes an isolated music and effects track DTS HD-MA 2.0 that allows the sound design to receive some special attention as it is a nice mix and worth a listen.
Special Features:
Starting things off are three commentary tracks, all returning from the original DVD release. The first features (recently deceased) director Antonia Bird with composer Damon Albarn and the two have a lot to say about the tone of the picture and their general approach to the material. The second commentary is perhaps the strongest, as screenwriter Ted Griffin and actor Jeffrey Jones cover a lot of ground on the filming of the project without getting too bogged down in the behind-the-scenes drama. The final track is with actor Robert Carlyle, who shares some insight into his work ethic and is highly entertaining to listen to. The problem here is that he needs a moderator to navigate the discussion as there are some pretty tedious moments of extended silence.
New to this edition is an interview with Jeffrey Jones (20 minutes) who reflects on his time on this production and sheds some light on the behind-the-scenes drama. His comments regarding the plot are thoughtful and surprisingly detailed as the man knows his history.
Returning from the DVD is a collection of deleted scenes (12 minutes) that are now presented with anamorphic enhancement. The material features optional director's commentary in which she explains why the scenes were removed (frequently due to pacing or to meet a mandatory running time).
There are two still galleries that offer a look at both the costume design and production design for the film.
Rounding things out are the original theatrical trailer and TV spots.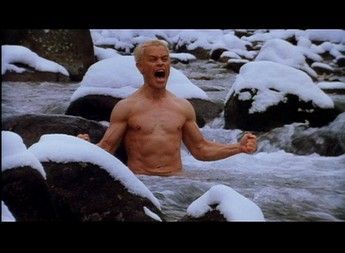 Grades:

Movie:


Video:
Audio:
Features:
Overall:
This page includes affiliate links where Horror DNA may receive a small commission at no extra cost to you.