Redneck Zombies DVD Review
Written by DamnationDoorMat
DVD Released by Troma
Directed by Pericles Lewnes
Written by Zoofeet, P. Floyd Piranha, & Fester Smellman (no kidding)
1987, Region 1 (NTSC), 88 minutes, Not Rated
DVD released on July 8th, 1998
Starring:
Lisa M. DeHaven as Lisa Dubois
James H. Housely as Wilbur
Martin J. Wolfman as Andy
Anthony Burlington-Smith as Bob
Tyrone Taylor as Tyrone Robinson
Bucky Santini as Ferd Mertz
William-Livingston Dekker as Jethro Clemson
Zoofeet as Billy Bob Clemson (Elly May)
E.W. Nesneb as Tobacco Man
Review:
A single barrel of "experimental chemical warfare nuclear waste" is being haphazardly transported through the backwoods from Fort Henry Dicker, Maryland. It's being carried unsecured in a military jeep by the dope-toking soldier Tyrone and his sunglass-wearing dog Hoss. The vehicle goes out of control and the barrel proceeds to roll down a cliff. Ever-ready Tyrone tries to chase it down but is confronted at gunpoint by good ol' boy Ferd. He comes into possession of the 'nicely colored' barrel but not before a number of the Clemson clan (Jed, Jethro, Billy Bob, and Junior) strong-arms him out of it. Deciding it would make a great new moonshine still they accidentally bust it open then figure the green contents would be a new taste sensation.
Meanwhile a group of six young campers (Lisa, Bob, Teresa, Sally, Andy, and some dude who magically pulls out bottle after bottle of alcohol) led by the older Wilbur travels through the woods to their campsite. Successfully reaching they're destination they bed down for the night, but not before getting high as a kite off some prime ganja. After brewing the slime and jarring it, the Clemson boys send Billy Bob, who wants to be called "Elly May", to drive around town to distribute the goods. After an odd encounter with a hitchhiker who takes pictures and shaves beards he starts to drop off the jello green mason jars. Happy with themselves the remaining 'shine-makers dig in to they're new found product and almost immediately go into psychedelic freak-out and then, for the lack of a better term, "body melt".
Dawn breaks and two of the campers, Teresa and Sally, go off to 'take care of business' in the woods but stumble upon the still and the remaining jars. Needless to say they're torn asunder by big brother zombie Jethro. The remaining group goes searching and finds the now gumbo corpses of the two women. Realizing they're in deep trouble they sit down to discuss what they'll do. Suddenly Andy, the only one thinking clearly, is attacked and killed by Jethro. The group kills him and takes it to an abandoned mineshaft where they force Bob to perform an autopsy, while he tripping out on acid. The conclusion is made that spray-on deodorant effectively 'dries out' the zombies and of course in Andy's backpack are multiple cans. Groans and moans fill the cavern as the group runs out into the surrounding trees. Tyrone is also back searching for the missing barrel and Ferd, who's now a zombie, stalks the woods along with several dozen others. Who will survive and what will be left of them? Who is this the mysterious bag-headed 'tobacco man' that appears throughout? Do you even care?
Redneck Zombies has been a long time favorite of mine ever since I first got into horror cinema. Even after watching it yet again for this review I found myself cracking up in laughter and being entertained throughout. Almost amazingly many of the little but plentiful jokes work, much due to the perfect comically timed scene editing. It strikes a very fine line between intentional and unintentional humor. The acting is pretty solid for such material, everyone seems really revved up and in the spirit of things. The less-abled actresses in the camping group, Teresa and Sally, get killed off first leaving the more convincing. The rednecks do an admirable job playing up the gags and yucks, especially 'Zoofeat' as Billy Bob (or Elly May?!) and Bucky Santini as the robustly fat Ferd. The humor often often runs with the situation on screen and much of it is quite ribald and offensive but it's all very tongue-in-cheek and everyone gets lampooned. Now the reason I say 'unintentional' humor is due to the 'standout' actress Lisa M. DeHaven as 'Lisa' who overacts to the maximum third degree. Every word that she utters is so overemphasized, it's downright hilarious. I think she can actually act but it's like watching a runaway train going nowhere. Also it seems the weather changes from shot-to-shot at times and even what the actors happen to be wearing.
The direction is sure-handed and even though director Lewnes borrows some shots from horror classics it doesn't get too overused or overt. Most the usually gory as hell references are from The Texas Chain Saw Massacre, Romero's Dead Trilogy, Evil Dead, and Maniac. It's reportedly the first shot on home video film picked up for major distribution which makes it a landmark but also it fully shows the potential horror indies can have, it certainly deserved it.
No, it isn't fine art, or even art at all. It's crap and it's self aware of that fact. A great party or lazy day flick that's not challenging on the mind but it surely is entertaining. Troma's presentation is mediocre but at least it's made it this far, you could do much, much worse.
Video and Audio:
Redneck Zombies is presented in its original 1.33:1 full frame aspect ratio. The image is more stable than a VHS tape but it isn't much better. Artifacts, pixelation, and original tape defects are all here. The funky colorful video effects and the the '80s fashion has a hazy, cloudy sheen but I don't believe it could much better. It all lends itself to this hunk of golden cinematic cheese.
Clean and reasonably clear English stereo, almost all of the dialogue can be made out at normal volume levels but there are no subtitles or captioning of any kind.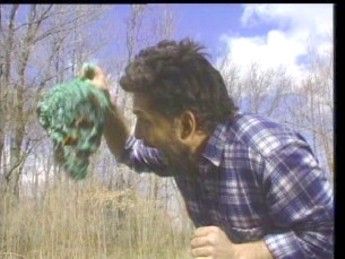 Special Features:
It's a Troma DVD release so your get a full but ultimately hollow plate. Much 'Tromatic' fluff but there is a interview with the director Pericles Lewnes and producer/editor/fx guy Ed Bishop, albeit way too short. A commentary track would have been great but no dice. Assorted Troma trailers including one for Redneck Zombies and a five picture still gallery are included.
Grades:

Movie:


Video:
Audio:
Features:
Overall:
This page includes affiliate links where Horror DNA may receive a small commission at no extra cost to you.