Return of the Living Dead 3 Blu-ray Review
Written by Steve Pattee
Blu-ray released by Lionsgate Entertainment
Directed by Brian Yuz
Written by John Penney
1993, 97 minutes, Not Rated
Blu-ray released on November 22nd, 2016
Starring:
Mindy Clarke as Julie Walker
J. Trevor Edmond as Curt Reynolds
Kent McCord as Colonel John Reynolds
Basil Wallace as Riverman
Review:
After Curt loses control of his motorcycle due to his lady grabbing at his private area, the two are flung off the bike with Julie wrapping her body around a telephone pole and ending her life. Fortunately for the boy, he had recently seen some top secret stuff go down at the base his father works at, stuff that involves reincarnating the dead. So he obviously knows where to take Julie. Naturally it works, because science, and the two are reunited once again, but there's a problem. Julie's becoming more emotionless with each passing moment and, like an emo, the only way she can feel is by cutting herself; causing her to put more and more sharp pieces of whatever is available into her body. If that's not ruining their day enough, they are also on the run from Curt's father, the military, and for some only-in-a-movie reason, four gang members. Boy, is everyone in for a surprise when Julie hits her final form.
Return of the Living Dead 3 is an interesting movie. Aside from the fact it literally has nothing to do with the first film outside of the barrels labeled TRIOXIN, it's basically a retelling of Romeo and Juliet (her name is JULIE for crying out loud), but with more brain eating. Granted, your main character is a zombie, but she's more human than not, and the more undead she gets, the more you root for her.
The movie shouldn't be nearly as enjoyable as it is, mainly because it's a love story first, then after that it doesn't know what it wants to be. It clearly goes under the horror genre because of the zombies, but there's also some action in it that it could be action...almost. That's what Return of the Living Dead 3 is, a bunch of almosts; almost a horror movie, but not quite; almost an action movie, but not quite; almost a drama, but not quite. Oddly, it's got the romance part covered, albeit dark as heck, but everything else is just on the cusp.
Yet, that's okay. Because wherever it misses, the special effects are there to pick up the slack. Just when you are thinking, god! Why isn't this scarier!?, here comes a wicked looking zombie looking to chew a face off.
Director Brian Yuzna (Bride of Re-Animator) does a splendid job juggling multiple genres. While the majority of them don't stick, it's still a treat watching him pull it off. Plus, it doesn't hurt that he's got believable actors in J. Trevor Edmond and Melinda Clarke as Romeo Curt and Julie(t). The two have a nice synergy and play well off each other. Clarke is especially good as she goes through her transformation from wild gal to newly-dead terrified to your-ass-is-mine-now zombie.
The real stars, though, are the effects team of Tom Rainone, Kevin Brennan, Christopher Allen Nelson, Steve Johnson, and Wayne Toth. These cats knock it out of the park. Be it with Julie's metamorphosis or the variety of undead creatures throughout the film, they make sure there is never a dull moment.
I hate using the term because it's thrown out willy nilly these days, but Return of the Living Dead 3 really is a cult classic. It was ahead of its time with taking the angle of humanizing the undead, it holds up extremely well for a film I haven't seen in probably 20 years, and, man, I still do have that crush on Melinda Clarke.
Video and Audio:
While the 1.85:1 presentation is a bit soft, this is no doubt due to its low-budget. However, this is the best I've seen the film look. The scenes in the all-white rooms especially pop, as well as the detail of the Zardoz-outfit-wearing zombie in the beginning.
The DTS-HD MA 2.0 track is equally impressive, with dialog always clean and never overtaken by score or effects.
Special Features:
Audio Commentary with Director Brian Yuma • Actress Melinda Clarke • Special Make-Up Effects Artist Tom Rainone
A Conversation with Director Brian Yuma and Screenwriter John Penney
Interviews with Special Effects Artists Steve Johnson and Chris Nelson
Interviews with Production Executive David Tripet and Editor/Post-Production Supervisor Christopher Rush
Theatrical Trailers
Still Gallery
Return of the Living Dead 3 is part of Lionsgate's Vestron Video Collector's Series, and like its predecessors (Chopping Mall and Blood Diner), it does not disappoint in the features department.
Between the two commentaries, Brian Yuzna's comes out slightly ahead. It feels like he did his homework before watching the film, and rattles off a lot of interesting behind-the-scenes tidbits you'll want to know. The second track with special effects supervisor Tom Rainone and star Melinda Clarke is uncomfortable almost from the beginning when Rainone makes a remark about Clarke's nude scene, which is followed by a moment of awkward silence. This continues throughout, where Clarke is eager to talk about certain aspects of the film and Rainone is a bit hard on her observations. It's unfortunate because she is clearly excited to be part of the commentary where Rainone is going through the motions.
Ashes to Ashes (26:48) is a conversation between Brian Yuzna and writer John Penney. This is worth a watch because it doesn't have the feel of an interview but rather two friends reminiscing about old times on a film set.
One of my favorite interviews found on the disc is Living Dead Girl (18:56), where Melinda Clarke is the focus. Like the commentary, Clarke is excited to talk about the film, and has a lot of good memories and stories to share to the audience. And I still have a crush on her.
Actor J. Trevor Edmond is the centerpiece of Romeo is Bleeding (17:21). He is brutally honest about working on Return of the Living Dead 3, from getting cast to the long days. Edmond is incredibly likable, and even any negative memories he might have, they don't come across as sour grapes but more of what it's like to work on a low-budget set.
Trimark and Trioxin (13:33) a brief history of Trimark studios and the Trioxin brand.
For fans of the effects, The Resurrected Dead (18:47) is a must watch, as its primary focus is the special effects in the film.
Rounding it out is a storyboard gallery (5:51), still gallery (3:54) and theatrical trailers.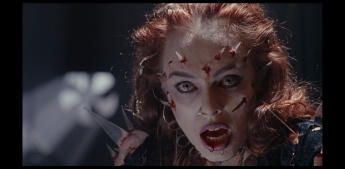 Grades:

Movie:


Video:
Audio:
Features:
Overall:
This page includes affiliate links where Horror DNA may receive a small commission at no extra cost to you.