Road Games Collector's Edition Blu-ray Review
Written by Robert Gold
Blu-ray released by Scream Factory
Directed by Richard Franklin
Written by Everett De Roche
1981, 101 minutes, Rated PG
Released on November 12th, 2019
Starring:
Stacy Keach as Pat Quid
Jamie Lee Curtis as Hitch
Marion Edward as Frita
Grant Page as Smith or Jones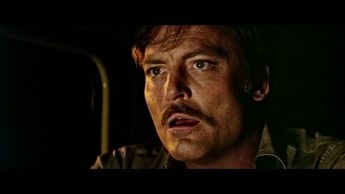 Review:
Pat Quid is driving a truckload of frozen meat across the Australian Outback with his pet dingo Boswell. He passes the long hours amusing himself with quotations, poetry, generating nicknames for his fellow drivers and other playful road games. News reports tell of a mad slasher attacking women and Quid spies a suspicious green van that keeps crossing his path. Breaking protocol, he picks up a beautiful hitchhiker he calls "Hitch" and together they come up with ideas about the mysterious van driver they dub "Mr. Smith or Jones". Following an incident at a rest stop, Quid unexpectedly becomes a suspect in the murders and must actively pursue the real killer to clear his name and avoid further bloodshed.
The late director Richard Franklin (Psycho II) was known as the Australian Hitchcock for his mastery of cinematic storytelling and his skill at generating suspense. Franklin studied Hitchcock's technique and used the master's work as a template for his own efforts. Franklin was inspired by the idea of taking Rear Window, a film about a man confined to a wheelchair who thinks he witnesses a murder but is helpless to do anything about it, and transferring the setting to the inside of a moving vehicle for his movie Road Games. Working with screenwriter Everett De Roche (Razorback), the story contains themes of voyeurism and of an innocent man framed for someone else's crimes. The lean script is full of clever dialogue and a wickedly dark sense of humor that keeps things moving.
Stacy Keach (The Ninth Configuration) stars as Pat Quid, the easygoing long-haul trucker treading into dangerous territory. He is a chatty guy who is instantly likeable as he passes the time with his dingo. His social skills are a bit rusty, which leads to some troublesome misunderstandings once he becomes a murder suspect. Keach appears in almost every scene and delivers a fantastic performance that is largely confined behind the wheel of a truck. Jamie Lee Curtis (Prom Night) co-stars as Hitch, Quid's temporary passenger. Her screen time is a bit limited, but she immediately makes a mark and injects the piece with fresh energy and a charming personality. Curtis and Keach work well together and their dialogue is frequently humorous and relaxing, a nice balance to the more intense moments that follow.
Cinematographer Vincent Monton (Long Weekend) complements the picture with his stylistic lighting and rich photography of the Australian Outback. Franklin delivers a striking visual style with his carefully plotted set-pieces richly edited by Edward McQueen-Mason (Patrick) and elevated by a driving score from composer Brian May (The Road Warrior). All of these elements work together to generate something special: a relentless psychological thriller that keeps viewers thoroughly captivated. Hitchcock's shadow looms large over Road Games, but Franklin is a strong director and makes the material his own.
Video and Audio:
Road Games debuted on Blu-ray in 2016 from Umbrella Entertainment with a stunning 4K restoration of the original camera negative presented in the 2.35:1 aspect ratio. This release uses the same transfer and it remains just as pleasing with its rich detail and bold colors.
The film's original mono recording is presented in a lossless DTS-HD MA 2.0 audio track that is a real knockout. Music cues are intense but not overpowering and dialogue levels are always clear and free from hiss or other distortion.
Optional English subtitles are included for anyone in need.
Special Features:
There are two audio commentaries; the first is a newly recorded discussion with cinematographer Vincent Monton, production coordinator Helen Watts and costume designer Aphrodite Kondos, moderated by filmmaker Mark Hartley (Not Quite Hollywood). This is a lively track filled with interesting production stories, not all of them flattering, as they lament the aggressive and unreasonable shooting schedule that left filming running constantly behind. There is respect for the director's vision and his detailed storyboards, but they insist there were many foolish mistakes made during pre-production that added to the difficulty of the shoot.
The second track is a vintage commentary with Richard Franklin, who details his directing process and occasionally gets technical when discussing specific shots. He talks about his experience working with the producers and the cast and offers insight into the characters. Franklin also reveals what was planned for the original ending before running out of time.
Actor Stacy Keach shares his memories of the film in the 2019 interview Australian Long Haul (13 minutes). He recalls how he got the role and was lured by the beauty of shooting in Australia. He heaps praise on Richard Franklin and Jamie Lee Curtis and shares some amusing production stories.
An audio recording of an early script read from 1980 (117 minutes) featuring Richard Franklin and actors Stacy Keach and Marion Edwards offers a rare glimpse at the process of developing characters. They frequently pause to discuss specific dialogue passages and key plot points as they work through the scenes. There are several differences between what is on the page and what made it to the screen.
Another rarity appearing here is a collection of composer Brian May's music demos (4 minutes) accompanied by production stills and a poster gallery.
Kangaroo Hitchcock (20 minutes) is a retrospective segment on the making of the picture featuring interviews with Richard Franklin and Stacy Keach. Franklin reflects on his love of cinema and the influence of Alfred Hitchcock. He continues with how this project came together, the rushed shooting schedule and compromised ending. Keach, on the other hand, is all smiles as he gleefully shares production stories.
A collection of extended interviews (63 minutes) from the documentary Not Quite Hollywood featuring Jamie Lee Curtis, Richard Franklin, Stacy Keach, Vincent Monton, screenwriter Everett De Roche and assistant director Tom Burstall provides additional detail into their shared experience. The Curtis interview is one of the best.
On November 20, 1980, Richard Franklin, co-producer Barbi Taylor and composer Brian May participated in a lecture moderated by film critic Tom Ryan on the making of Road Games. That lecture was recorded on video and appears here in a VHS transfer in its entirety (130 minutes).
A vintage profile of Richard Franklin (1981, 25 minutes) allows the director to share his memories of attending USC film school and his early work on the Australian television series Homicide (1970). He discusses directing the movie Patrick (1978) and producing The Blue Lagoon (1980). From there he shares some of the pressure he faced shooting Road Games.
In a 2001 audio interview (23 minutes), Franklin discusses his time at USC and his work on the adult film Fantasm, and his mainstream efforts Patrick and Road Games.
Stacy Keach conducted a phone interview (9 minutes) for the film's Blu-ray debut in 2016. He offers his thoughts on his character, remembers learning to drive a truck, working with Franklin and Jamie Lee Curtis and shares his affection for the dog in the movie. These stories are repeated in his other interview segments, but he enjoys telling them and it's fun to hear him get nostalgic.
In another 2016 audio interview (33 minutes), stunt coordinator/actor Grant Page shares his memories of the project and the challenges of filming the various stunts. He is all about planning and safety and learning from your mistakes.
An essay on the film is presented as part of an extensive photo gallery (32 minutes) containing pages of text mixed in with production stills, behind-the-scenes images, publicity shots, script pages, storyboards, production notes, newspaper reviews and promotional artwork.
The theatrical trailer included markets the film as a straight horror movie and is full of spoilers.
Grades:

Movie:


Video:
Audio:
Features:
Overall:
This page includes affiliate links where Horror DNA may receive a small commission at no extra cost to you.