Robotropolis DVD Review

Written by Charlotte Stear

DVD released by Metrodome Distribution
Written and directed by Christopher Hatton
2011, Region 2 (PAL), 90 minutes, Rated 15 (UK)
DVD released on 5th September 2011

Starring:
Zoe Naylor as Christiane Nouveau
Graham Sibley as Danny Ross
Edward Foy as Jason Brooks
Lani John Tupu     as Gordon Standish
Tonya Cornelisse as Sky Bennett
Karina Sindicich as Lisa
Peer Metze as Luther Kobler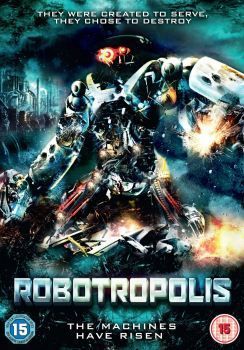 Review:
A group of reporters are covering the unveiling of a new metropolis where people's lives are run and looked after completely by robots. This futuristic city is called "New Town" and hopes to be the first place to launch this new way of life. However, one of the robots malfunctions and starts killing people.  Christine (Zoe Naylor) and her news team need to get to the bottom of what has happened, but more importantly, to stay alive.

You'd be right in thinking this a rather familiar storyline, but the way I see it, it's not about where the film ends up, it's how you get there. You can have particularly tired storyline, but if you put in a good cast and an entertaining script you can get away with it.  The only problem here is Robotropolis doesn't do any of that.

The story is split between what the reporters are seeing on location and what is happening via the GNN offices, so there is a lot of hand held camera work which isn't anything new but does the job pretty well. The effects are actually really good considering the obvious low budget, the robots fit well in their surroundings and don't look cheap, but they are along the lines of I, Robot both in style and the way the story goes.
There are moments where the film is bad and actually becomes funny, there isn't too much of that though so don't assume this is one of those "bad but good" films, it's mainly quite terrible, but when the first killing happens in the opening 20 minutes of the film, I have to say it's really rather amusing. There is a team of reporters on a football field showing a robot playing with the civilians, but in the background we see it stop and shoot an opposing team mate. The reactions of the rest of the team and the reporter isn't to flee or get even remotely scared, it's to stand around the body and do nothing. Absolutely nothing. If you were that guy's teammates you would be screaming and running and god knows what else. There is also a massively slow response from any humans to this pretty scary situation, you may think this is just picking holes in a very small, silly film but they are so glaring it's hard to get past them. The team then start shouting "NO BOTS!" repeatedly. They are obviously very saddened by the loss of their friend.
The acting isn't great, especially Zoe Naylor as the lead news reporter, it all seems rather wooden for a reporter live on scene witnessing these devastating things first hand, but the script does not do any of them any favours. It is often clunky dialogue that doesn't fit what is happening on screen, not giving anyone much chance of a good performance.

A film that is very heavily science fiction does have some surprisingly grisly horror moments, robots dripping with human entrails is certainly unexpected and a nice touch to try and make this slightly original.

Robotropolis obviously isn't out to change the world but other than some humorous moments, it takes itself far too seriously to be watched for the laughs. Purely for robofanatics only.
Video and Audio:
I had no problems with either and there is a choice of 5.1 Surround Sound or 2.0 Stereo on the setup menu.
Special Features:
Nada. Noting. Bupkis. But then I'm not sure what I would really want in addition to the main film.
Grades:

 

Movie:
Video:
Audio:
Features:
Overall:
This page includes affiliate links where Horror DNA may receive a small commission at no extra cost to you.