Rush Week Blu-ray Review
Written by Robert Gold
Blu-ray released by Vinegar Syndrome
Directed by Bob Bralver
Written by Russel V. Manzatt and Michael W. Leighton
1989, 96 minutes, Rated R
Released on April 27th, 2021
Starring:
Pamela Ludwig as Toni Daniels
Dean Hamilton as Jeff Jacobs
Courtney Gebhart as Jonelle Watson
Roy Thinnes as Dean Grail
Don Grant as Byron Rogers
Gregg Allman as Cosmo Kincaid
David Denney as Greg Ochs
Review:
Toni Daniels is a journalism major who has recently transferred to Tambers College where she works on the school paper. Saddled with a boring assignment to cover rush week, Toni dutifully conducts interviews with members of various fraternities, including Beta Delta Beta, the worst house on campus. BDB was suspended last year for bad behavior that had subsequently led to the death of a female student, but their president, Jeff Jacobs, is excited to announce their reinstatement. Following a meeting with Dean Grail, Toni learns of a missing student and is intrigued enough to shift the focus of her article. Her editor tells her there is no story here and pushes her to focus on rush week. When a second student goes missing, Toni is encouraged to dive deeper into the mystery. She enlists her friend Jonelle for help digging up clues.
Jeff is determined to show Toni he is a decent guy and worthy of her attention, but continues his juvenile behavior with his frat brothers, pulling pranks and sabotaging their snooty rival's receptions. A party at the BDB house is pretty raucous, complete with an escort in the back having sex with guests. Toni agrees to meet Jeff, but the party isn't really her scene, so she bails. Later that night, the escort goes missing not long after Jeff steps out for some air. Back at the paper, Toni receives a threatening message on her computer telling her to "Drop it or Else". Toni's investigation leads her to a cafeteria worker who spends his evenings in the science lab photographing nude students after hours. All of the missing women had posed for him and he is the last person to see them alive and may have information. What nobody knows is that someone disguised in a cloak and old man mask is murdering coeds with a large axe and hiding their bodies.
Toni begins hearing reports from some of Jeff's frat brothers that he has been acting weird ever since his previous girlfriend was murdered last year. Toni pursues the photographer angle and has Jonelle look into Jeff's history. There are more threatening messages and another pretty teen disappears and Toni proves to be the worst at snooping around. Soon the killer turns his attention to Toni and her friends, but can she figure out his identity and motivation before she becomes another missing student?
From 1978 to 1984, the slasher movie enjoyed a golden age that saw new titles hitting theaters almost every month. Following the smashing success of John Carpenter's Halloween, virtually every calendar holiday was ripe for murder with the likes of My Bloody Valentine, New Year's Evil, April Fool's Day, Mother's Day and Silent Night, Deadly Night. Summer camps were a death trap, as witnessed in Friday the 13th, The Burning and Sleepaway Camp. By far, one of the most popular venues for mayhem was the world of academia, be it high school in Prom Night and Graduation Day or college in Final Exam, The House on Sorority Row, The Initiation, Splatter University and Hell Night among countless others. By the end of the decade the slasher was all but dead with the occasional stragglers like Pledge Night and Rush Week attempting to resuscitate the subgenre.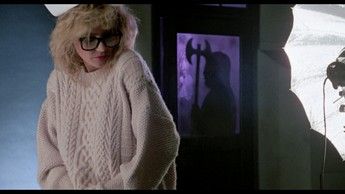 Rush Week successfully mixes the slasher and detective formulas with a masked killer, a campus environment, plenty of red herrings and ample nudity. The film carries a respectable body count, though most of the killings occur off screen, leaving things relatively blood-free. The film was shot in 1989, but didn't get much of a release until 1991, when it hit home video. Despite the lack of gory content, all of the other familiar tropes are in place making this feel like it was made a decade earlier during the slasher heyday. Written by Russel V. Manzatt (Trapper County War) and Michael W. Leighton (L.A. Bounty) and directed by Bob Bralver (Midnight Ride), an accomplished stuntman making his feature debut behind the camera, the story plays out as you would expect and the killer's identity is fairly predictable, but its heart is in the right place.
The capable cast is headlined by Dean Hamilton (Savage Land) and Pamela Ludwig (Pale Blood) as Jeff and Toni, both of whom do a fine job with the material. Jeff is an asshole who is always looking to have a good time, but Hamilton keeps him grounded. Ludwig's Toni frequently finds herself in harm's way, but viewers will root for her survival. Roy Thinnes (Satan's School for Girls) is the conservative Dean Grail, who appreciates the tradition of rush week but is no fan of the BDB house. The supporting players are not given a lot to do, but there are a few standouts. The movie opens with the lovely Kathleen Kinmont (Bride of Re-Animator) as the doomed – and humorously named – Julie Ann McGuffin, the student/ fetish model whose disappearance sets Toni on her journey. Dominic Brascia (Friday the 13th Part V: A New Beginning) is one of the featured frat boys who revels in bad behavior and epitomizes the archetype. Courtney Gebhart (Summer School) plays Toni's best friend Jonelle, and Donald Grant (Monster in the Closet) fills a similar role for Jeff as his concerned pal Byron. In a truly bizarre bit of casting, rocker Gregg Allman turns up as Toni's editor Cosmo Kincaid.
Rush Week is not particularly scary or gory, but genre fans will still find a lot to like with its pursuit of the mystery angle and slavish devotion to slasher movie tropes. Every adult figure acts in a suspicious manner, from the janitor and the photographer to the dean and faculty. Oddly, when the killer is revealed and the motive given, his choice of victims doesn't add up in that he would have better targets if he went after the perpetrators and not the innocent models. One of my less favorite bits of padding in these movies is the device of pausing the action to take in a musical performance from a band for an extended time – this movie does that three times. Despite its shortcomings, the film succeeds in entertaining viewers by leaning into the tropes and having a good time.
Video and Audio:
Presented in the 1.85:1 aspect ratio, the film's 35mm interpositive has received a 2K scan and restoration with very satisfying results. Image quality is tremendously improved over the previous VHS and DVD releases that lacked punch. The new transfer features bold colors and lots of small-object detail, particularly in hair and fibers. Black levels are deep and flesh tones appear natural throughout.
A DTS-HD MA 2.0 stereo mix gets the job done with clean and clear dialogue levels and effective music cues that punch up the tension without becoming too intrusive. The numerous musical interludes are energetic but not particularly memorable. The track is free from any hiss, pops or other distortion and optional English subtitles are included for anyone in need.
Special Features:
The podcasters of The Hysteria Continues deliver another insightful and entertaining audio commentary filled with humorous observations and interesting trivia. The group's knowledge of slasher films is impressive and enthusiastic and well worth a listen.
The delightful Courtney Gebhart looks back on the production in the new interview So 80s (13 minutes). This early career opportunity was clearly satisfying, as she has nothing but positive things to say about her director and co-stars. She talks about preparing for the scene where she sings on stage and the importance of professionalism. She is proud of the film and is pleased with its longevity.
Still Dean Hamilton (13 minutes) catches up with the star of the picture, Dean Hamilton, who looks back fondly on his leading role in a horror movie. He talks about his time working on soap operas and small movies before landing this film and the generosity of director Bob Bralver. He remembers the camaraderie he enjoyed working with actress Pamela Ludwig and shares some information on Gregg Allman's involvement with the picture. He has kind words for the cast and crew and is happy that the film found an audience.
Grades:

Movie:




Video:
Audio:
Features:
Overall:
This page includes affiliate links where Horror DNA may receive a small commission at no extra cost to you.