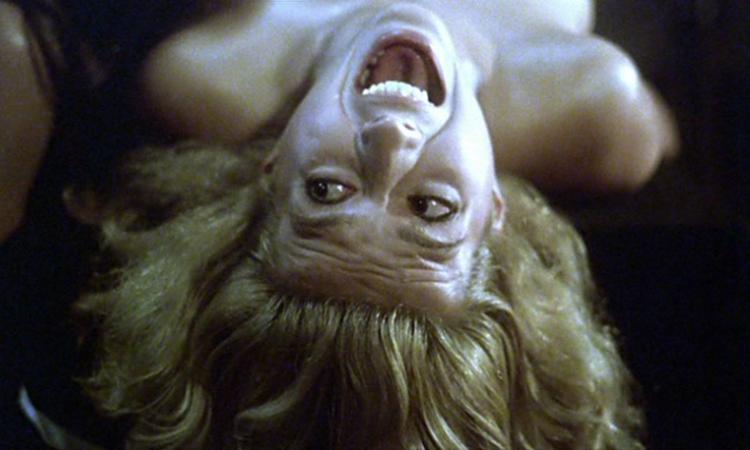 Satan's Blood Blu-ray Review
Written by Robert Gold
Blu-ray released by Vinegar Syndrome
Written and directed by Carlos Puerto
1977, 82 minutes, Not Rated
Released on March 2nd, 2021
Starring:
Angel Aranda as Bruno
Sandra Alberti as Berta
Marian Karr as Ana
Jose Maria Guillen as Andrés
Manuel Pereiro as The Officiant
Luis Bar-Boo as The Guard
Jose Pagan as The Doctor
Isidro Luengo as The Neighbor
Review:
Our story opens with a brief message from a professor who assures us that the following motion picture will provide a thorough and objective look at Satanism as it is practiced in the world today. From there we cut to a scene of a ritual sacrifice in which a woman is held down on an altar while an older priest paws at her and removes her clothing for some gratuitous fondling and drooling before stabbing her. One scene undermines the other, but together they convey a hint at the unhinged path the film ahead will follow.
Andrés and Ana are a loving yet bored couple expecting their first child. Ana wants to go dancing, but her husband feels that may be too strenuous in her condition – but smoking and drinking are fine. Instead, they decide on a day trip into the city with their dog Blackie. They check out the sights and go see Star Wars – I guess they leave the dog in the car. While stopped at a red light, a car pulls up beside them and the couple inside stares at them and smiles. At the next light they address Andrés by name and ask him to pull over. The driver, Bruno, insists he went to school with Andrés and is delighted to run into him, but Andrés has no memory of him. Bruno and his wife Berta invite them back to their house to catch up on old times. Against his better judgment, Andrés agrees and follows them to a remote mansion.
Wine and cheese are served and old photographs circulated with Bruno quick to share anecdotes that leave Andrés confused. Berta and Bruno are into the occult, which intrigues Ana as she thumbs through the pages of a book. Later it is decided that their guests should spend the night to avoid a heavy thunderstorm. The group mess around with a Ouija board and some dark secrets are revealed. During the night Ana hears a noise and thinking it might be the dog, goes downstairs to investigate, only to be jumped and assaulted by a strange man. She escapes and rushes back to tell her husband what happened. Together they go downstairs only to find Bruno and Berta sitting nude inside a pentagram on the floor of a room lit by way too many candles. Berta approaches and places them under a spell where they remove their guests' clothes and rub them with some sort of creamy lotion and engage in a prolonged bit of group sex.
The next day, things get even weirder with Andrés and Ana waking up in an empty house with no memory of the night before and their car missing. They are eager to leave but can't find their dog. Bruno and Berta return in the car having run an errand and our heroes bid a hasty goodbye, but now the car won't start. A gruesome discovery leads to some tense moments and unexpected violence leaving one of them mortally wounded. Things quickly go off the rails and more blood is shed, forcing Andrés and Ana to take desperate actions to try and escape this hellish nightmare.
Spanish cinema was heavily censored during the dictatorial rule of Francisco Franco until his death in 1975. Within a few short years, the "S" rating was established and adult content began to flourish with softcore erotica playing in cinemas alongside traditional family-friendly material. Satan's Blood (aka Escalofrío aka Chills) is an early example of the newly relaxed rules, featuring a decent amount of full-frontal nudity and a penchant for the unholy. Written and directed by Carlos Puerto (In a Thousand Pieces) and produced by the legendary Juan Piquer Simón (Pieces), who reportedly directed a few additional scenes uncredited, the picture is not as bonkers as it sounds but does contain some rich atmosphere and a few genuinely creepy moments.
Angel Aranda (Planet of the Vampires) and Sandra Alberti (Trauma) star as the mysterious Bruno and Berta, both delivering just the right balance of friendly and unsettling behavior. Marina Karr (It Happened at Boarding School) and Jose Maria Guillen (Gay Club) play the unlucky Ana and Andrés. They are far too trusting in the company of strangers and pay a steep price for their poor judgment. Karr bears more than a passing resemblance to British actress Jenny Agutter (An American Werewolf in London), which is a good thing, but mildly distracting. For the English dub the characters are given American variations on their names, with Ana and Andrés becoming Annie and Andy, while Bruno remains unchanged, but Berta oddly is now called Mary.
Satan's Blood contains its share of head-scratching non sequiturs like the spooky doll that has a life of its own or the random rapist who breaks into the house to attack Ana. A groundskeeper and a doctor who suspects Andrés of committing a crime turn up to add to the uncomfortable tone. There is some blood and ample nudity to keep your attention while the young couple slowly figure out they are in trouble. The resolution is satisfying and the final scene is a real shocker, making me want to see more of the filmmaker's work. The Italians receive a lot of attention for their horror output from this era, but Spain has some treats for audiences too. Here's hoping more of these titles receive long overdue domestic releases.
Video and Audio:
Presented in the 1.66:1 aspect ratio having received a 4K scan and restoration of the original camera negative, picture quality is quite pleasing. Colors are bold and well-saturated while black levels are rich and deep. The image is sharp and features an abundance of small-object detail and flesh tones appear natural throughout.
There are two audio options provided, including the Spanish language track and an English dub, both appear in a DTS-HD MA 2.0 mix. I found the Spanish soundtrack more engaging, but either is fine. The track is free of hiss, pops or other distortion and dialogue levels are well-balanced with music and sound effect cues.
Optional English subtitles are included for anyone in need.
Special Features:
In their audio commentary, authors and film historians Samm Deighan and Kat Ellinger make it clear they are big fans of this movie. They share a wealth of information on Spanish cinema of this era and the rise of the sexploitation subgenre. There is much discussion of director Carlos Puerto and his elusive filmography, as well as stories about the film's producer Juan Piquer Simón. Other topics include the unpredictable vibe of Spanish horror and notes on the cast and art direction. The conversation is energetic and informative and well worth checking out.
The retrospective documentary Satan's Blood: Recuerdos de Escalofrío (47 minutes) offers a look back at the history of the production as told by Puerto, actress Sandra Alberti and editor Pedro del Rey. Through these interviews we learn of the challenges the cast and crew met, starting with freezing temperatures that left the often nude actors… cold. Alberti tells of her reluctance to appear in some of the more risqué scenes. Puerto addresses the additional material shot by the producer and later the audience's positive reaction to the film's release.
A still gallery slideshow (2 minutes) provides a look at poster art, lobby cards and images from the press kit.
Grades:

Movie:


Video:
Audio:
Features:
Overall:
This page includes affiliate links where Horror DNA may receive a small commission at no extra cost to you.