Scary True Stories DVD Review
Written by Steve Pattee
DVD released by Dark Sky Films
Directed by Norio Tsuruta
Written by Chiaki Konaka
1991, Region 1 (NTSC), 138 minutes, Not rated
Starring:
Hisako Yamada
Hidetaro Eguchi
Ryushi Mizukami
Akane Aizawa
Shinobu Kosakai
Reiko Shiraishi
Hitomi Yamanaka
Arisa Ogasawara
Naoya Ban (Daisuke Ban)
Emi Terada
Yuki Haruhara
Sawako Nakajima
Yumi Goto
Shinobu Ishikawa
Mai Moriguchi
Junko Asanuma
Hiromi Hisano
Kazushi Suuki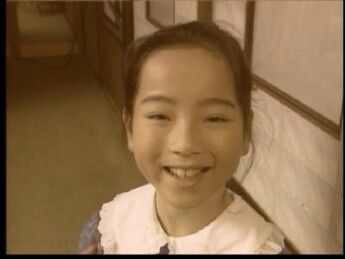 Movie:
Scary True Stories is a collection of 10 short tales that aired on Japanese television in the early 1990s.
The first story, "The Lonely Girl," centers around a young girl on the swim team who finds the locker room is the last place she wants to be.
"Spiritual Flight" is about a child who has an awakening with the help of her dead grandmother.
In "Mystery of the Red Earring," a young girl tells her friend, Masayo, the story of the day she found an earring on the way home from school. After she threw the earring away — because what can someone do with just one earring — the earring turned up again the next day. And the day after that. After she begs Masayo to spend the night, the two girls find out exactly who that earring belongs to.
In story four, "The Gymnasium in Summer," three girls decide to take a dare and sneak into a haunted gymnasium.
When a family moves into a "House of Restless Spirits," weirdness starts happening, including hallucinations and a strange man who seems to wander the house.
A nurse gets more patients than she bargains for when she works at "The Hospital at Midnight."
"Be Gone Crone!" is a good example of why you should never look out the window if you don't want to know what's on the other side.
Two girls see a little boy in a stairwell whenever they run up it, but when they turn around, they see "My Friend at the Stairwell" has disappeared.
Story nine deals with a woman and her "Paralysis."
And in the final story, three friends explore an abandon building at night. It's never, ever, good when there is "The Black Hair in the Abandoned Building."
Review:
I've always been a fan of horror anthologies. There's something to be said for a well-done anthology, such as Creepshow or Twilight Zone: The Movie, that has stories which have a beginning, middle and end in under 20 minutes and are still a satisfying experience. 20 minutes is not a lot of time to get in the ever-important character development, as well as a decent plot, but when done well, it's impressive.
Scary True Stories debuted in Japan about a decade ago, and I imagine at the time they were scary. Watching Stories, I was reminded of the "Unsolved Mysteries" episodes that dealt with ghosts. While those were creepy when they first aired, they lost some of their magic over the years. The same thing happens with Stories. There are certainly a few unsettling moments, in particular the episodes "Mystery of the Red Earring" and "House of Restless Spirits," but some episodes are just kind of silly, such as "Spiritual Flight." That the tales are supposedly based in truth somewhat adds to the experience, but for the most part, the scares fall flat.
But, as I was watched the episodes, I couldn't help but think how perfect Stories would be to introduce a younger person to Japanese horror. Many of the episodes have the fear and dread of such movies like Ringu and Ju-on, but on a much, much smaller scale.
The acting in Stories is passable, and there aren't any standouts. One thing of interest is nearly all of the tales in this anthology center around young women and, with the exception of the last story, men play very small roles.
But while Scary True Stories may not be that scary for adults, or even true for that matter, it is an important anthology in the horror genre, not only because it is the directorial debut of Norio Tsuruta (Ring 0: Birthday), but it is also a pre-cursor to the J-Horror boom. While it's not the scariest movie you are ever going to see, J-Horror fans should check out Scary True Stories to see the influence it had on the films that followed it.
Video and Audio:
The 1.33:1 full-frame (OAR) presentation is surprisingly good, considering it was a made-for-TV series more than 10 years old. While the image is a bit soft, there are no visible artifacts and, overall, a solid presentation.
Unfortunately, the 2.0 Dolby Stereo offering is not as solid as the video presentation. The dialogue, while mostly clear, is often overwhelmed by sound effects or music. Keep your remote handy.
English subtitles are available.
Special Features:
Two TV spots are offered, as well as the storyboards for the "House of Restless Spirits" episode.
I'm honestly surprised Dark Sky Films didn't add at least a biography on Tsuruta, considering the influence this show apparently had on J-Horror.
Grades:

Movie:


Video:
Audio:
Features:
Overall:
This page includes affiliate links where Horror DNA may receive a small commission at no extra cost to you.