Screamers Blu-ray Review
Written by Robert Gold
Blu-ray released by Scream Factory
Directed by Christian Duguay
Written by Dan O'Bannon and Miguel Tejada Flores (story by Philip K. Dick)
1995, 108 minutes, Rated R
Released on January 29th, 2019
Starring:
Peter Weller as Col. Hendricksson
Roy Dupuis as Becker
Jennifer Rubin as Jessica Hanson
Andy Lauer as Ace Jefferson
Charlie Powell as Ross
Ron White as Chuck Elbarak
Michael Caloz as David
Review:
In the year 2078, the Byranium wars between the miners and engineers continue to drag on. Rebel Alliance commander Col. Joseph Hendricksson has just received word from the opposition that they are ready to pursue peace negotiations. After receiving conflicting information from Earth, he decides to investigate the offer of talks personally. Hendricksson sets out on foot joined by marine grunt Ace Jefferson, crossing the frozen landscape toward the enemy's base. Their main obstacle is a weapon designed by the rebels, a fleet of autonomous robots, known as Screamers, programmed to kill anyone that crosses its path. These machines burrow underground and announce their presence with an ear-piercing scream before launching themselves at their target with lethal precision. Protected by special sensor-jamming wristbands, the duo makes their way into forbidden territory in hopes of ending this horrible war. What they find instead is nothing short of the world of nightmares.
In 1953, famed science fiction author Philip K. Dick penned the short story "Second Variety" and by all accounts the film adaptation Screamers remains largely faithful to the source material. Adapted for the screen by Dan O'Bannon (The Return of the Living Dead) and later re-written by Miguel Tejada Flores (Fright Night Part 2), the feature offers some intriguing new ideas while catering to well-established tropes of the genre. Directed by Christian Duguay (Scanners II), the general atmosphere is bleak, but he keeps the action moving at a steady pace. This tale of killer robots on the loose is tried and true cinematic gold and Duguay does a fine job with it. He generates some decent suspense as we get into frequent Philip Dick questions of identity and reality. The ending could use some trimming, but otherwise this is a solid story.
Peter Weller (Leviathan) stars as the war-weary Col. Hendricksson, a man resigned to doing his job despite the draining effects it is having on him. He is a leader on a mission and has little patience for distraction, so it is surprising that he would bring along a chatty rookie grunt with him. Andy Lauer (Caroline in the City) is Ace Jefferson, a soldier whose transport crash lands outside Hendricksson's outpost. He is gung-ho and brings a much-needed dose of energy to the proceedings. Lauer and Weller work well together and do a lot to carry the first half of the picture. Jennifer Rubin (Bad Dreams) plays the resilient Jessica Hanson, a survivor in a world that has moved on. She brings an appropriate grit to the performance and is capable of holding her own opposite Weller. Roy Dupuis (Jesus of Montreal) plays the antagonistic Becker, a man with too much time on his hands and a penchant for trouble. He is a solid foil to Weller's lead and adds a nice depth to the role.
Screamers came out just before Independence Day changed the face of science fiction movies for years to come. It has more in common with genre pictures like The Terminator and Tremors than other contemporary offerings. This low-budget picture arrived in the early days of CGI, which is used sporadically and is not too distracting. Fortunately, the effects are largely either practical or stop-motion and they hold up well. The movie did not set the box office on fire, but did well enough on home video to merit a sequel Screamers: The Hunting (2009). Sci-fi fans will find a lot to like here as the film never overreaches its grasp. It simply tells a small story in a big world. Peter Weller is really good, the effects hold up well and the plot remains true to its source material. This adds up to a winning combination and collectors will not have any issue picking this one up.
Video and Audio:
The HD master is a bit dated but the 1.85:1 presentation still looks rather pleasing. This is a "lived in" environment and colors are muted accordingly. Black levels are solid and there is a fair amount of small-object detail.
A DTS-HD MA 2.0 stereo track gets the job done, although I had to turn up the volume for various dialogue scenes. Music cues are full without being intrusive and sound effects pack a punch.
Optional English subtitles are included for anyone in need.
Special Features:
Director Christian Duguay reflects on the making of Screamers in the segment Northern Frights (21 minutes). He reveals his history in the business starting off as a cinematographer and Steadicam operator before moving into directing. There is discussion on how this project came together and about shooting on location in Quebec.
From Runaway to Space (19 minutes) catches up with actress Jennifer Rubin, who is quite candid in her memories of the production. She relays some biographical information and how she got into acting. There are kind words for her director and fellow cast members and she remains instantly likeable.
Producer Tom Berry discusses his place in the industry in the interview segment Orchestrating the Future (24 minutes). He talks about how the project came together and some of the challenges faced by the production. He is a big fan of Christian Duguay and Peter Weller and appreciates their work ethic.
Co-writer Miguel Tejada Flores shares the backstory on the work that went into developing the script in More Screamer Than Human (11 minutes). He reveals his reaction to the draft by original screenwriter Dan O'Bannon and how he wanted to bring in some levity. He goes on to talk about the streamlining process he brought to the project.
The theatrical trailer is included but contains a fair amount of spoilers.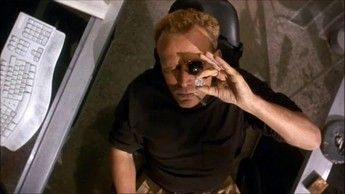 Grades:

Movie:


Video:
Audio:
Features:
Overall:
This page includes affiliate links where Horror DNA may receive a small commission at no extra cost to you.