Silent Night, Zombie Night DVD Review
Written by TGM

DVD released by Pacific Entertainment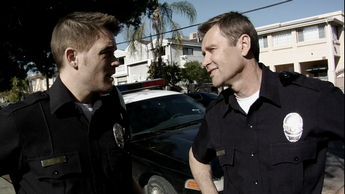 Written and directed by Sean Cain
2009, NTSC, 83 minutes, Rated R
DVD released on October 4th, 2011
Starring:
Jack Forcinito as Frank Talbot
Andy Hopper as Nash Jackson
Nadine Stenovitch as Sarah Talbot
Lew Temple as Jeffrey Hannigan
Vernon Wells as Paul Irwin
Felissa Rose as Elsa Lansing
Review:
Zombie movies are equivalent to genital herpes for low-budget horror film reviewers. They are usually miserably painful affairs that nobody wants to see and are downright impossible to get rid of once it shows up in your lap. Thankfully, mercifully, Silent Night, Zombie Night, while not perfect, offers up a bit of decent juju to warrant some positive attention.
Silent Night, Zombie Night is the story of a pair of LAPD officers who are on the verge of ending their partnership and subsequent friendship due to the fact that they both are in love with the same woman. Luckily, the zombie apocalypse arrives in time to give them something else to focus on other than their woeful hearts. I fully realize that this synopsis sounds rather sappy, and granted there are far too many scenes of Lifetime-movie-laden melodrama, but there exists just enough well-executed zombie ass-whooping to make the majority of the trite dialogue palatable.
The film primarily takes place in a single location in standard zombie "house under siege" fashion. Occasionally someone will leave to go investigate the nearby surroundings, kill a zombie or two, find a survivor, get shot, meet up with a grizzled resistance fighter, get bitten, come back, drink whiskey, flirt, have sex, rinse, repeat. Surprisingly, this basic formula works for the most part. I even found myself getting suckered into the love triangle between the leads, although one of them, Frank, is such an acerbic douchebag, that you wonder why there is even a debate to begin with.
Apparently, a big selling point for Silent Night, Zombie Night is the presence of Vernon Wells. I'll shamefully admit to not immediately recognizing the name or the face. In fact, my mind initially pictured the three-time All-star left-fielder for the Toronto Blue Jays. Vernon Wells, the Australian actor, has indeed carved out an impressive career playing roles in The Road Warrior, Commando, Innerspace, Weird Science, and The Power Rangers. He also played one of the masked bad guys in the Australian flick Fortress, a movie caught on Cinemax in my youth that still haunts me to this day. While he's the biggest star in this otherwise no-name production, I find it rather humorous that the three names listed at the top of the DVD are NOT the three people actually gracing the cover.
The performances are decent, special effects competent, and ending refreshingly bleak. Zombie purists will likely be somewhat infuriated by the presence of both lumbering and running zombies that conveniently switch classes whenever the plot dictates it. There is also plenty of ammunition wasting, which is always a huge pet peeve of mine for these kinds of films. If you don't know that shooting a zombie in the head is the only way to kill them by now, then you're just as brain dead as the zombies you're running from and deserve to be feasted upon.
One final note, Silent Night, Zombie Night, takes place around Christmastime in Los Angeles. I know this only because there is a haphazard Christmas tree in one scene and a fat zombie donning a dirty Santa suit in another. Other than that, there really isn't much else that imbues this movie with Christmas spirit, so it likely won't completely satiate a horror lover's appetite for a true undead Yuletide experience. But, in all honesty that has less to do with the movie, and more to do with the fact that Christmas on the Left Coast just inherently sucks.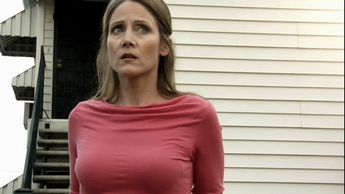 Video and Audio:
Both the 5.1 audio and anamorphic widescreen video are average, neither spectular nor offensive.
Special Features:
Extras include an awkward silence filled commentary with the director, producer, and cinematographer, some deleted scenes best kept that way, a blooper reel, trailers, and a quick little Easter egg featuring Vernon Wells.
Grades:

Movie:
Video:
Audio:
Features:
Overall:
This page includes affiliate links where Horror DNA may receive a small commission at no extra cost to you.