Sinister 2 Blu-ray Review
Written by Steve Pattee
Blu-ray released by Universal Pictures Home Entertainment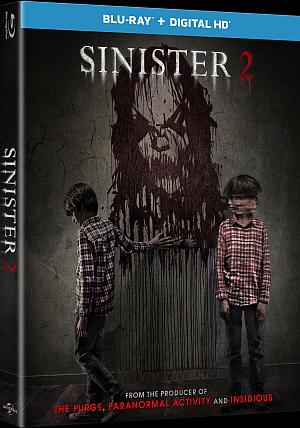 Directed by Ciarán Foy
Written by Scott Derrickson and C. Robert Cargill
2015, 98 minutes, Rated R
Blu-ray released on January 12th, 2016
Starring:
James Ransone as Deputy So-and-So
Shannyn Sossamon as Courtney
Robert Sloan as Dylan
Dartanian Sloan as Zach
Review:
When I saw the first Sinister, I really knew nothing about it except for maybe the poster and it starred Ethan Hawk. I don't spend a lot of time watching trailers. I was hooked from that first 16mm death scene that opened the film, and I liked everything about it from its red herrings all the way to its not-so-happy ending.
When the sequel was announced, I really had no opinion one way or the other. We all know sequels are very rarely as good as, much less better, than the movie that came before it. So when I sat down to watch Sinister 2, and the opening is yet another fantastic 16mm death scene, again, I was hooked. Unfortunately, this time around, it didn't hold me all the way through. Ultimately, Sinister 2 doesn't know the story it wants to tell, nor is it as mean spirited as Sinister.
This time around, the targets of the demon Bughuul's evil doings are Courtney (Shannyn Sossamon) and her twin boys Dylan (Robert Sloan) and Zach (Dartanian Sloan). We learn early on that Courtney is in hiding from her abusive husband. While it's a great thing she got those kids out of the frying pan of one awful environment, she placed them all into the fire of another mess; the house happens to be one of those lovely locations Bughuul plans on cleansing.
Luckily for the family, though, Deputy So-and-So – actually, he's no longer a deputy at all having lost his job because of the incidents in the first film – is on the case. He's been tracking the locations where the demon has been doing damage and, well, I don't want to spoil it. Needless to say, he quickly becomes involved with the family as some sort of protector. They need it too, because Dylan has a new pal Milo, and this kid has been showing him some home movies in the basement.
Sinister 2 has two problems: the first is it's a total paint-by-numbers sequel and brings nothing new to the table. This is a bit frustrating because Sinister did leave a lot of mystery to the big bad, at least enough to continue the series. But instead of building on that mystery, the filmmakers decide for some unknown reason to pack the movie with jump scares. Don't get me wrong, the 16mm shorts sprinkled throughout are damn creepy, just as much as the first, but instead of bothering to build suspense to ease the dread out of you, you're subjected to amateur-hour jumps derived from music cues and things launching out at you. This is a bit surprising considering Karin spoke very highly of director Ciarán Foy's previous film Citadel. But what's even more shocking is the writers from Sinister, Scott Derrickson and C. Robert Cargill, also wrote this one too. Instead of feeling like a continuation of the first film, it feels like a sequel for no other reason than money.
The second issue Sinister 2 has is it tries to tell too many stories, all of which are good, but none are fleshed out. This could have been a story about Deputy So-and-So and his quest to rid the world of Bughuul, and it would have been great. This could have been a story about a single mother and her family fighting the evil Bughuul, and that would have been great. This could have been the story about twin boys, one of which is being drawn into an evil pact with his new pals, and that would have been great. But instead, everything is mashed up together and as a whole, it really doesn't work. And don't even get me started on the completely useless "abusive father" storyline (although that does allow for one of the best scenes in the film). There are too many ideas here, all of which would work singularly, but when it's all thrown against the wall at once, none of it really sticks.
That's not to say Sinister 2 is horrible; it's not. It's just a typical sequel that will be forgettable a few weeks after you watch it. There are enough creepy moments (mainly the murder films) that make it a nice time killer, but at the end of the day, it's just an average horror movie thrown together for a quick buck.
Video and Audio:
As expected with a bigger budgeted film released in the past few years, both the video and audio are top notch. The former is gorgeous; colors are natural and there is some great, fine detail throughout.
The DTS-HD Master Audio 5.1 is equally impressive, with a wonderful use of the surrounds. It's bitter sweet because it makes the jarring music and sound f/x jump cues that much more effective.
Special Features:
Extended Kill Scenes
Deleted Scenes
Time to Watch Another: The Making of Sinister 2
Feature Commentary with Director Ciarán Foy
The best extra on the disc (and exclusive to the Blu-ray) is the extended kill scenes. Since these delightful scenes are one of my favorite parts of Sinister 2, I was pleased to see these as a feature. My favorite is the fishing trip.
There are five deleted scenes running a total of about nine-and-a-half minutes. While I can see some of them hitting the cutting room floor, there is at least one – involving a bird and a slingshot – that should have stayed. It's damning and uncomfortable.
The featurette Time to Watch Another: The Making of Sinister 2 (10:11) is your typical fluff. Everyone was great to work with, everyone is wonderful, the set was the best set ever to be on. There, I saved you 10 minutes of your time.
Rounding it out is a commentary with Foy.
Grades:

Movie:






Video:
Audio:
Features:
Overall:
This page includes affiliate links where Horror DNA may receive a small commission at no extra cost to you.