Some Guy Who Kills People Movie Review

Written by Charlotte Stear

Official Website
Directed by Jack Perez
Written by Ryan Levin
2011, 90 minutes, Not Yet Rated

Starring:
Kevin Corrigan as Ken Boyd
Barry Bostwick as Sheriff Walt Fuller
Karen Black as Ruth Boyd
Leo Fitzpatrick as Irv
Ariel Gade as Amy Wheeler
Lucy Davis as Stephanie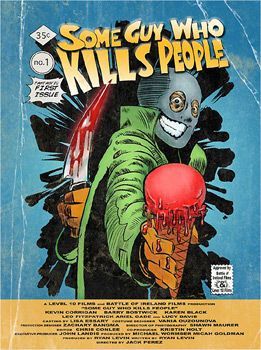 Review:
Horror comedies walk that very fine line sometimes of being far too cheesy and not having the right elements to make it a horror. With a name like Some Guy Who Kills People you could be forgiven for dismissing it, but at a recent premiere the film proved it could deliver the funny and the horror in equal, excellent measure.

Ken Boyd is a bit of a tortured soul. After being bullied at school by the popular jocks, he spends time in a mental institution and after being released, he seems intent on setting his life back on track. He gets a job at the local diner and through a twist of fate is reunited with his daughter. The trouble is that the ferocious jocks who caused him such humiliation are still roaming the town like nothing happened. And they still don't have any respect for him.

It's probably worth noting here that Executive Producer for this film is none other than John Landis. If this film needed any seal of approval then there you have it, but believe me this film is exciting and fresh and needs to be seen even without it.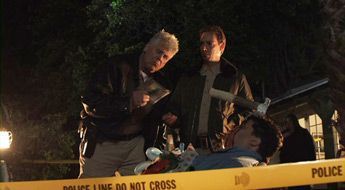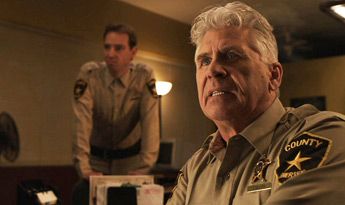 Kevin Corrigan as Ken Boyd is a real perfect match, he plays the downtrodden, troubled character so well without even saying anything, it's all in his eyes and his facial grimaces. It's good to see Corrigan in a lead role, I've always noticed him in his supporting roles like Pineapple Express and Freaks and Geeks and this one proves his abilities at the forefront. There is a really sweet romance that happens on screen with him and a woman he meets, Stephanie, played by Lucy Davis. It's pretty touching how it all pans out and you know he is wondering why a girl like that is after him. But that's what makes it fun, you can see her interest in him and their mismatched personalities somehow work. It is a great bit of casting getting these two together because they have an odd chemistry, one you maybe wouldn't think would work, but it does.

One of the most notable things about this movie is the really bright look it has, the colours stand out and practically pop out at you on the screen making it all the more comical, in a good way of course. I think this adds to the light-heartedness a film about killing people can have. But it also reflects how Ken often lives through his animated drawings and comics, giving it an almost cartoon effect. The style and direction is really complementary to the script and it is very exciting stuff from director Jack Perez.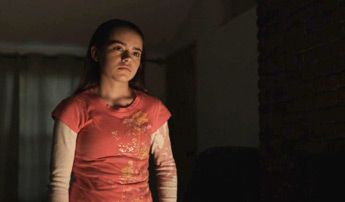 Star of the show has to be Barry Bostwick as the Sheriff. Any film of this type has one character that just bursts on screen and comes out with one line that tears the theatre apart laughing, Bostwick is that guy. Great comedic timing and a fantastic rapport with the cast means he just shines when his character appears. Karen Black plays a fantastically controlling and condescending mother, many people may recognise her as the Oscar winning actress for Five Easy Pieces, but the horror geeks among any cinema crowd will instantly know her as Mother Firefly from House of 1000 Corpses. Another superb little performance comes from Ken's daughter, Amy, played by Ariel Gade, boy can she act! Most young child actors have a tendency to get on my nerves or I just don't notice them, however this girl is one to watch. In fact, everyone does their bit really, really well. It is a great collaborative cast that I think makes this film so successful.

There are some very imaginative death scenes but people may be disappointed on the gore front the film doesn't go all out on the horror side of things, but it is still there when it needs to be. It also does well to keep the audience thinking and guessing. There is depth to this film and more to it than meets the eye.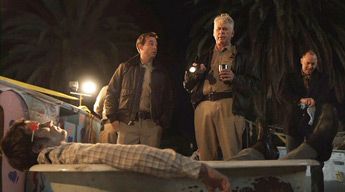 Underneath the comedy and the horror there is also a heart to this film that really gets the audience involved. We are on the side of Ken here; he may be working a dead end job and living with his mother, but heck, that will appeal to a lot of people right now (yours truly included). We are rooting for the underdog, even when there are pretty grisly murders going on, and writer Ryan Levin has done well to get that mix. As we identify, or at least have sympathy for the lead character, he can pretty much do whatever he wants and the audience will go along with it.

This film is a little cult classic in the making that I hope doesn't go under the radar because it deserves to be seen on the big screen. There was a real sense of unity in the cinema while it played, which isn't always common these days, and it was a refreshing experience.  This film will have a big fan base waiting for it, it just needs to get out there.
Grades:

 

Movie:


Video:
n/a
Audio:
n/a
Features:
n/a
Overall:
This page includes affiliate links where Horror DNA may receive a small commission at no extra cost to you.