Sometimes They Come Back Blu-ray Review
Written by Robert Gold
Blu-ray released by Olive Films
Directed by Tom McLoughlin
Written by Lawrence Konner and Mark Rosenthal
1991, 98 minutes, Rated R
Blu-ray released on October 27th, 2015
Starring:
Tim Matheson as Jim Norman
Brooke Adams as Sally Norman
Robert Rusler as Richard Lawson
Nicholas Sadler as Vinnie Vincent
Bentley Mitchum as David North
William Sanderson as Carl Mueller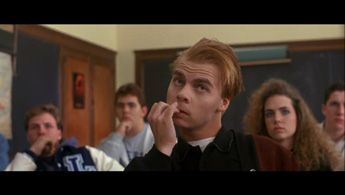 Review:
Sometimes They Come Back, based on a short story by Stephen King, is a tale of ghosts of the past returning to haunt a man and his family. Jim Norman was traumatized as a child when his older brother was killed in front of him and those responsible also died in a horrible accident immediately after. Now an adult, Jim moves back to his home town to take a teaching job at the local high school. His students are a bit unruly but nothing he can't handle until a few new students transfer in. The new kids are dead ringers for the punks that killed his brother. Is Jim being tormented by his past or is he simply losing his mind? A number of deaths at the school convince him it is the former, no matter how preposterous that sounds.
Tim Matheson stars as Jim, the emotionally-challenged history teacher on a mission to right his life by standing up to the bullies that haunt him. He does a fine job with the role but is hobbled by the melodramatic script by Lawrence Konner and Mark Rosenthal. Their work is frequently schmaltzy as Jim often remembers the good old days with his brother, but remains relatively toothless when revisiting the events leading up to the traumatic incident. Also working against the script is an indecisive adherence to the rules of reality. Ghosts pursue potential victims and interact with the living, but conveniently only a select few can see them. I'm not sure if this was a weak attempt to make Jim a suspect or just a ploy for him to question his sanity.
Director Tom McLaughlin (Friday the 13th Part VI: Jason Lives) brings as much life to the tale as possible by presenting a straightforward horror tale in a somewhat traditional manner. The picture cannot escape its made-for-television roots and suffers by the lack of significant scares inherent in the source material. Most welcome is McLaughlin's use of the anamorphic widescreen compositions, uncommon in this format of movies. Another highlight comes via Gabe Bartalos' make-up effects that are unsettling without being too gory. The look of the undead apparitions is impressive, but they deserve a bit more screen time. It is a shame that the script undermines the performances and pacing but the rest of the tale is strong enough to merit a look for devoted Stephen King fans.
Video and Audio:
Sometimes They Come Back is presented in the original 2.35:1 aspect ratio and appears to use the same dated transfer from the previous DVD release. Colors are strong but do not really pop and there is a fairly heavy amount of grain through a lot of the picture. There is some nice detail in close-ups, but the overall image is a bit lifeless.
The audio is presented in a respectable DTS-HD MA 2.0 track that maintains clear dialogue and keeps music levels well-balanced. There is not a lot of power in this mix, but it gets the job done.
Special Features:
The only extra is the film's theatrical trailer.
Grades:

Movie:




Video:
Audio:
Features:
Overall:
This page includes affiliate links where Horror DNA may receive a small commission at no extra cost to you.