Sometimes They Come Back DVD Review

Written by Charlotte Stear

DVD released by Second Sight Films
Directed by Tom McLoughlin
Written by Lawrence Konner and Mark Rosenthal
1991, Region 2 (PAL), 94 minutes, Rated 15
DVD released on 9th April 2012

Starring:
Tim Matheson as Jim Norman
Brooke Adams as Sally Norman
Robert Rusler as Richard Lawson
Chris Demetral as Wayne Norman
Robert Hy Gorman as Scott Norman
Review:
It's hard to think of more authors that have had as many novels turned into films than Stephen King. Shakespeare may rival him with his plays, but still King has given the bard a run for his money. The adaptations of his work range from the god awful to the astoundingly brilliant, some have been made into movies, some for stage and some for the small screen. Sometimes They Come Back is a short story which was published in King's Night Shift collection, which was then adapted for a TV movie back in 1991.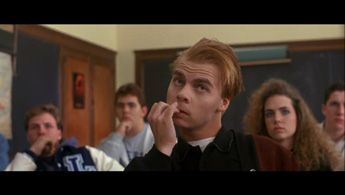 The story follows Jim Norman (Tim Matheson), a teacher struggling to find work after problems with his temper at a previous school. He is forced to take a job in the town he grew up in, despite his parents fleeing after his older brother was stabbed in a railway tunnel by a group of rebel teens. The group didn't get away from it unscathed though, as a train barreled down as they were trapped on the tracks in their car. Jim managed to escape unharmed, but was forever haunted by what happened that day. When he arrives back in the town, now all grown up with his new family, the past is not ready to forget him and familiar faces appear in his classes intent on finishing what they started years ago.
With its audience very much in mind, Sometimes They Come Back never goes too far, especially in gore terms and it often feels like it is holding back from doing anything too scary. There are constant sinister undertones to keep the audience at a certain level of discomfort. There is something so unjust about a group of bullies coming back from the dead to try and get the brother they missed the first time, and this is classic King. It does look a bit dated in places but the way the greasers are shown in their undead forms is very cool and adds to the b-movie charm of the film.
Fans of the original short story may not take much from it, the original is a bit drearier and this interpretation may not hold everyone's attention. It suffers from being too constricted for the medium it is intended for, it isn't a bad film, it just isn't the best. And let's be honest, when there are such King classics as Carrie and Misery on offer, it is hard not to have high expectations. True fans will get a kick out of it though.
Video and Audio:
Both video and audio offer no problems whatsoever. The DVD is shown in 2.35 : 1 aspect ratio and 5.1 Dolby Surround Sound.
Special Features:
There are none which is a shame, a bit of a retrospective or any additional scenes would have made this a good DVD to collect.
Grades:

 

Movie:
Video:
Audio:
Features:
Overall:
This page includes affiliate links where Horror DNA may receive a small commission at no extra cost to you.