Sorceress Blu-ray Review
Written by Steve Pattee
Blu-ray released by Synapse Films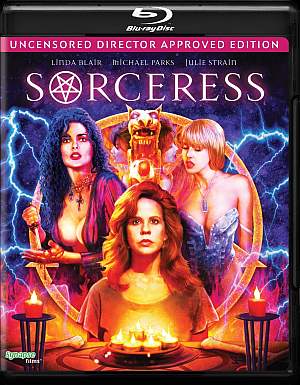 Directed by Jim Wynorski
Written by Mark Thomas McGee
1995, 89 minutes, Unrated
Blu-ray released on June 14th, 2016
Starring:
Larry Poindexter as Larry
Rochelle Swanson as Carol
Julie Strain as Erica
Linda Blair as Amelia
Edward Albert as Howard
Michael Parks as Stan
William Marshall as John
Review:
I was going to start this review with a Skinemax joke, but then I thought about it...do people under the age of 25 even get that joke? I mean, I bet they get the gist of it, but do they know what it means; where it came from? I imagine it's the same thing when you tell someone under 18 who has never been in a house with a corded phone to hang up the phone. They will end their call because they understand the meaning, as they've heard it all their lives, but they ever bothered to think about what was being said to them, they'd realize it makes no sense. Hang up? Huh? So I'm thinking a brief history lesson is in order.
When we old-timers were growing up, we didn't have such fancy things like the interweb. When we were kids, and wanted to look at some skin, we couldn't just couldn't go to Google and do a search for sexy time; we had to work for it. For the longest time, our choices were the underwear section of the Sears catalog or, if we were lucky, we or one of our friends had found one of those mysterious stashes of girly mags in a moist, degrading cardboard box deep in the woods. (Don't ask how, but every dude I know has a story of those mystery boxes that have turned up). This all changed with cable, and more specifically, Cinemax. See, back in the day – and after midnight – Cinemax would play a mixture of softcore pornography films and movies whose only purpose was to get from one scene with nudity to the next. This was technically called "Cinemax after Dark", but it wasn't long before it picked up the moniker, Skinemax. For some who were lucky to have parents who subscribed to the service, we were introduced to such classics like Emmanuelle (the first one I saw) and Lady Chatterley's Lover. But for those of us really paying attention, we were also introduced to the heroes who made these movies their bread and butter; men like Sorceress director, Jim Wynorski (Popatopolis).
Sorceress is a movie tailor made for Skinemax. The plot is paper thin; the women busty and beautiful; the men handsome and buff; and the sex scenes plentiful. Basically, witch Erica (Julie Strain, an actress who starred in a ton of these types of movies, many of them Wynorski's) throws a spell down on Howard (Edward Albert, Galaxy of Terror) because she feels he unjustly got a promotion her husband, Larry (Larry Poindexter), deserved. This dark magic causes Howard to crash his car, something his wife Amelia (Linda Blair, The Exorcist, duh) doesn't take to kindly too. When Larry gets home and finds out what his wife has done, they argue, he packs a bag to leave her, then in a tragic accident, Larry knocks Erica off a balcony where she falls to her death. As he rushes to her side, she says something along the lines of it doesn't matter if she dies, she'll always be around.
Unfortunately for Larry, Amelia is still mad even though Erica is dead, and she starts doing magic to get back at Larry, as if her husband's accident was his fault. And while Amelia is stewing in anger, Larry is sexing it up everywhere, be it in flashbacks with Amelia, reminiscing that time he had both Amelia and Maria (Toni Naples, another beauty in Wynorski's stable of actresses) on his birthday, or rekindling a relationship with Carol (Rochelle Swanson). Man, there's a lot of magic happening in these bedrooms.
As you can see, while the plot is paper thin, it can get a little too complicated for its own good. It's very clear that all Wynorski is doing is getting from the one (sex) set piece to the next, and that's okay. With this type of movie, we all know what we are getting into. Fortunately, though, for a sexploitation/horror (haha, not really, it's not at all scary) film, Sorceress has a rather solid cast. Sure, it's B-movie fare, but it's the very top of the chain, and nobody is embarrassing here. Plus, in addition to veteran actors Blair, Strain and Albert, Michael Parks (Red State, Grindhouse) shows up now and then. I'm still not sure what the point of his character is, but I happen to like Parks a bunch, so whatever.
Sorceress is one of those films that I want to recommend to everybody and nobody. There is so much to love about it, mainly its ridiculousness and, not going to lie, Linda Blair. I've had a crush on her FOREVER and she is stunning here. (Honestly, how can you watch Savage Streets and not love that woman?) But at the same time, it's also one of those movies that you can't oversell. It's not a good movie...even though I love it. You get it. You have a film that you like that you feel the exact same way about. That's why I struggled with the rating. I want to give it five stars, but I know that's the teenager me grading, because it really deserves two. But I'm going to give teenager me a little love here and call it two-and-a-half. There are movies that are great for a Friday night with a six-pack, pizza, and friends. And this movie perfectly fits that bill.
Video and Audio:
Synapse Films does a great job with the all new 2K scan. Presented in 1:85:1 aspect ratio, it is a little soft, but the film is over two decades old and really looks fantastic all things considered. Colors are natural, there is a surprising amount of fine detail, and Linda Blair and Julie Strain in such glorious picture quality just brings a smile to my face.
The 2.0 DTS-HD MA is equally enjoyable. Dialogue is always crisp, and while your surrounds won't really get that much of a workout, the mix easily gets it done.
Special Features:
Audio Commentary Track with Directory Jim Wynorski
Additional Commentary Track with Director Jim Wynorski and Special Guest, SPFX Make-up Artist/Actor/Director, Tom Savini
Labeled as the "Uncensored Director's Approved Edition", the disc doesn't offer much in features, but the commentaries will be worth a listen to fans of either Sorceress, Jim Wynorksi, or both. Between the two, Wynorksi's solo commentary is a bit more enjoyable and filled with more behind-the-scenes info. He discusses quite a bit, from working with the actors (naturally) to the differences between this cut and the others that have aired over the years.
His commentary with effects guru Tom Savini is a little more laid back, as Savini asks a lot of amusing questions throughout. Sadly, there are a lot of times where the two get caught up in the movie, but the things discussed, including what it was like working with Michael Parks, make it worth at least one listen.
Grades:

Movie:




Video:
Audio:
Features:
Overall:
This page includes affiliate links where Horror DNA may receive a small commission at no extra cost to you.