Stake Land DVD Review
Written by Charlotte Stear
DVD released by Metrodome Group
Written and Directed by Jim Mickle
2010, Region 2 (PAL), 98 minutes, Rated 15 (UK)
DVD released on 17th October 2011

Starring:
Connor Paolo as Martin
Nick Damici as Mister
Kelly McGillis as Sister
Danielle Harris as Belle
Sean Nelson as Willie
Michael Cerveris as Jebedia Loven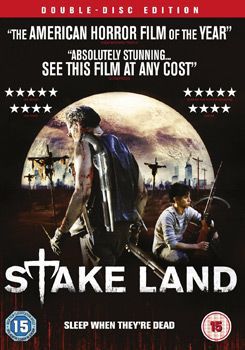 Review:
It's hard to tackle vampires and a possible end of the world scenario without people rolling their eyes and yawning, "It's been done before." Then something like Stake Land comes along and completely turns it around. A massive mix of genres allows this particular feature to go to new exciting places that shake up the same tired routine.

Stake Land is set at a time when the world has reached crisis, a vampire epidemic has taken over the country and every day is a struggle to survive. A young boy, Martin (Connor Paolo), sees his parents brutally killed by vampires, but is saved by a rogue vampire hunter Mister (Nick Damici) who takes him in as a promise to his dying father. They head north on an agnostic pilgrimage to find a safe home in "New Eden", but find trouble, and new people to help along the way.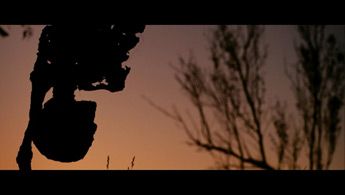 I'm not sure how many Horror DNA readers out there are big fans of Gossip Girl, and I will unashamedly admit that I am, so as soon as Connor Paolo came on screen I instantly though, "Oooh it's Eric!", his character from the show. This instantly turned to "Oh no…it's Eric!" Not that I have a problem with Paolo at all, but more how he's one character in my mind, and coming from that particular show I was unsure of his range to fit this film. Luckily as soon as it got going, Paolo proved he was not just Eric and he became "Martin". He is perfect for this particular role because of how he develops through the movie. We meet Martin at his most vulnerable and it is his journey we follow as his character becomes stronger, which reinforced Paolo's credibility in my mind.
There are many unique qualities that make Stake Land stand out from other vampire films, but the most overpowering one is the breath-taking backdrop of America that plays out behind their journey north. The cinematography is used to its full advantage and really boosts a Western style feel, evoking a haunting atmosphere that highlights the group's isolation. Each shot is beautiful to look at, only a few scattered dead vampires that litter the floor remind us at times what this film is really about.
It's always interesting to see how each filmmaker tries to create their own vampires, for director Jim Mickle you can see a lot of different influences going on here. These creatures are nothing like any vamps out there, the vampire fight scenes are particularly brutal and their look is reminiscent of the zombies in Evil Dead, but they are still uniquely vampires. Among the rustic, western, traveller feel, Stake Land also manages to splash in some '80s influenced vibes. There is an insanely cool fight scene with a vampire, involving Martin and Mister in the boot of the car, with a lot of dry ice floating around to create an eerie atmosphere that made me feel I was watching The Lost Boys. To get a balance of the two widely diverse styles, and not look cheap and out of place, is very impressive and unlike anything I've seen before.
With a lot of different genres mixed up here it could be all too easy to let the dialogue become clichéd and cheesy, but it doesn't, and it works well as we are narrated by Martin along his journey. His husky, worn out voice matches everything we see on screen and there are some great lines for the audience to mull on, like when Mister retorts to Mart, "One day you will learn not to dream at all". There are times when there isn't much dialogue; it is the visuals that we need to soak in so Mickle has done well to gain this perfect balance.

There is a constant underlying message about religion, especially when the two travellers meet a nun who has been attacked by men from a violent, extremist tribe. The fact that the travellers not only have to deal with vampires, but also are equally as fearful of an extreme Christian group is a great comment on how we as humans, can be the most dangerous creatures when it comes to faith.

As well as Connor Paolo, it's great to see scream queen Danielle Harris involved in this, her performance as a heavily pregnant girl who joins the guys on their journey is really interesting and she captures a resilient yet naïve quality to her character. Stand out performance though has to be Nick Damici, a troubled, quiet type that although a loner, has a genuine heart to him and is looking after the little group of misfits he has acquired.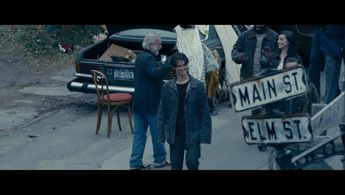 The film does begin to lose momentum slightly in the middle, but there is never any moment where you feel you know where it is going, and as it races to its climax it is best just to let it all pan out and enjoy the ride instead of trying to get one step ahead of it.
I was really blown away by Stake Land, it has a real charm and unique quality that I really wasn't expecting. It is so refreshing to see someone do something different with a format that has been done over and over. Don't be so quick to judge this one.
Video and Audio:
There are quite a few extras for this film which is really cool to see, unfortunately I did not have access to all of them for this review but listed on the 2 disc edition you will get a behind the scenes featurette, two commentaries with the director and actors, a director's diary, VFX featurette and a series of webisodes showing the story behind the film.
Special Features:
There is a choice of 5.1 surround sound or 2.0 stereo on the setup page. I had no problems with audio and the video was perfect for the particular story it was telling, the American countryside shone through. The DVD is shown in 2.35 aspect ratio
Grades:

Movie:
Video:
Audio:
Features:
Overall:
This page includes affiliate links where Horror DNA may receive a small commission at no extra cost to you.