Starry Eyes Blu-ray Review
Written by Richelle Charkot
Blu-ray released by Dark Sky Films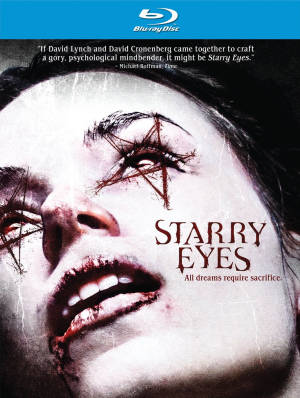 Written and directed by Kevin Kolsch and Dennis Widmyer
2014, Region A, 96 minutes, Not rated
Blu-ray released on February 3rd, 2015
Starring:
Alex Essoe as Sarah
Amanda Fuller as Tracy
Noah Segan as Danny
Fabianne Therese as Erin
Shane Coffey as Poe
Natalie Castillo as Ashley
Pat Healy as Carl
Review:
With mainstream modern horror films so laden with cheap jump scares that startle instead of genuinely terrify, it is exciting when a popular new movie is as artful and calculated as Starry Eyes. This film maintains a tense atmosphere throughout its entirety that will keep audiences wincing and anxious without resorting to easy fallbacks like loud noises or ghouls jumping out of the dark. This is unique piece and an example of body horror done with meticulous skill, and with its seventies-era feel in the Satanic cult theme, it is an all-around enjoyment for viewers who want to be pushed beyond their comfort limits.
Sarah is a young aspiring actress living with several friends that have similar creative goals. Spending her days working for Big Taters, a Hooters-esque exploitive restaurant, she keeps her dreams close so that she can handle the mundanity of her day-to-day life. Consistently emotionally bullied by her acquaintance and fellow wannabe actress, Erin, she is hopeful when she finds a casting call for a horror movie called "The Silver Scream." Sarah attends the audition but lets nerves get the best of her, seemingly ruining her chances. She runs to the bathroom teary eyed and has a nervous breakdown, pulling her hair out and screaming, which stirs the attention of one of the casting directors nearby. After a repeat performance of her "fit", Sarah receives a call back, and in spite of the continual peculiar circumstances required to land the part, she keeps her eyes on her goals of fame and fortune.
Although this movie is relentlessly violent with its spectacular practical makeup and prosthetics, it is a slow burning ride leading up to the explosive final act, which gives it an air of subtlety. Starry Eyes is undoubtedly not a movie for the squeamish, as it repeatedly raises stakes and becomes more vicious and perverse as the plot rolls forward. Strong writing such as this can often be thwarted by subpar acting, but fortunately for this film, Alex Essoe delivers the Sarah character with wonderful prowess; showing the innocent and sweet side to her as well as the dark and twisted.
With films such as Starry Eyes hitting the circuit with wonderful reception from audiences, fans can assuredly be excited for what is to come in the future of the genre. This movie has so much about it that is unlike most in its league, but with that being said, its influences are so palpable that it is clear that the filmmakers were raised on well-crafted horror movies. Although people really need to see this film to understand its intense tone, it could perhaps best be described as if David Cronenberg were to direct Rosemary's Baby.
Video and Audio:
The 2:35:1 ratio for this Blu-ray renders the film as sharp and distinctive even in its darkest lighting, which allows the identifiable colour scheme and cinematography to shine.
The 5.1 sound becomes very front heavy during louder scenes, making it difficult to maintain at one volume throughout the course of the movie.
Special Features:
The commentary features writer/directors Kevin Kolsch and Dennis Widmyer as well as producer Travis Stevens. Oftentimes audio commentaries can be quite dull if the speakers aren't particularly funny or interesting, but listening to the three men explaining their film is insightful and enjoyable. They articulately explain what they were trying to accomplish with each scene, such as how they accomplished making LA seem like an apocalyptic, suffocating wasteland.
There are ten deleted scenes included on this Blu-ray edition. Each is relatively short, running at a few seconds to a minute at the most, and although most deleted scenes in films are arguably for the best, these are all interesting and nuanced moments that could have probably worked in a final cut of the movie. With that being said, Starry Eyes is such a tight feature that any fat trimming is for the best.
A Jonathan Snipes music video shows the film's composer at work during one particular scene. His knack for an eerie soundscape is integral in the success of Starry Eyes' tense atmosphere.
Leading lady Alexandra Essoe's audition video is an interesting inclusion for fans of the movie. It shows her in an already well-polished rough draft of the Sarah character.
An offered behind the scenes photo gallery is a charming feature, showing the cast and crew at various points of filming, whether that be preparing makeup for a serious scene, or goofing off between takes.
The trailer for the film is also included in the special features.
Grades:

Movie:






Video:
Audio:
Features:
Overall:
This page includes affiliate links where Horror DNA may receive a small commission at no extra cost to you.