Stonehearst Asylum Movie Review
Written by Karin Crighton

Movie released by Icon Productions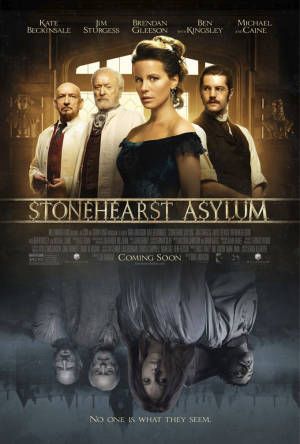 Directed by Brad Anderson
Written by Joseph Gangemi, adapted from a short story by Edgar Allen Poe
2014, 112 minutes, Rated PG-13
Theatrical release on October 24th, 2014
Starring:
Jim Sturgess as Edward Newgate
Ben Kingsley as Silas Lamb
Kate Beckinsdale as Eliza Graves
Michael Caine as Benjamin Salt
Review:
It's been said that great writing creates great work, and this is proven with Brad Anderson's new thriller Stonehearst Asylum. Based upon Poe's short story The System of Doctor Tarr and Professor Fether, Stonehearst introduces freshly graduated Edward Newgate (Jim Sturgess), Oxford class of 1899, embarking upon a residency at a private asylum far away from civilization. Upon his arrival, Newgate is fascinated by the head doctor's extraordinary methods. Dr. Silas Lamb (played like a tender violin sonata by Ben Kingsley) eschews cold water showers, restraints, drugs, and employs a remarkable new idea: compassion. He treats his patients with dignity and they respond beautifully. Newgate is completely enthralled until the skittish patient Eliza Graves (Kate Beckinsdale) pulls him aside in a moment of danger and warns him things are not what they seem; if he values his life, he must leave immediately. He does not and soon discovers that he should have heeded her warning...when he had the chance.
SPOILERS BELOW
Newgate, attempting to address the strange noise in the failing boiler, stumbles across a secret semi-prison in the basement. It is there that Lamb has caged the true superintendent of Stonehearst, Dr. Benjamin Salt (Michael Caine) – a staunch believer in the old, violent methods of treating the mentally ill – and his fellow nurses and doctors. Salt warns Newgate that Lamb is there for murdering soldiers in his care during the Afghan War. He was determined mad and spent nine (painful) years under Dr. Salt's ministrations until he had finally had enough with the indignity of being treated like an animal and overthrew the staff.
Under Lamb's and creepy security chief Mickey Finn's (Daniel Thewlis) scrutiny, Newgate is unable to find an inconspicuous way to free the staff, must work to undermine Lamb while keeping his precious Eliza safe and on his side.
The message of Stonehearst Asylum isn't overly subtle but is powerful: extremes in any direction lead to tyranny and violence. Salt's methods were cruel and caused more damage than help. Gentle and misunderstood patients were locked away like criminals. Lamb's methods allowed a bit too much freedom to the truly dangerous patients and left no one free to tend to the actual business end of running an asylum: by New Year's Eve, Stoneheart's heating system had failed and they were forced to eat the stable horses. Salt could be said to the architect of his own demise at the electroshock machine he brought to the hospital: Lamb uses it to damage Salt's brain and render him a patient in his own hospital.
END SPOILERS
The acting is gold, as you would expect from the caliber of actors employed in this film: Sir Ben Kingsley made me tear up in the theatre when we finally understand all he's ever wanted was to end suffering. Michael Caine didn't have too much screen time, but he didn't shy away from playing a disagreeable character. Daniel Thewlis went above and behind to make the viewer uncomfortable; there was only one scene where the intricacies of his character's disorders shone through but he made it count. Kate Beckinsdale, while the headliner, was not actually central to what happened around her, but I will speak more on that a bit later. Jim Sturgess was a solid lead, but he lacked the subtlety of Kinglsey and I wish he'd allow a few more moments to just happen rather than push them.
Back to Kate: The issue of gender politics does come up, as her character, but also as her role as an actress in this film. To elaborate:
MORE SPOILERS
We meet Mrs. Eliza Graves before we meet Edward Newgate. She is charged as suffering from "hysteria", a condition claimed to affect the more nervous sex, and stemming from the gender organs. The professor demonstrates by squeezing her ovary until she suffers painful muscle spasms and collapses. Based on the professor's subsequent lecture, it's evident women in hospital who are believed to suffer hysteria are manhandled and often violated by the "treatment": it's recommend the doctor's handle their sex organs to address the symptoms. To the modern day observer, it's obvious why Mrs. Graves objects so fervently: not only is she married, it's wildly inappropriate for a stranger to touch the breasts or thighs of a titled Lady. Thus creates my dilemma: Mrs. Eliza Graves is a victim of sexual abuse. Even before her commitment, her husband was said to have abhorrent demands of her to the point that she had to attack and injure him just to escape. The film follows a narrative of Dr. Edward Newgate – a man in position of power over her as a patient – attempting to engage in a romantic relationship with her.
That's awkward.
END SPOILERS
The movie doesn't force the relationship; Eliza remains aloof and experiences haphephobia whenever Edward callously grabs her arm. (Seriously, in my notes I scribbled STOP TOUCHING HER, YOU DICK). But it's only over the course of a week that she learns that Edward truly loves her and wants to take her away from all this. That's ridiculous and insulting to assault victims. The problem is, Stonehearst Asylum seems to know this, which in hinted in Eliza's dialogue when Edward tells her he only came to Stonehearst because he'd seen her manhandled at the lecture. She reminds him he didn't even know her name and only saw her as an object, a damsel in distress, and that's no better than her husband who views her as an object for depraved pleasure and pain.
Which is correct. But in the interest of a happy ending, that is overlooked.
I will end with my favorite message of the movie: When both Salt and Lamb's methods eventually fail, the only person strong enough to stay and pick up the pieces is head nurse, Mrs. Pike (Sinéad Cusack). The only peaceful, balanced solution to two diametrically opposed men is...a woman.
This page includes affiliate links where Horror DNA may receive a small commission at no extra cost to you.