Super Bitch DVD Review
Written by Joel Harley
DVD released by Arrow Films
Directed by Massimo Dallamano
Written by Massimo Dallamano and Sandy MacRae
1973, Region 2 (PAL), 94 minutes, Rated 18 (UK)
DVD released on 29th October 2012
Starring:
Ivan Rassimov as Inspector Cliff
Stephanie Beacham as Joanne
Patricia Hayes as Mamma The Turk
Verna Harvey as Eva
Ettore Manni as Morell
Massimo Dallamano as Man at airport
Review:
No, sadly this is not a superhero movie. Given the title, I was profoundly disappointed to discover that Super Bitch is in fact an Italian exploitation crime thriller, and not a raucous superhero romp ala Garth Ennis' The Pro or anything by Mark Millar. Once that sense of disappointment fades, however, Super Bitch is fairly enjoyable. If you can decipher what's going on.
The titular Super Bitch is a prolific crime boss and drug dealer, using an escort agency as a way to blackmail high-profile clients into smuggling drugs over the border. Undercover cop Inspector Cliff investigates, although he does so in a manner more befitting James Bond than the Sweeney. Fast mountaintop car chases and sniper battles are the order of the day in this strange, convoluted and occasionally incomprehensible pasta thriller. I'm not being facetious either – Arrow Video actually describe it as such in the promotional bumpf. It's the first time I've ever read the words 'super' 'bitch' and 'pasta' in the same sentence. Mmm, pasta.
Following its Sean Connery era James Bond opening sequence, Super Bitch settles down and becomes something completely different. Its dodgy dealings and sleazy affairs in grotty hotel rooms and brothel offices feel like something out of The Professionals or a Carry On film rather than the high octane thriller which the cover art suggests it to be. There's some great '70s fashion on show (I was particularly taken with one character's bright yellow leather jacket) but otherwise Super Bitch is is rather disappointing.
The title aside, the most notable thing about Super Bitch is the fact that it stars Stephanie Beacham, one time sexual partner to Coronation Street lothario Ken Barlow. Having sailed away on Weatherfield's canals several years ago, Beacham can currently be seen slumming it in Sky One's rubbish supermarket 'comedy' Trollied. Those unfamiliar with her work before Corrie or Trollied will be surprised to see her play the strumpet in Super Bitch, a nude scene baring to the world just what managed to persuade Ken to stray from spouse Deirdre's side. This is me, attempting to hide the fact that I couldn't tell what was going on in Super Bitch, talking about Coronation Street instead. I would certainly have never been able to take her seriously in Britain's favourite soap opera if I had seen this beforehand. It's extremely raunchy at times. In the words of Mama Turk, "don't forget the Kleenex!"
There are several fun scenes (and one brilliant one, involving a carrot and a rabbit costume) with the film picking up a little towards the end. As Beacham is kidnapped by Mama's boys, there's a great moment in which Stephanie is mentally tortured by a singing goon in a poncho with a guitar (looking like something out of The Mighty Boosh). Sadly though, it never quite makes the best use of either its villain or Miss Beacham. Patricia Hayes' portrayal of Mama is enjoyable though. She's the best reason to watch the film, shouting about Kleenex and "thieving bastards!" in a very entertaining manner. The gruff, cool Rassimov is equally good as the film's hero, looking and sounding a little like a young Clint Eastwood. Ultimately, however, Super Bitch is too disjointed and convoluted for anyone but the most hardcore fans of Euro sleaze to properly enjoy.
It has its moments, but Super Bitch is just a little too daft, and I'm not even sure I know what it was actually about. It's not all bad though – at the very least, I'm happy to have a DVD called Super Bitch amongst my collection.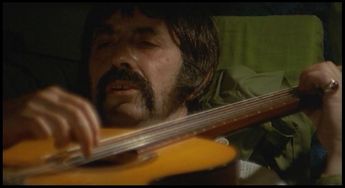 Video and Audio:
Gritty and muggy looking, the film shows its age. However, the cheap softcore porno aesthetic is appropriate. Cult composer Riz Ortolani's score sounds good, keeping the tone light and cheerful.
Special Features:
Bullets, Babes and Blood would have you believe that Super Bitch is a lot more exciting than it actually is. In the featurette Ruggero Deodato Remembers Ivan Rassimov, Ruggero Deodato – yep – remembers Ivan Rassimov. It's a touching feature in which the mighty director fondly recalls his friendship – and professional relationship with – actor Rassimov.
Grades:

Movie:
Video:
Audio:
Features:
Overall:
This page includes affiliate links where Horror DNA may receive a small commission at no extra cost to you.