Tales from the Hood Collector's Edition Blu-ray Review
Written by Robert Gold
Blu-ray released by Scream Factory
Directed by Rusty Cundieff
Written by Darin Scott and Rusty Cundieff
1995, 98 minutes, Rated R
Blu-ray released on April 18th, 2017
Starring:
Clarence Williams III as Mr. Simms
Anthony Griffith as Clarence
Wings Hauser as Strom
Corbin Bernsen as Duke Metger
Roger Smith as Rhodie
David Alan Grier as Carl
Brandon Hammond as Walter
Tom Wright as Martin Moorehouse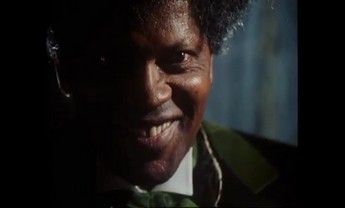 Review:
Three gangsta' knuckleheads pay a little visit to Simms Funeral Home looking for some shit (pronounced drugs). The owner promises that they will be knee deep in the shit before the night is through. He leads them on a tour of the building, stopping at individual caskets to tell the stories of the corpses inside. The first tale is about crooked cops getting their just desserts following the destruction of a politician and his reputation. The second story features a small boy named Walter who is being attacked by a monster in his room. Up next, the ghosts of the past come back to prey on a racist politician. Lastly, we are given a glimpse into the hell of a rehabilitation program for repeat offenders. Simms is quite a crazy character, but these thugs clearly have no idea who they are dealing with.
Horror anthologies are almost always a safe bet for me, as the pattern proves that if one story is weak it will be over shortly and hopefully the next one will be better. There's no shortage of titles to recommend, but some of my benchmarks include Tales from the Crypt, From a Whisper to a Scream, Creepshow, Trilogy of Terror and more recently Trick 'r Treat. Amicus Films made several anthologies in the 1970s and for the most part they follow a simple formula: a storyteller engages a small audience with ghastly tales that ultimately build to madness or death in the closing moments. Those listening to the stories are usually wrapped up in their own fable by the end of the picture with similar results.
Tales from the Hood follows this template but changes the setting to an urban environment and includes a stronger social commentary on the ills of mankind. Director/ co-writer Rusty Cundieff (Fear of a Black Hat) knows the genre and is pretty astute at playing with audience expectations as he weaves a contemporary spin on classic stories. Working closely with fellow screenwriter Darin Scott (Dark House), Cundieff successfully mixes horror and comedy elements to create a fully satisfying experience. Executive Producer Spike Lee (Do the Right Thing) lends street credibility to the project and cinematographer Anthony Richmond (Candyman) brings everything to bright and colorful life.
The incredible Clarence Williams III (Purple Rain) delivers a show-stopping performance as Mr. Simms and is one of the best parts of this movie. Every moment of his screen time is compelling and impossible to resist. Equally engaging is Corbin Bernsen (The Dentist), who disappears in the role of racist politician Duke Metger. Wings Hauser (Vice Squad) remains intimidating as a crooked cop with an agenda and Anthony Griffith (Panther) does a superb job as his foil Clarence. Comedian David Alan Grier (Boomerang) delivers an impressive dramatic turn and is virtually unrecognizable as Carl, a man whose stepson Walter (Mars Attacks!) has a powerful imagination. These are but a few standouts in a really solid cast that plays the horror elements straight. Tales from the Hood is a breath of fresh air in the anthology subgenre, in part because it doesn't take itself too seriously. Cundieff and Scott are out to entertain audiences and they succeed.
Video and Audio:
Presented in the original 1.85:1 aspect ratio, Tales from the Hood looks terrific. Colors are strong and black levels are solid with plenty of small-object detail. Any print flaws are minor and nitpicky, as the film has never looked better.
Audio options include a DTS-HD MA 2.0 and a more impressive DTS-HD MA 5.1 mix. There is a lot of bass in the latter option and music levels in general are given a more natural presentation. Dialogue levels are well balanced and remain clear and free of distortion.
Optional English subtitles are included for anyone in need.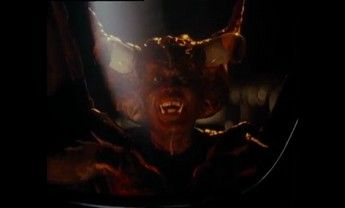 Special Features:
Director Rusty Cundieff's audio commentary first appeared on the film's Laser Disc release and has finally been ported over here – it was missing from the DVD. The track is very informative and Cundieff is good at telling stories.
Welcome to Hell (56 minutes) is a very thorough documentary on the making of the film that touches on the movie's origins and what each story is really about. There are interviews with Cundieff and writer Darin Scott along with key cast members including Corbin Bernsen, Wings Hauser and Anthony Griffith. Oddly, in all of the discussions there is no mention of executive producer Spike Lee.
In a vintage featurette (6 minutes) composed largely of interviews recorded on set, members of the cast and crew talk up the project and promise thrills and chills. It is hosted by Clarence Williams III and definitely worth checking out – and Spike does turn up to hype the picture.
The original theatrical trailer is paired with seven TV spots offering a look at the marketing for the picture.
A photo gallery sideshow (10 minutes) presents assorted black & white and color images taken on set. In addition, a set of lobby cards and a look at poster art are also included.
Grades:

Movie:


Video:
Audio:
Features:
Overall:
This page includes affiliate links where Horror DNA may receive a small commission at no extra cost to you.