Terrifier 2 Movie Review
Written by Stuart D. Monroe
Released by Bloody Disgusting & Screambox
Written and directed by Damien Leone
2022, 138 minutes, Not Rated
Released on October 6th, 2022
Starring:
David Howard Thornton as Art the Clown
Amelie McLain as The Little Pale Girl
Lauren LaVera as Sienna
Elliott Fullam as Jonathan
Sarah Voigt as Barbara
Kailey Hyman as Brooke
Casey Hartnett as Allie
Chris Jericho as Burke
Felissa Rose as Ms. Principe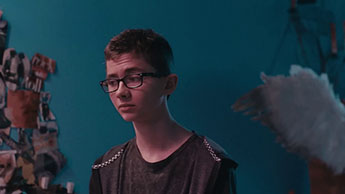 Review:
If you want to know where to start in understanding, absorbing, and surviving the onslaught that is Damien Leone's Terrifier 2, you needn't look further than the run time. Coming in at a staggering two hours and eighteen minutes (for a by-God Halloween slasher!), the sequel to the 2016 surprise that birthed a new horror icon wants you to know from the opening frame that everything is going to be bigger, bloodier, more sadistic, and simply more wrong than your first go-round with Art the Clown (David Howard Thornton; Terrifier).
Terrifier 2 delivers the goods in near unholy measure by giving just enough plot and character development to make the cast something more than caricatures (okay, some of the cast anyways) while deepening the mythology of the supernatural nature of Art and his new friend/patron deity, The Little Pale Girl (Amelie McLain; Transference). There are definitely some narrative threads (like that of the late father's prescient visions and drawings) that sit unresolved, but let's face it – you're here to see how many people Art the Clown can dispatch in gleefully fiendish ways.
This time around the victim pool centers on Sienna (Lauren LaVera; Marvel's Iron Fist); her Art the Clown-obsessed little brother, Jonathan (Elliott Fullam); and their mother, Barbara (Sarah Voigt; We Have a Ghost). Sienna really wants to go to this bitching Halloween party and show off her handmade Angel Warrior costume, but before this Halloween is over with, she'll have a chance to play the part, as she's the only one who may be able to stop (or at least slow down) Art the Clown.
Like Art the Clown himself, Terrifier 2 is the definition of chaotic evil alignment. The level of creative brutality and sadism is pumped full of the steroids of bloated run time and the (occasional) absurdity of a deepening supernatural mythology of Art the Clown, The Little Pale Girl, and his resurrection. Only Art and a couple of others can even see her, but she's capable of invading your mind. It gets a little trippy at times, but it's in that "who gives a rat's ass about plot logic?" way that the best sleazy '80s slashers had. David Howard Thornton's silent performance continues to be the centerpiece of the series; there's just so much infectious joy in that awful white face.
Sure, you can nitpick it if you want to, but why not just enjoy an equal opportunity slasher icon that employs everything from knives to bare hands to acid to hacksaws to Tommy guns and sawed-off shottys? It's true a few minutes could have been shaved here and there to make it a tad leaner, but it wouldn't have made it any less mean.
Terrifier 2 is also a film that understands its audience and gives back in the cool little ways that make you grin from ear to ear or unexpectedly guffaw at the sheer "what the fuck did I just watch?" nature of it all. There are excellent cameos from genre legend Felissa Rose (Sleepaway Camp, Victor Crowley) and the Ayatollah of Rock and Rollah himself, Chris Jericho (stick through the credits). There's a cereal called Art Crispies that's comprised of broken glass and bugs, so you know someone is eating the hell out of it. The '80s trash flavor is even backed up by a sexy costuming montage! Eviscerated corpses and exploding heads are made into macabre art to be found by the next terrified victim. It's note-perfect for the genre in that way, a horror fan service movie.
In short, it's a film that dances with what brought it, so to speak, and leans into that with sheer will, focus, and commitment that would make John Wick stand up and applaud.
In many ways, Terrifier 2 is more of a Halloween film than Halloween itself. It takes the concept of the unexplained and unstoppable evil…a 'la The Shape of Evil…and gives it the face of a much more universal fear (coulrophobia, anyone?). By jacking up the level of violence and cruelty to such a heartless level, Terrifier 2 also makes for a much more unsafe and at times frankly uncomfortable slasher film. And isn't being a little terrified what Halloween is all about, after all?

This page includes affiliate links where Horror DNA may receive a small commission at no extra cost to you.