Thanatomorphose DVD Review

Written by Joel Harley

DVD released by Monster Pictures UK
Written and directed by Éric Falardeau
2012, Region 2 (PAL), 100 minutes, Rated 18 (UK)
DVD released on 9th December 2013

Starring:
Émile Beaudry
Eryka Cantieri
Roch-Denis Gagnon
Simon Laperrière
Pat Lemaire
Karine Picard
Review:
We've all been there. Feeling a little down, lacking meaning in her life, a woman begins to let herself go. Things would be better if only she wasn't feeling so darn rotten all the time. This is no common cold, though – our hitherto beautiful young heroine's body is literally decomposing, rotting off the bone from beneath her. "Feeling rotten," geddit?


'Thanatomorphose', in case you were wondering (I was), is a French word, describing the signs of decomposition an organism exhibits after death. It's a fine title for a body horror film, and – combined with the grotesque cover art and synopsis – had me dreading the film before I'd even slid it into my DVD player. I was picturing a cross between David Cronenberg's The Fly, Antichrist and The Human Centipede. Alas, Thanatomorphose is not nearly as horrifying or even gruesome as one would expect from a film with such a concept.


It's far too dark, for one thing. Our rotting heroine is hidden, ensconced in dingy rooms, and covered in shadow so as we miss much of her promised rot. Less is more is the usual rule for horror films, but body horror tends to be the exception – the exact point is usually to see everything, in excruciating detail. See Antichrist's scissors scene, Cronenberg's slimy Jeff Goldblum in The Fly, and the construction of Martin's titular centipede in The Human Centipede 2. This film doesn't have the budget or the special effects mastery to fully show off the intricacies of a woman literally falling apart. I'm not sure I particularly wanted or needed to see that sort of thing in the first place, but it certainly shouldn't have been as dull as it is in Thanatomorphose. The 'intelligent, decomposing zombie' angle is one which is really picking up pace in recent years, most notably in S.G Browne's novel Breathers, the film Warm Bodies and intelligent BBC3 TV series In The Flesh. For the best treatment of a story about a young woman coming to terms with the fact that she's rotting to (un)death, see the remarkably affecting Being Human episode "Type 4". I cried, so it must be good, since I only ever cry at really heartbreaking things, such as the dog episode of Futurama, the dog bit in I Am Legend and most episodes of Buffy the Vampire Slayer.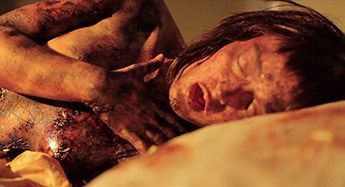 Fingernails fall off, skin welts and there's even a fantastically gooey Evil Dead style sequence that almost completely makes me forget about the special effects criticisms I listed above. Actress and model Kayden Rose does a good job as the lead, in a role which requires her to walk around naked all the time and bury herself under layers of very uncomfortable looking makeup. It would have been nice to see a little more of her mental processes as she drips away (she takes the whole thing very stoically) but she performs admirably in a role which can't have been easy.

Slow, creepy and occasionally as grisly as it should be, Thanatomorphose is a defiantly arthouse effort that aims high but flops slightly under the strain of its budgetary constraints, poor lighting and staggered pace. There are signs of life in this arty French flick, but it is beginning to smell a little.
Video and Audio:
It's a little too dark and dingy throughout, making the already slow story feel dull and unenergetic.
Special Features:
Two short films from director Eric Falardeau, a behind-the-scenes feature, and a trailer.
Grades:

Movie:


Video:
Audio:
Features:
Overall:
This page includes affiliate links where Horror DNA may receive a small commission at no extra cost to you.