The Autopsy of Jane Doe Movie Review
Written by Karin Crighton
Released by IFC Midnight
Directed by Andre Ovredal
Written by Ian B. Goldberg and Richard Naing
2016, 99 minutes, Rated R
Starring:
Brian Cox as Tommy Tilden
Emile Hirsch as Austen Tilden
Review:
If you loved Andre Ovredal's debut film Troll Hunter in 2010, you are totally unprepared for his sophomore release, The Autopsy of Jane Doe. A light-hearted romp in Norway this is not. Emile Hirsch plays Austen, forensic assistant to his small-town mortician father Tommy (Brian Cox). Austen could learn a thing from Tommy, but rather than becoming yet another generation of Tilden sons to become experts on how we die, he yearns to leave town and find out what makes us live. Unfortunately for Austen and his girlfriend, plans change when the sheriff shows up one night with a Jane Doe. When each step of her exam yields only more questions, Tommy and Austen soon realize they don't want to know the answers after all. But are they too late to stop the horrors they've uncovered in her corpse?
It's essentially a two-hour autopsy, which could be boring in the hands of anyone but Ovredal. His eye for camera angles and use of repeated sound are exactly what a script of this nature needed. His lens creeps around corners, peering into darkness that reveals worse and worse secrets. It eyes Jane Doe (Olwen Catherine Kelly) from below to betray her vulnerability, and above to expose her predacious vindictiveness. A dead body looks powerful. Fearfully so.
After suffering through two years of "I've seen this movie before", I was relieved it took me longer that usual to figure out where Ovredal was going with this story. And even after that, I was surprised time and time again. I didn't see so many terrible things coming, I almost regret it, but those surprises made this movie a rare gem in a line of mundane repeats.
Emile Hirsch does well as a like-able, if not obnoxiously optimistic young person. Brian Cox of course steals the movie; a man of his talent is hard to contain even in a quietly horrific movie such as this. Brilliant, compassionate, demanding, and patient, his Tommy is the kind of man that one admires as both a professional and a father. When he makes a guess about how this young woman died, you have no choice to believe him.
The only fault I found in this movie was the Q & A following the film at the Lincoln Center. When asked by an IFC staffer (this movie was released by IFC Midnight) what insight he had as to why this young woman's story was told by two men, Ovredal answered that he felt it was a feminist movie as she is able to assert her power over those who caused her suffering and death. That woefully uninformed answer as to both what feminism is and what makes a compelling story for women was painfully disappointing after such an effective movie.
The staffer had a point, honestly. Kelly's amazing ability to portray this woman while just lying on a slab was three-dimensional, reactive, and ever-changing. She certainly had the talent to tell this woman's story. I think a better answer would have been that the layer of mystery provided by two complete strangers trying to decipher this formidable entity made a more compelling, and perhaps more palatable, movie. I can tell you that if you had to watch her story happening live on the screen you would have vomited, passed out, or both. And, without telling you how, it could be said the circumstances of her death have been repeated in recent history in new iterations. This is not an isolated incident. Perhaps seeing two men doomed to experience their own version demonstrates the violent prejudice humans can generate and hold against absolutely anybody. Sorry I wasn't there beforehand to coach Ovredal.
The Autopsy of Jane Doe is already out on streaming video services. You can't escape the past anyway. It's coming for you, one Y-incision at a time.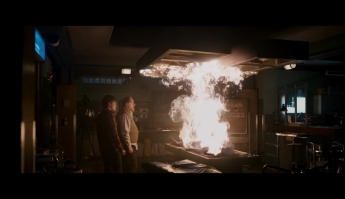 This page includes affiliate links where Horror DNA may receive a small commission at no extra cost to you.