The Babadook Special EditionBlu-ray Review
Written by ZigZag
Blu-ray released by Scream Factory
Written and directed by Jennifer Kent
2014, Region A, 93 minutes, Not Rated
Blu-ray released on April 14th, 2015
Starring:
Essie Davis as Amelia
Noah Wiseman as Samuel
Review:
Amelia and her son Samuel live in the shadows of loneliness and depression. The boy's father died in an accident while driving Amelia to the delivery room. Looking at the boy is a constant reminder of her loss. She is a single mother who works at a retirement home helping the elderly. She never gets to sleep. Samuel is a good boy who repeatedly acts out, as even negative attention is better than emotional isolation. One night, Samuel pulls a strange book from the shelf for story-time, Mister Babadook. Amelia does not recognize it, but reads it to him anyway--that is, until the tale grows murderously bleak. The fable involves the titular character lurking in dark spaces only to spring from the shadows bringing insanity and violence. Mom tosses the book and spends the rest of the night soothing her terrified young son.
The following days are filled with Babadook sightings and all bad behavior is blamed on the seemingly omnipresent figure, making an already socially awkward child even less popular among his peers. Amelia has had enough of her son's erratic behavior and would give anything for a decent night's rest. Samuel is constantly under her feet, begging for food or asking for her protection from an imaginary monster. When she discovers that the Babadook book continues to plague her son, she tries to destroy it but it reappears unharmed. At this point, Amelia is aware that something far more sinister is going on, but what can she do about it? It is highly unlikely that anyone will believe her, but when she tries for help, Mr. Babadook switches his attention to her. If the situation for Samuel was bad before, it's even worse now that his defender is coming under attack by the same beast that haunts him.
Any film that receives as much hype as this will have difficulty living up to expectations. Generally speaking, I will go out of my way to avoid the raving internet until after I have seen the picture in question. It happened long ago with The Blair Witch Project, and the current target is It Follows. The problem I have with The Babadook is that in the final act, much like in the case of It Follows, the filmmakers appear to have either lost their way to the ending or changed direction after the story was already in motion. This is not a classic switcheroo or a surprise gotcha addendum, but rather a contradiction of what has come before. Without spoiling anything for those that have yet to see either, I am comfortable with the following analogy. If I begin a magic trick by placing a ball under one of three cups and promise to make the ball move from one to the next without touching it, I cannot complete the trick by ignoring the cups and setting the stage on fire. This would have nothing to do with the set-up I provided, but many horror films will risk burning down the house if it means they get one more jump-scare from the audience.
Essie Davis (Isolation) gives a stellar performance as Amelia, the weary mother with enough going on to not always care about the social niceties. She manages to keep audiences on her side whether she is playing the hero or villain of the piece, and emotionally speaking, at one point or another she is both. Noah Wiseman makes his acting debut as Samuel and what initially appears to be yet another obnoxious kid turns out to be a real surprise, as he really has great chemistry with Davis and appears in almost every scene. The strength of these performances is due in large part to the excellent direction of Jennifer Kent. She expands on her short film Monster (included on this release) and creates a beautifully bleak storybook environment with only two primary characters. Where the film falters is her refusal to commit to the logical downer ending that would remove all supernatural elements and keep the story grounded as a domestic drama. By introducing these spectral visions, The Babadook takes on a vibe of films like Repulsion and Ju-On: The Grudge. There are some pretty interesting ideas here, but I would rather have the source of the troubles remain more ambiguous.
Both The Babadook and to a lesser extent It Follows deserve some credit for going against the current formula that an unmotivated loud noise equals a quality scare. Not everything has to be fast-paced and rapidly-edited in a series of slick seizure-inducing clips that appear onscreen barely long enough for viewers to register. Babadook is a well-made, beautifully-crafted film in need of a rewrite. The art direction is not the first thing I want to recommend to people when they ask what I thought of this piece and I shouldn't have to struggle with reasons you should check out this "scary" movie. It's well directed and filled with great performances...but is it scary? Ultimately, no, I don't believe it is. There are plenty of tense moments and lots of great sequences that build toward something spectacular in premise, but the botched finale takes the wind out of the sails. All the films mentioned in this review should really be seen in the theater, but if you are relegated to home viewing, then do three things when watching: lower the lights, lower your expectations and, if you're watching with friends, keep the chatter to a minimum and let the film do its job.
Video and Audio:
Presented in the original 2.35:1 aspect ratio, the picture receives a solid transfer that is quite pleasing. Colors are deliberately muted, but contrast levels are spot on for the amount of activity at play in the shadows.
A DTS-HD MA 5.1 track handles the music and effects mix nicely without stepping on dialogue levels. The film comes with an impressive sound design that really places audiences in the middle of all the creaks and moans and the rear channels receive a nice workout throughout the running time. Also available is a DTS-HD MA 2.0 stereo track that is serviceable, but the 5.1 mix is the obvious choice.
English subtitles are provided for anyone in need.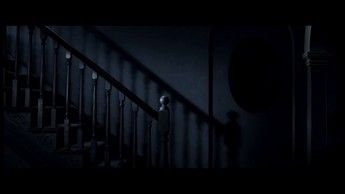 Special Features:
I have never chosen to buy a movie based on packaging, but Scream Factory (in collaboration with IFC Midnight) have provided an added incentive here with its special pop-up book cover for The Babadook. This is a really nice touch that is simple yet effective and I hope the company will do more playful packaging in the future.
Jennifer Kent's original short film Monster (10 minutes) is a precursor sharing similar images, themes and the visual style of the main feature. It is a nice addition and allows a glimpse into her growth as a filmmaker.
In the featurette Creating the Book (4 minutes), illustrator Alex Juhasz discusses the creation of the book prop and shows some of the designs that fill the pages. Although it seems rather an obvious inclusion here, I am glad the time was taken to document the creation of this key element to the story.
Production Designer Alex Holmes discusses the work that went into creating the film's most elaborate location in A Tour of the House Set (7 minutes). This is a really interesting and fast-paced supplement.
A behind-the-scenes look at the rehearsal process for the sequence in which actress Essie Davis is pulled up the stairs with apparent ease is briefly showcased in The Stunts: Jumping the Stairs (2 minutes).
Special Effects: The Stabbing Scene (2 minutes) is a brief glimpse at the prep for an effect in which a character is stabbed in the leg.
The generically titled Behind the Scenes (3 minutes) is an all-too-brief look at Jennifer Kent directing on set.
Roughly an hour of interviews (62 minutes) presents a collection of talking-head segments in which assorted members of the cast and crew answer a series of questions that appear as onscreen text. Highlights include actors Essie Davis (Amelia, 11 minutes), Daniel Henshall (Robbie, 4 minutes), Barbara West (Mrs. Roach, 5 minutes ) and Hayley McElhinney (Claire, 7 minutes) reflecting on their time on set, working with each other and a six-year old boy. Producers Kristina Ceyton (10 minutes) and Kristian Moliere (7 minutes) discuss the plot and the challenges of making a low-budget feature. While I would have loved a director's commentary, what we get instead is a brief interview with Jennifer Kent (15 minutes), who talks about the script, the pressures of her job and working with a child in the lead role. Sadly, Noah Wiseman is not included in the interviews on this disc.
Rounding out the special features is an all-too-revealing theatrical trailer that should be watched only after checking out the movie itself.
Grades:

Movie:








Video:
Audio:
Features:
Overall: