The Bat Blu-ray Review
Written by Robert Gold
Blu-ray released by Film Detective
Written and directed by Crane Wilbur
1959, 80 minutes, Not Rated
Blu-ray released on November 30th, 2015
Starring:
Vincent Price as Dr. Malcolm Wells
Agnes Moorhead as Cornelia van Gorder
Gavin Gordon as Lt. Andy Anderson
John Sutton as Warner
Lenita Lane as Lizzie Allen
Elaine Edwards as Dale Bailey
Darla Hood as Judy Hollander
John Bryant as Mark Fleming
Mike Steele as Victor Fleming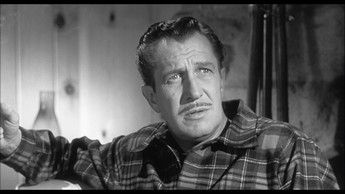 Review:
Famed mystery writer Cornelia Van Gorder gets more than she bargained for after renting The Oaks estate for the summer. The house was recently the scene of a grisly murder and the culprit, a faceless man known only as The Bat, was never caught. Newspaper reports suggest that rabid bats plaguing the town are believed to be an omen that this villain is returning to continue his terrible crimes. Much of the staff is uncomfortable with the idea of staying in this spooky environment, but Cornelia's loyal maid Lizzie Allen is up for anything. Further complicating matters is the recent discovery of a million dollar loss at the local bank, a problem for Cornelia, as it is suspected that the missing money is hidden somewhere inside The Oaks.
Following a break-in by a mysterious stranger, the police keep the house under surveillance. Lt. Andy Anderson believes one of Cornelia's servants or possibly the overly friendly Dr. Malcolm Wells of being The Bat, and makes little effort to hide his suspicions. After a second visit from the unknown villain ends in murder, Cornelia takes it upon herself to solve the mystery of the missing million. Through a series of unfortunate events, the number of suspects diminishes as the body count continues to grow, and soon The Bat turns his attention on the meddling Cornelia. She must rely on more than her creative imagination if she hopes to survive this dark tale.
The Bat (1959) is a by-the-numbers murder mystery based on the play The Circular Staircase by Mary Robert Rinehart and Avery Hopwood. Crane Wilbur, screenwriter of House of Wax, assumes the duties of writer-director of this adaptation with mixed results. He keeps the plot moving at a decent pace but at the expense of plausibility, as many characters behave in ways that ring false. This artificiality may have been acceptable a decade or two earlier, but by 1959 feels dated. There are two plotlines running through this film, one about the mass murderer with a penchant for flying mammals, the other an embezzlement-based treasure hunt. Sadly, the two threads are forced together and rushed to an overly simplified resolution. The film becomes less engaging as a thriller once it is apparent that the weak script is more interested in red herrings than actual substance, reducing The Bat to a maguffin, like the million dollar bounty.
The Bat is light on suspense but remains enjoyable thanks entirely to its talented cast. Agnes Moorhead (Bewitched) stars as Cornelia and proves more than capable of carrying the picture. She injects just enough humor in the character to keep her likeable, even in some of her more abrasive moments. Vincent Price (Theatre of Blood) faces an uphill struggle as his character Dr. Wells manages to be both a protagonist and a villain of sorts. The good doctor kills someone in his introductory scene, but is not necessarily the titular menace. His crime is never mentioned again, and he frequently moves into position as hero. The refusal to place Wells in one category or another does not make the man any more complex, but rather undercuts his character arc.
The Bat is not a terrible movie; in fact it has some moments that are quite fun, but I get the feeling these parts worked in spite of Crane Wilbur's efforts and not because of them. Genre fans will want to check it out for the performances, but most newcomers will leave disappointed. I enjoyed this film as a kid and I can always find time to spend with Vincent Price, but this is not a title I would recommend. By playing it safe and following all of the tropes that came before, Wilbur successfully demonstrates how not to make a satisfying picture.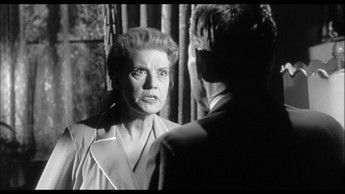 Video and Audio:
The Bat has suffered countless murky releases, usually found in the dump bin at a gas station for under $5. Film Detective rescues the title from public domain hell with a beautifully remastered HD transfer that is certain to please even casual fans. The movie is presented in the original 1.85:1 aspect ratio with terrific contrast and black levels and plenty of small-object detail. The print has a steady flow of speckles and some light scratches, but looks better than all previous releases.
The DTS-HD MA 2.0 mix does not go out of its way to impress, but does a fine job balancing dialogue with music and effects. This is a pretty quiet movie with the occasional thunderclap or piercing scream. The audio presentation is quite suitable and I have no complaints.
Easy-to-read yellow English subtitles are provided for anyone in need.
Special Features:
There are no special features on this disc.
Grades:

Movie:


Video:
Audio:
Features:
Overall:
This page includes affiliate links where Horror DNA may receive a small commission at no extra cost to you.