The Brain Blu-ray Review
Written by Robert Gold
Blu-ray released by Scream Factory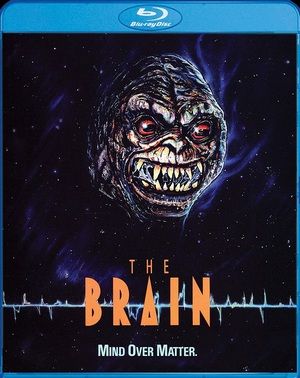 Directed by Edward Hunt
Written by Barry Pearson
1988, 91 minutes, Rated R
Released on April 30th, 2019
Starring:
Tom Bresnahan as Jim Majelewski
Cyndy Preston as Janet
David Gale as Dr. Anthony Blakely
George Buza as Verna
Christine Kossack as Vivian
Bret Pearson as Willie
Ken McGregor as Mr. Woods
Review:
Life moves pretty slowly in the small town of Meadowvale. The residents are avid fans of the local television program "Independent Thinking", hosted by charismatic self-help guru Dr. Anthony Blakely, head doctor at the Psychological Research Institute (PRI). His show is top-rated and he is preparing to launch a nationwide broadcast. A recent rash of murder/suicides has the Meadowvale police baffled, but the majority of the town's population remains unaffected.
High school students Jim and his girlfriend Janet are typical teenagers looking for innocent fun with their friends. Jim is a mischievous prankster who gets caught dropping elemental sodium into the school toilets and is sent to PRI for disciplinary treatment. He is interviewed by Dr. Blakely and his lovely assistant Vivian and shown a therapeutic video. Jim begins hallucinating and leaves the clinic to talk to Janet. After freaking out in the diner where she works, Jim is brought back to PRI for treatment. He happens upon a private conversation between the doctor and his assistants revealing a plan to take over the town using mind control via his popular television program.
Jim escapes once again with the help of his friends but not before being attacked by a giant mutant brain creature that eats one of his pals. The brain is of unknown origin but grows at an alarming rate with each eaten victim until it becomes a towering foe. It turns out this monster is responsible for creating the brainwashing signal in Blakely's program and the two are working together for nefarious reasons. Jim quickly finds himself a patsy, taking the fall for a deadly crime spree and is the target of a massive manhunt. Can he expose the plan and save the town or do people really love their television programs so much that it's too late to save them?
In The Brain, 1988's send-up of 1950s sci-fi chillers like The Brain from Planet Arous (1957) and Fiend Without a Face (1958), we explore the idea of technology used as a mind-controlling weapon. The majority of the town is led like sheep to do as they are instructed while some misfit youths are not susceptible to the signal and are instead plagued with haunting visions. The faculty and local police frequently harass our hero, Jim, forcing us to conclude that authority figures are not to be trusted. Dr. Blakely is the soothing voice of reason and has the town's confidence to do pretty much as he pleases.
Directed by Edward Hunt and written by Barry Pearson, the creative team behind Bloody Birthday (1981), this film takes a few jabs at contemporary societal tropes, including the popular self-help movement. In the 1980s gurus like Dr. Blakely were prominent on television and daytime talk was everywhere. Pearson skewers the popular wave of programming and mixes it nicely with classic sci/fi – horror tropes to create a fun-filled tale of paranoia and xenophobia. The Brain bears some similarities to early David Cronenberg films like Videodrome, with people getting controlled by their televisions. Edward Hunt keeps things moving at a steady pace, frequently peppering in car chases and several hallucination sequences all building to an exciting conclusion where our hero makes a defiant stand against evil.
Tom Bresnahan (Twice Dead) stars as Jim, the troubled teen trying to keep his head straight. He carries the film with his manic performance and keeps audiences firmly on his side as the situation escalates. Cyndy Preston (Pin) co-stars as Janet, Jim's trusted ally who will stick with him until he proves his innocence or until she watches too much TV. Preston and Bresnahan share strong chemistry and work well together. The real draw to this picture is the presence of cult actor David Gale (Re-Animator), once again playing a dubious scientist. He brings a gravitas to the role of Dr. Blakely that is both authoritative and quietly menacing. Gale excels in the part and gives the picture some street cred that elevates the material.
The Brain is highly entertaining and doesn't take itself too seriously. It never falls into broad comedy, but there is some situational humor that plays really well. Filled with social commentary and nostalgia for a once-popular style of picture, the creators of this film nail the tone perfectly and keep audiences engaged throughout. The special effects are well-done and keep in the spirit of the overall piece, and performances are strong across the board. Fans of 1950s sci/fi monster movies will find a lot to like here and casual viewers may want to consider picking this one up for a fun night of viewing with friends.
Video and Audio:
The Brain has undergone a full 4K restoration and looks terrific. Presented in the 1.85:1 aspect ratio, the image is full of rich detail that was absent from earlier releases. Colors are bold, black levels are solid and flesh tones appear natural throughout.
The original mono mix comes courtesy of a DTS-HD MA 2.0 track that faithfully presents the source recording. Audio levels are well-balanced and free from hiss or other distortion.
Optional English subtitles are included for anyone in need.
Special Features:
While not officially a Collector's Edition, this release comes with a wide array of supplements, starting with three audio commentaries. Justin Beahm moderates the discussions asking thoughtful questions and providing ample time for reflection.
On the first commentary, Ed Hunt shares how he got into the world of filmmaking and how he approaches the work as a director. He talks about his previous efforts and shares how this project came together and offers several production stories.
The second track features composer Paul Zaza (Prom Night, Curtains) reflecting on his lengthy career providing music for mostly Canadian genre pictures. He reveals how he writes for film and which scores he is proud of and which not so much. He has a lengthy history with 1980s slasher movies and his thoughts here are a welcome addition well worth a listen.
Actor Tom Bresnahan is the star of the third commentary and is eager to discuss The Brain and some of his other work too. He's a chatty guy and his thoughts frequently wander, but his answers are interesting and informative.
Super-fan Johm Campopiano reveals his adoration for this picture in the short featurette Food for Thought: A Love Letter to The Brain (11 minutes). He remembers how he first saw the film and became obsessed with it. He became pen pals with the director and collected memorabilia. In time his collection grew and he reached out to members of the cast and crew and became an early member of the film's growing fan base.
In Canada on the Mind (11 minutes), actress Cynthia Preston discusses how she became a part of the film and what it was like working on set with her director and co-stars. She talks about the audition process and how she moved from modelling to acting and how she has enjoyed a lengthy career in the industry. She loves the fan base the film has gathered over the years and is proud of the picture.
Actor George Buza (A Christmas Horror Story) co-starred as Dr. Blakely's gruff henchman and appears here in the interview segment From Monster Kid to Monster Man (13 minutes). He shares his thoughts on being typecast as "the heavy" in a lot of pictures and has an affinity for the horror genre as a whole. He talks about the film's message and its relevance today. He's an interesting guy and has an adorable cat that occasionally sneaks into frame for some petting.
In Brain Art (13 minutes), first assistant art director Michael Borthwick shares some early design sketches from the movie and reflects on his time working on set. He has some great production stories involving the long hours and offers his reactions to the end product. He has since moved on to doing commercial work, but is proud of his efforts here.
A still gallery of behind-the-scenes special effects photos plays a silent slideshow (4 minutes).
A theatrical trailer has not been included.
Grades:

Movie:


Video:
Audio:
Features:
Overall:
This page includes affiliate links where Horror DNA may receive a small commission at no extra cost to you.