The Caller DVD Review
Written by Daniel Benson
Released by Universal Pictures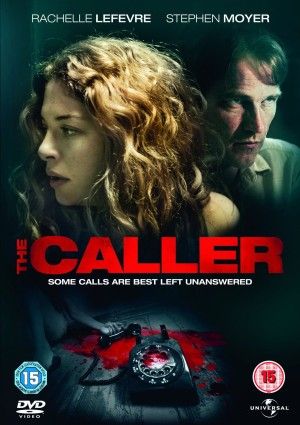 Directed by Matthew Parkhill
Written by Sergio Casci
2011, Region 2 (PAL), 92 minutes, Rated 15 (UK)
DVD released on 24th October 2011
Starring:
Stephen Moyer as John Guidi
Rachelle Lefevre as Mary Kee
Luis Guzmán as George
Ed Quinn as Steven
Lorna Raver as Rose
Review:
Hollywood tends to jump on and ride as many horror bandwagons as is possible. We've had the remakes of older movies, remakes of foreign movies, kidnap and torture and found-footage to name but a few. The humble haunted house movie is seeing a bit of resurgence too. The Caller doesn't quite fit that mould, with a distinct lack of slamming doors and jump scares. But with its interesting approach a telephone linked to the past provides a decent amount of tension and a few scares.

Recent divorcee Mary Kee (Rachelle Lefevre) has moved into an old, Art Deco apartment to rebuild her life after separating from an abusive spouse. As she starts to get things back on track she receives a phone call from a woman called Rose looking to speak to her lost love. Initially Mary thinks the woman is confused, but it transpires that the phone call is coming, not from another city, but another time. Over 30 years ago...

At first Mary befriends Rose, but after a series of sinister events she tells her not to call again. This sends Rose into a vengeful rage and she begins to take her retribution with actions in her own time that will ultimately affect Mary's present.
Although no-one gets bitten in the neck and the film is completely devoid of any form of fanged assailant, there's a vampire theme running through The Caller. Lead actress Lefevre has appeared in two of the Twilight movies, and leading man Stephen Moyer is best known for his role as the vampire Bill Compton in television's True Blood. Of the non-vampire fraternity, Lorna Raver, better known as the creepy old gypsy woman from Drag Me To Hell, dusts off the vengeful ghost routine one more time.

Fast-paced ghost stories in modern cinema are few and far between, the norm appears to be a very slow-burning, suspense-building turn of events that culminates in a reveal of whatever is haunting the protagonist. The Caller is no different, the story builds over the course of its run time with an inevitable final showdown that doesn't disappoint.
The timeline altering principle of the story is an interesting one. Normally the preserve of sci-fi movies, it takes a simplistic approach in this film with only the characters influenced in Rose's time being carried through to a resulting effect in present-day for Mary. What isn't explained is how Mary is still aware of the people that have been erased from her life, while other characters are unaware of their existence.

Plot questions aside, The Caller does a reasonable job of entertaining and at 92 minutes never outstays its welcome. If you're a fan of subdued but suspenseful ghost stories, it's well worth a viewing. Just remember to take the phone off the hook first.
Video and Audio:
Video is solid throughout and as the majority of the film takes place in the shadowy confines of Mary's apartment, it needs to be. No sign of any picture breakup or pixellation in the very stable blacks. Audio is 5.1, but very rarely gives the rears a workout.
Special Features:
There are a handful of deleted scenes accompanying the main feature. A couple of these explain how a young girl in a new apartment ended up using a decrepit old dial phone, but these are spoon-feeding the information so were fine to be cut. There's also an alternative ending, or rather an extended ending, that feels very neat and sequel friendly. The film is much better for ending the way it does. There's a "Making Of" feature which is a talking heads piece running about 15 minutes. There are some interesting snippets of information given by director Matthew Parkhill and writer Sergio Casci. Finally, there's the option of a director's commentary.
Grades:

Movie:


Video:
Audio:
Features:
Overall:
This page includes affiliate links where Horror DNA may receive a small commission at no extra cost to you.