The Clovehitch Killer Blu-ray Review
Written by Robert Gold
Blu-ray released by Scream Factory
Directed by Duncan Skiles
Written by Christopher Ford
2018, 109 minutes, Not Rated
Released on March 5th, 2019
Starring:
Charlie Plummer as Tyler Burnside
Dylan McDermott as Don Burnside
Samantha Mathis as Cindy Burnside
Madisen Beaty as Kassi
Brenna Sherman as Susie
Lance Chantiles-Wertz as Billy
Review:
Ten years ago, a tight-knit Christian community was rocked to its soul in the wake of a mysterious serial killer known only as The Clovehitch Killer, named after the trademark knotted rope he leaves tied at the crime scenes. He killed ten women of various backgrounds and police had no leads. Suddenly, just as quickly as it began, the killer stopped and disappeared from society. Now, a decade later, the victims are remembered annually in a public ceremony. High school student Tyler Burnside is your average American teen living the good life in small-town suburbia. He is a Boy Scout and he volunteers at his church and helps tutor other kids at school. His parents, Don and Cindy, are also prominent figures in the neighborhood, participating in both church and school functions. Don is a Scout leader and works well with the kids. He is a family man and things are going just swell for the Burnsides – until Tyler makes a shocking discovery.
One night while out parking with a girl, Tyler stumbles across a lurid photo in the cab of his father's truck. The girl assumes it is Tyler's and wants nothing more to do with him. The next day he tries to talk to friends at school, but the word is out and he is deemed a "pervert". Finding himself a social pariah, Tyler crosses paths with a fellow outcast, a girl named Kassi who is rumored to be from the wrong side of the tracks. She is obsessed with the Clovehitch Killer and has a reputation of being weird and easy. Tyler does some more snooping around the house and begins to form the suspicion that his father may actually be the long-dormant killer. He confides in Kassi and she laughs it off, but appreciates his interest in the case. She shares her files with him and the two try to solve the mystery themselves. Don Burnside is an upstanding member of society. He couldn't possibly be a serial killer – could he?
I like the Burnsides. They live a happy lifestyle full of positive energy, acceptance and reinforcement. Mom and dad are supportive and encouraging and are deeply involved within the community. It is disheartening watching Tyler follow a series of possible clues that cast doubt on his father's reputation. If he is indeed an innocent man, it is hurtful watching his son chip away at what he stands for, but if he is guilty then he is the worst kind of monster hiding in plain sight. Director Duncan Skiles (The Scariest Show on Television) crafts an entertaining thriller with The Clovehitch Killer, a film that skillfully builds tension from one scene to the next. Working from an excellent screenplay by Christopher Ford (Clown), Skiles presents this high-concept mystery in a series of deliberately-paced sequences that advance the story in a compelling manner. The film hits its height about an hour in before making the somewhat unsatisfying decision to double back on its timeline to provide additional backstory. The structure allows for one powerful reveal, but the flashback throws off the pacing and takes too long to play out.
Charlie Plummer (All the Money in the World) stars as Tyler and does all the heavy lifting as the doubting son. He plays the role perfectly as someone driven to find answers but hating to gain the information he seeks. The main attraction is Dylan McDermott (Hardware) as Don Burnside, the all-American dad who may be holding a powerful secret. He disappears into the character and delivers a believable portrait of a loving parent looking out for the inherent good in people. He really shines in the role and will keep audiences guessing about his motives. The always welcome Samantha Mathis (Salem's Lot, 2004) plays Don's loving wife Cindy and transitions into the role of mother with ease. She is supportive and happy and has no clue what is going on under her roof. She represents a stability to the family unit that is about to be challenged. Madisen Beaty (The Master) plays Kassi, the girl obsessed with the town's darkest chapter. Her backstory is handled nicely and we are along for the ride as she and Tyler develop a fragile relationship that forms naturally. She and Plummer share nice on-screen chemistry and her key scene with McDermott is chilling.
The Clovehitch Killer is a slow- burn thriller that reveals its clues in a deliberate manner. Duncan Skiles and Christopher Ford have given us one of the better character-driven murder mysteries in recent memory and audiences will find a lot to enjoy. Aside from the one prolonged flashback sequence, I was thoroughly caught up in this tale and was dreading the outcome for what it would do to Tyler's family. Whether his suspicions are right or not, he is playing with fire. The picture features an outstanding cast and strong direction and delivers a solid story well worth checking out.
Video and Audio:
Presented in the 1.78:1 aspect ratio, the picture receives a sharp transfer full of rich detail. Colors are muted and black levels are rock solid and flesh tones appear natural throughout.
The DTS-HD MA 5.1 is dialogue-driven and most activity comes from the front speakers. There is some occasional action for the surround channels, but this is largely a quiet film.
Optional English and Spanish subtitles are included for anyone in need.
Special Features:
The behind-the-scenes featurette (5 minutes) takes a non-traditional approach at life on the set, as our interviewer is constantly denied access to the actual filming, so he makes the most with what he has. The joke is pretty funny and the piece is short enough to not wear out its welcome, but I would prefer an actual look at the making of the movie.
The original theatrical trailer has been included.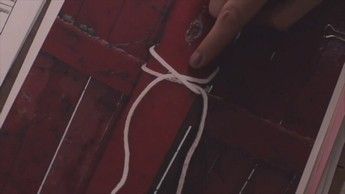 Grades:

Movie:


Video:
Audio:
Features:
Overall:
This page includes affiliate links where Horror DNA may receive a small commission at no extra cost to you.