The Count Yorga Collection Blu-ray Review
Written by Robert Gold
Blu-ray released by Arrow Video
Count Yorga, Vampire
Written and directed by Bob Kelljan
1970, 93 minutes, Rated PG
Blu-ray released on October 25th, 2022
Starring:
Robert Quarry as Count Yorga
Roger Perry as Dr. Jim Hayes
Michael Macready as Mike Thompson
Michael Murphy as Paul
Donna Anders as Donna
Judith Lang as Erica Landers
Edward Walsh as Brudah
Sybil Scotford as Judy
Review:
Seeking closure in the days following her mother's funeral, Donna enlists the help of Count Yorga, a medium capable of contacting the spirit world. Her friends Paul, Erica, Mike and Judy join them for a séance, where an exciting encounter with the supernatural leaves Donna emotionally drained. Later that night, Paul and Erica give the Count a ride home, but something strange happens before they can leave. The next day, neither can remember exactly what happened, but Erica is weak and has a pair of puncture marks on her neck. They visit Dr. Hayes, who encourages Erica to rest, but when Erica is abducted, he suspects something else is going on. The doctor tells Mike vampirism may be the cause and suggests that the mysterious Count Yorga could be the villain. His jumps in logic prove to be correct and Hayes leads the charge into Yorga's home intending to rescue the girl and kill the monster, but what match are a bunch of inexperienced vampire hunters against a creature that has survived centuries?
Count Yorga, Vampire (aka The Loves of Count Iorga, Vampire) owes a stylistic debt to countless Hammer Horror Film productions of the 1950s and '60s, as well as the Universal classic Dracula (1931). Unlike earlier incarnations, writer/director Bob Kelljan (Black Oak Conspiracy) is more interested in uncovering the dark humor that comes with seeing how the vampire character interacts with modern society. Yorga is not a fish-out-of-water story, as the titular character has long adapted to his surroundings and enjoys a life of wealth and taste. He is full of confidence and charm, but has a bit of a mean streak – not because he is a vampire but rather because he is simply bored. He resides in contemporary Los Angeles, where he knows how to blend in at the finest social gatherings and has mastered the game of life for countless generations.
Robert Quarry (Rollercoaster) stars as Count Yorga and gives a career-defining performance that is as commanding of your attention as the vampire himself. Quarry carries the picture by playing it straight and allowing the supporting characters the opportunity to reveal the comedy subtext of the material. Roger Perry (Roller Boogie) is the insightful Dr. Hayes, a man a bit too eager to drive a broken furniture leg into a stranger's heart on the off chance that he may be a vampire. Yorga is well aware of Hayes' suspicions and finds his efforts humorous and quaint, but also a bit of a fun distraction. The film suffers pacing problems due to an excessive number of scenes where nothing happens, but all is forgiven whenever Quarry, and to a lesser extent, Perry, are on screen. Character actor/Everyman Michael Murphy (Dead Kids) gets to inject some levity as Paul, the reluctant skeptic. He is more than just comic relief here, as Paul is legitimately concerned for his girlfriend Erica (Judith Lang, The Psycho Lover), who, after their run-in with Yorga, most disturbingly is caught eating a cat-food treat.
Bob Kelljan never allows his movie to descend into full camp, but at times barely keeps the lid on things. Yorga's dry sense of humor is something that was not typical in horror cinema and remains a high point of this film. Quarry may not be as charismatic as Bela Lugosi or as strikingly handsome as Christopher Lee, but he brings a certain charm to the role and is always engaging. Count Yorga was originally pitched as a low-budget softcore porno flick, but the producers wisely reconsidered, and yet there are a few moments that maintain the earlier tone. The film was successful enough to spawn the sequel The Return of Count Yorga and launch a ravenous fan base I am certain will continue to grow as this Blu-ray release introduces new audiences to the suave vampire.
Video and Audio:
Featuring a brand new 2K restoration from a 4K scan of the original 35mm camera negative, the film has never looked better. Presented in the original 1.85:1 aspect ratio, the picture offers a surprising level of detail and is easily a strong improvement over previous editions. Colors are rich, especially the reds that flow when the Count is doing what he does best.
The DTS-HD MA 1.0 mono track keeps dialogue levels free from distortion and well-balanced with the music and sound effects. There is not a lot of dynamic bite, but the film doesn't call for it. Optional English subtitles are provided for anyone in need.
Special Features:
There are two audio commentaries on this disc. The first is a new one from film critic Tim Lucas that is highly informative and moves at a brisk pace and covers a wide range of topics about the production, the director and cast and the film's endearing legacy.
The second commentary is an archival track recorded in 2016 for Arrow by film critics David Del Valle and C. Courtney Joyner. This is another solid discussion with an emphasis on the awesomeness of star Robert Quarry. The guys cover a lot of ground with interesting and entertaining production stories and trivia. Interestingly, Del Valle recorded a separate commentary for the Twilight Time release in 2015, with Tim Sullivan, but that track is not included on this release.
Film scholars Heather Drain and Chris O'Neill offer a wonderful video appreciation of the film in the featurette The Count in California – The Sanguine Glory & Gothic Charms of Count Yorga (10 minutes)
Yorga super-fan, filmmaker Frank Darabont (The Shawshank Redemption) shares his memories of seeing the picture at an impressionable age in the interview segment I Remember Yorga (15 minutes). His enthusiasm is infectious as he relays his love for this character.
A Vampire in L.A. (10 minutes) catches up with actor Michael Murphy who has a lot to say and looks back fondly on the experience. He's a fun guy who knows how to tell a great story.
Jessica Dwyer (Fangoria) hosts the Fangirl Radio Tribute to Robert Quarry (46 minutes), in which she interviews Sullivan about the late, great actor and his career before and after Yorga. Sullivan delivers a wealth of stories that further solidify the idea that Quarry was a highly entertaining man who suffered more than his share of hardships. There are many interesting stories shared here that you will definitely want to check out.
A theatrical trailer is paired with a few radio spots for the film.
There are two photo galleries, the first dedicated to marketing (83 images), including posters, collectibles, publicity shots and lobby cards.
The second gallery comes from Tim Sullivan's archives (25 images) and features personal photographs with Quarry, magazine articles and public appearances and panels.
The Return of Count Yorga
Directed by Bob Kelljan
Written by Bob Kelljan and Yvonne Wilder
1971, 97 minutes, Rated R
Released on October 25th, 2022
Starring:
Robert Quarry as Count Yorga
Mariette Hartley as Cynthia Nelson
Roger Perry as Dr. David Baldwin
Yvonne Wilder as Jennifer Nelson
Tom Toner as Rev. Thomas Westwood
Rudy DeLuca as Lt. Madden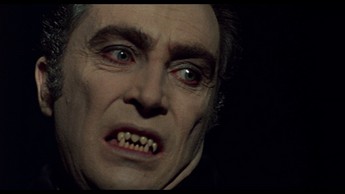 Review:
Cynthia awakens in Gateway Manor, the guest of its new owner, Count Yorga. She has no memory of how she got here or anything of the attack on her family that left a number of her relatives dead. Her friend Jennifer discovers the bodies, but she is deaf as well as freaked out, making it difficult for her to communicate to the police. When the authorities arrive the house is in order and the bodies are missing. Jennifer's son Tommy, under the spell of Yorga, denies anything bad happened and the police dismiss her story. Her friends Jason and David believe her and set out to rescue Cynthia from Yorga, whom they have figured out is a vampire, but are they any match for this cunning monster?
Following the success of Count Yorga, Vampire, a pseudo-sequel went into production appropriately titled The Return of Count Yorga. While not a direct continuation of the story, Yorga is definitely back, along with a few supporting actors from the previous film – but not always playing the same characters as before. The great Robert Quarry returns in the title role and is even bitchier than before – which is awesome! His opening scene at a fundraiser in which he is faced with local busybodies and obnoxious kids is filled with great catty putdowns. The film remains a creepy chiller, but contains a wicked sense of humor that makes the Count all the more entertaining.
Mariette Hartley (Marnie) stars as Cynthia Nelson, the object of Yorga's attention. Under his spell, she has no knowledge of his cruelty or how dangerous he is – she simply sees him as a dear friend. Hartley shines in the role as glimpses of her past trauma begin to surface and her scenes with Quarry are the best. Roger Perry is back playing a doctor, but not the same one as before. This time he is Dr. David Baldwin and is once again tasked with facing off against the Count. My favorite character is Yvonne Wilder's Jennifer, the poor deaf woman nobody believes until it is too late. Wilder (Seems Like Old Times) co-wrote the screenplay with returning director Bob Kelljan and her work onscreen is just as strong. In the supporting roles of the cops on the case, viewers are treated to a pair of familiar faces; Mel Brooks regular Rudy DeLuca (History of the World: Part 1, Spaceballs) and the awesome Craig T. Nelson (Poltergeist II: The Other Side), in an early role, play Lt. Madden and Sgt. O'Connor respectively.
The Return of Count Yorga has a bigger budget and a more ambitious script than its predecessor and Bob Kelljan puts every dollar on the screen. The picture benefits greatly from the impressive cinematography by the legendary Bill Butler (Jaws, Damien: Omen II), who creates a rich atmosphere of creeping dread. There is something evil carried on the Santa Ana winds and it is more than just the walking dead. The concept of a vampire in contemporary society was slightly ahead of its time, beating Hammer Films to the punch by a year. Yorga may not be the best-known vampire these days, but he has developed quite the cult following and if you are somehow unfamiliar with his icy demeanor, I heartily recommend picking up this wonderful double feature.
Video and Audio:
Like its predecessor, this film is presented in the 1.85:1 aspect ratio with a 2K restoration of a 4K scan of the original 35mm negative. Picture quality is excellent and free from any dirt or scratches. Colors pop and black levels are rock-solid with plenty of activity in the shadows.
A DTS-HD MA 1.0 mono gets the job done with some nice atmospheric sound effects including whispers and laughter that haunt Cynthia in the Count's castle. Dialogue levels are clean and always understandable and music cues are effectively creepy.
Optional English subtitles are included for anyone in need.
Special Features:
Two audio commentaries are included on this release starting with a new discussion from film historian Steven Bissett who covers all aspects of this production from the director to casting to the enduring legacy of the character.
The second commentary is an archival conversation featuring the always-welcome film historians David Del Valle and C. Courtney Joyner, recorded for Arrow in 2016. Similar to their discussion of the original film, there is an emphasis on how awesome Robert Quarry is in the picture. This is a solid conversation filled with interesting trivia and fun anecdotes.
Author and critic Maitland McDonagh takes a reflective look back at the Yorga character and his place in the world of the early 1970s in the segment The Count and the Counterculture (18 minutes).
In Chanber-Music of Horrors (35 minutes), composer David Huckvale discusses the music of both films.
A Count Yorga appreciation by critic and film historian Kim Newman (33 minutes) is every bit as informative as one would expect from the scholar.
Marketing materials including a theatrical trailer, radio spots and an image gallery are also included.
Grades:

Count Yorga, Vampire:
The Return of Count Yorga:






Video:
Audio:
Features:
Overall:
This page includes affiliate links where Horror DNA may receive a small commission at no extra cost to you.