The Curse of the Cat People Blu-ray Review
Written by Robert Gold
Blu-ray released by Scream Factory
Directed by Gunther V. Fritsch and Robert Wise
Written by DeWitt Bodeen
1944, 70 minutes, Not Rated
Blu-ray released on June 26th, 2018
Starring:
Simone Simon as Ghost of Irena
Kent Smith as Oliver Reed
Jane Randolph as Alice Reed
Ann Carter as Amy Reed
Elizabeth Russell as Barbara Farren
Eve March as Miss Callahan
Julia Dean as Mrs. Julia Farren
Sir Lancelot as Edward
Review:
Amy Reed is a six-year-old girl without friends. She passes her time playing by herself despite the admonitions of her father, who wants her to hang out with other kids in the neighborhood. She tries, but when her efforts fail, Amy finds herself outside the local "haunted witch house" where a spectral voice urges her to step inside the garden. She does so and is soon gifted a shiny ring from an unseen woman from an upstairs window. Believing this to be a wishing ring, Amy requests a friend and soon she meets Irina, a guardian angel of sorts who appears whenever needed. Amy's father is concerned about this new friend, who, based on description, sounds a lot like his first wife Irina, a troubled woman who committed suicide before Amy was born.
Dysfunctional families abound in this drama as the residents of the haunted witch house are the elderly Mrs. Farren, a former actress, and her daughter Barbara, whom she doesn't trust. Convinced Barbara died years ago as a child, Mrs. Farren believes her housemate is an imposter trying to take advantage of her. Mrs. Farren befriends Amy and continues to snub Barbara, which makes the latter spiteful and determined to hurt the little girl the next time she comes to visit. Amy spends most of her time over the next few months playing with Irina. Her father is understandably upset when he discovers that her new friend is imaginary and he and his wife are at wits' end. They consult Amy's teacher Miss Callahan, who suggests they are not giving the child all the affection she needs, causing her imagination to kick into overdrive.
1942's Cat People was a smash hit for RKO Pictures and producer Val Lewton (I Walked with a Zombie). The studio wanted a sequel and started the project with the title, The Curse of the Cat People. Lewton reluctantly agreed and began working with screenwriter De Witt Bodeen (The Seventh Victim), who had written the original picture. Also returning from the first film were stars Simone Simon, Kent Smith and Jane Randolph. Gunther V. Fritsch was brought on board to direct but was replaced by Robert Wise (The Day the Earth Stood Still) before the production wrapped. The story Lewton and Bodeen delivered was not the lurid tale the studio wanted but rather a psychological profile of a lonely child who may or may not be schizophrenic. This dark fable is told from the child's perspective and explores her loneliness and isolation.
Ann Carter (The Two Mrs. Carrolls) stars as young Amy and really delivers a knockout performance, especially for a child actor. The film hangs on her shoulders and she easily carries the weight with an effortless ability that is quite impressive. Carter only appeared in a handful of roles but really shows potential here. In Cat People, Simone Simon played Irina, an anxious, upset woman who fears intimacy because she will transform into a panther and kill her lover. In this sequel she plays the same character as a fairy princess, a guardian angel who is at peace with her world of deep darkness as she describes it. Even though Amy has parents, Irina fills a maternal role for the child and gives her nothing but attention, love and understanding. Amy's parents (Kent Smith and Jane Randolph) are well-meaning, but they are caught up in their own worlds.
Amy's concerned teacher, Miss Callahan (Eve March), is more in tune with the child's needs and is familiar with child psychology, at one point referencing the book The Inner World of Childhood (by Frances G. Wickes). She casually quotes from Robert Louis Stevenson's The Unseen Playmate about how children play with imaginary friends while sad, but once they are happy find true friends. The Unseen Playmate would have been a better title for this film instead of the one the studio was determined to keep even after seeing the picture. There are no cat people here, and with the exception of a quick shot of one in a tree, there are no cats either. Lewton delivers something richer with this film. He tells a story that draws on autobiographical elements of his own childhood, one that was filled with fantasy and imagination.
The Curse of the Cat People is a better film than its marketing would lead you to believe. It has nothing to do with the original film except some superficial connections. I have long enjoyed this movie and even studied it in a psychology class in college. Scream Factory continues to dig in the Warner Brothers vault for interesting titles and they really have a winner here. I am happy to see it restored and reissued on the Blu-ray format so that it may reach a wider contemporary audience.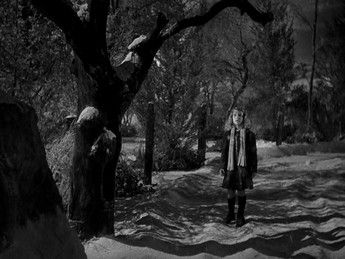 Video and Audio:
Presented in the 1.33:1 aspect ratio and given an HD transfer, the picture looks better than ever. The gorgeous cinematography is well represented here with flawless levels of light and shadow.
A DTS-HD MA 2.0 audio preserves the film's original mono recording and is both clean and free from hiss or distortion. Dialogue levels are clear and well-balanced with music and sound effects.
Optional English subtitles are included for anyone in need.
Special Features:
There are two audio commentaries on this disc. The first is with film historian Steve Haberman, who shares a lot of information, albeit scripted, in a rapid-fire delivery that really does a lot to inform viewers about the production.
The second commentary is a vintage track from historian Greg Mank, who really delivers the goods with a very thorough reflection of the production. There are plenty of non-stop stories from both sides of the camera and the discussion even includes audio excerpts from an interview with star Simone Simon. The track is also scripted and covers a lot of ground that is well worth a listen.
The new documentary Lewton's Muse: The Dark Eyes of Simone Simon (31 minutes) takes a look back at the life and career of the French starlet. She was reportedly prickly and did not always get along with the Hollywood press or the industry itself, but not everything was her fault. Her path was rocky, but she found success working with producer Val Lewton domestically and also on stage and screen in France.
In 2007, actress Ann Carter was interviewed by film journalist Tom Weaver. The audio of that piece is included here (19 minutes) and Carter reflects on her time working as a child actress in general and on Curse of the Cat People in particular.
The theatrical trailers for both Cat People and The Curse of the Cat People are included. The sequel is marketed more as a chilling thriller than it is.
A still gallery (56 images) offers a look at marketing materials, production stills and publicity shots.
Grades:

Movie:


Video:
Audio:
Features:
Overall:
This page includes affiliate links where Horror DNA may receive a small commission at no extra cost to you.