The Devil's Rain DVD Review
Written by Milos Jovanovic
DVD released by Dark Sky Films
Directed by Robert Frost
Written by James Ashton, Gabe Essoe and Gerald Hopman
1975, Region 1 (NTSC), 86 minutes, Rated PG
DVD released on October 31st, 2006
Starring:
Ernest Borgnine as Jonathan Corbis
Eddie Albert as Dr. Sam Richards
Tom Skerritt as Tom Preston
William Shatner as Mark Preston
Joan Prather as Julie Preston
Ida Lupino as Mrs. Preston
Keenan Wynn as Sheriff Owens
John Travolta as Danny
Movie:
One stormy night, Mark Preston's (William Shatner) father fails to come home. Remembering a recent nightmare, Preston's wife (Ida Lupino) thinks something horrible has happened to him. Suddenly, Mark's old man does appear, but his eyesockets are empty, and he babbles something about "bringing Corbis what belongs to him" — then promptly melts into a pile of hot wax and goo. Turns out, this Corbis fellow is a highly-ranked servant of Satan, and the Prestons have been sheltering a rather important book away from him for centuries. Moments later, Mark overhears his father's truck pulling into the driveway, but as he rushes out to investigate, he hears loud noises back from the house. He returns to find his mother kidnapped, and the family servant badly beaten. Naturally, he decides to hunt Corbis down, and heads to his place of residence, a dreary desert town of Redstone.
Once there, Mark is greeted by Corbis himself (Ernest Borgnine), who makes him a deal — they will pit their faiths against each other and if Mark wins, he can have his parents back. If, however, Corbis wins, he will get the book, and Mark's soul. Agreeing to this bargain, Mark is escorted to a makeshift satanic church, where he gets positively freaked out by the Corbis-led rite. He storms out of the building, only to be captured by a bunch of hooded cultists.
Meanwhile, Mark's brother Tom (Tom Skerritt) finds out about his family's disappearance, and decides to visit Redstone himself with his psychic wife Julie (Joan Prather) in tow. After avoiding a few attacks and examining the church, Julie suddenly has a vision of events preceding this whole issue. We learn that Corbis is this 300-year old warlock, who was burned at the stake along with his initial followers. His cover got blown when one of his acolytes stole the aformentioned book and betrayed him, inducing a curse from Corbis in process. Tom must join forces with his mentor, parapsychologist dr. Sam Richards (Eddie Albert), and stop the satanic forces at work before it's too late.
Review:
Back in the late '80s and early '90s, when VHS ruled the Earth and I spent hours and hours browsing the local rental store's catalogue (much to the clerks' chagrin), I developed a bad habit. Because of the such gigantic outpour of trashy action and horror (my genres of choice) films during those years, I opted usually to rent only titles which would have some sort of name power attached to it, thus avoiding an evening of certain cringing in front of the VCR. Granted, I probably missed many a good title with this narrow-minded selection regime, but I also saved my teenage brains from the onslaught of Z-productions which plagued the shelves. Imagine, then, my delight when Steve Pattee offered me The Devil's Rain to review, a seventies horror with William Shatner, Ernest Borgnine, Ida Lupino, Tom Skerritt, Keenan Wynn, Eddie Albert and John Travolta. And if that wasn't enough, Anton LaVey, father of the Church of Satan (as in, the real, existing Church of Satan), is billed as a creative consultant, and appears in a minor role, as well. I was sold like Louisiana the moment I saw the cover and a snap of Borgnine wearing satanic priest robes — at very least, this would prove to be tremendous entertainment. Sadly enough, that wasn't the case.
The prime suspect for this judgement might be the lack of thrills this film offers. Despite being made in the seventies, a decade in which celluloid violence and taboo breaking took hold, The Devil's Rain is a pretty tame movie despite the dark topic it explores. You are already forewarned this won't be anything even remotely tough after seeing the "PG" rating on the DVD box, yet the age certificate is fully justified. The numerous satanic rites we are made to observe throughout the duration of the film yield exactly no blood, no nudity, no nothing, save for Borgnine uttering some incantations and sprinkling rhetorical words of wisdom. Consequently, there are no scares in the film, not even of cheap "boo!" variety, resulting in the average horror fan just being plain bored in the end. The opening credits are laid out across some images of a Hyeronimus Bosch painting, and this, along with the special effects of devil followers melting when shot, might be the closest this picture got to being even remotely explicit.
Another odd choice the film takes is the sudden, halfway switch of protagonists. The switcharoo itself wouldn't be weird, if either actor actually fit the bill for the role. As Mark Preston, Shatner over-acts on about every line of the script; come the midway point of the film, the focus shifts to Tom Skerritt, who has a rather difficult time looking even remotely interested in things going on around him, sleepwalking through the second half. To make things even more muddled, the final act features Skerritt strengthened by Eddie Albert, who carries the last fifteen minutes basically by himself. While Albert gives a spirited performance (given the circumstances), his effort arrives way too late. A subpar script by James Ashton, Gabe Essoe and Gerald Hopman is nothing to write home about, either — just observe some of the exchanges, especially the Shatner — Borgnine showdown which ensues following Mark's entrance into Redstone. With both actors dressed in wild-west garbs and sporting cowboy hats while spouting almost utter nonsense, you're just waiting for John Wayne to appear out of nowhere and treat both to some premium American lead.
Perhaps the biggest crime The Devil's Rain commits is the one of procrastination. If you have to spend five-plus minutes on credits in a 86 minute feature, you know you're in dire straits with the original material. The already thin storyline is artificially stretched even thinner through long, unneccessary segues between the action parts. When Mark leaves for Redstone, his trek is rather meticulously shown with a number of pretty crafty, yet rather redundant, tracking shots. The climactic final sequence also prolongs itself for a few minutes too many, losing much of its punch in process.
If there is a saving grace to this picture, it's Ernest Borgnine's turn as the cult leader Corbis. Borgnine, who for the better part of his career played supporting roles, is seemingly having a blast playing the bad guy, doing it with much gusto and adding a strange, eclectic flavour to an otherwise stock "satan lover" character. Highlights include the 18th century flashback and burning, complete with scriptlines in ye olde English, as well as memorable shots with Ernest fully made up as a humanoid goat (check those screen caps). And while I'm busy with the actors, John Travolta is little more than an unbilled extra in his theatrical debut, playing a cultist who recovers the book and sees through Tom's ruse during a ceremony. Keenan Wynn, veteran of many westerns, appears as...a sheriff, of all typecast roles he could get.
Director Robert Fuest, who you might remember as the guy who helmed both Dr. Phibes films, is also one of the least guilty parties for this mess. It is conceivable that Fuest was enamored with spaghetti westerns at the time of making this, a fact which becomes evident once you see him manipulating the barren desert landscapes into eye candy for the viewer. Granted, as I said before, all the "nice" shots are virtually cosmetic, but in a horror picture with no gore or anything to gawk at, you gotta admire at least something. Fuest also acquits himself with the action scenes, the football-like dynamics, with stiff-arms and all, of that Shatner dash towards the car being my favourite.
So ultimately, The Devil's Rain is a lesser genre entry from the '70s, and considering the billed cast, a disappointment. Yet, if you feel like you really need to see Anton LaVey play a satanic priest (what a surprise that one), or watch Ernest Borgnine prance about with goat makeup, you might as well watch this. It's only 86 minutes, anyway.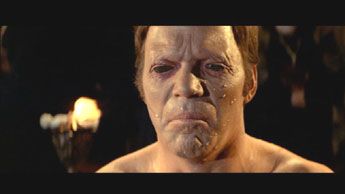 Video and Audio:
We've grown to expect only superior A/V results from Dark Sky Films' releases, and this disc is no different. Boasting a new anamorphic transfer from the original 35mm source, The Devil's Rain, which was shot in 2.35:1 aspect ratio, looks pretty damned good. The quality of the transfer only improves on the film's strong points which I mentioned above, namely the photography and scenic shots. The only audio option on the disc is a cleaned-up 2.0 DD Mono track, which sounds clear and crisp.
Also, included is a subtitle track in English.
Special Features:
Audio commentary by director Robert Fuest
Newsreel with Anton LaVey, High Priest of the Church of Satan
Theatrical Trailer
Radio Spots
Still Gallery
British horror savant Marcus Hearn is joined by the director for the commentary track, in which Hearn asks Fuest all sorts of questions related not only to the film, but to his own career as well. While the answers and anecdotes provide good background information at times, Fuest — who is nearly 80 years old now — is occasionaly borderline ununderstandable, either slurring his speech or just plainly not remembering what happened. It's a good effort, and it's certainly an appreciated extra (I love director commentaries), but I've heard better chat tracks.
The newsreel footage is of Anton LaVey marrying a couple in a "satanic ceremony". Odd, for sure, but rather short.
The original theatrical trailer is for The Devil's Rain. Some neat '70s music to be heard here, although I think that placing the goat Borgnine so early in the trailer kinda spoils it.
There are three radio commercials, all three under a minute in length. The first one, clocking at some 55 seconds, is the longest and most interesting of the bunch. The other two spots just feel like condensed versions of the first one.
Lastly, there is a gallery of 12 stills, including two theatrical posters and some promo material. The first theatrical poster looks better than the film itself, actually.
| | |
| --- | --- |
| Grades: | |
| Movie: | |
| Video: | |
| Audio: | |
| Features: | |
| Overall: | |
© 2006 Horror DNA.com. No use of this review is permitted without expressed permission from Horror DNA.com.