The Empty Man Movie Review
Written by R.J. MacReady
Released by BOOM! Studios
Written and directed by David Prior
2020, 137 Minutes, Rated R
Released on October 23rd, 2020
Starring:
James Badge Dale as James Lasombra
Stephen Root as Arthur Parsons
Joel Courtney as Brandon Maibaum
Marin Ireland as Nora Quail
Aaron Poole as Paul
Robert Aramayo as Garrett
Samantha Logan as Davara Walsh
Evan Jonigkeit as Greg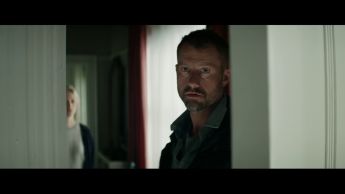 Review:
Just when you thought there'd be no movies in the theaters for Halloween 2020, there comes a movie you've probably never heard of: The Empty Man. I, for one, had not heard a peep about it, which is weird since it actually started shooting in 2016. I'm not sure what the behind-the-scenes story of that is, whether it was held back over the years for reshoots or perhaps it was acquired by a studio that decided it wasn't good enough for a theatrical release, but then this Covid hit and they're like, "Screw it, there's nothing else in the theaters..."
Either way, I saw the trailer and thought it looked sort of Candyman/Urban Legendish, and decided to brave the movie theater to check it out.
The flick starts out with a VERY extended prelude about four young hikers in what looks like the Himalayas circa 1995. One of their party is drawn to a strange sound and ends up finding a weird-looking corpse that more or less drives him comatose. Some other weird stuff happens as his friends drag his barely-conscious body to a cabin they've found, where they try to outlast the winter storm. It's got some nice creepy moments to it, so I was interested to see where this was all going.
Fifteen minutes after the movie starts, you get the title card, and we launch into the present day where we find a man celebrating his birthday alone in what appears to be an Applebee's. This is James Lasombra, played by James Badge Dale, with haunted eyes and a permanent five-o'clock shadow. He goes home and finds a friend's teenage daughter there, and she spouts some real out-there stuff that doesn't make any sense, then she wanders off and disappears.
James used to be a cop, so he starts trying to find her, and soon finds himself on the trail of "The Empty Man", an urban legend that appears if you go to a bridge in the middle of the night, think about him, and blow into a bottle. It's all very Candyman/Bloody Mary, but that didn't bother me. The plot then moves into procedural mode rather than slasher mode, which gets stale fast, but more on that in a moment.
Coming into this blind, I wasn't sure what to expect from director David Prior, who has no actual directing credits of note unless you count the "Making Of" segments for some pretty big movies like The Social Network and The Girl with the Dragon Tattoo. I also had no idea this was based on a comic book by Cullen Bunn, but I've never been much of a comic guy.
Judging from this, he'll be a pretty interesting director to watch because he does some nifty tricks with the camera and seems pretty self-assured for a first-time director. My only issue is how much he loves close-ups because we get way too many of those.
The biggest problem here is the running time of the movie, which clocks in well over the two-hour mark, overstaying its welcome by about 30 minutes. I get that this movie is much less a slasher flick than it is an intricate mystery featuring a supernatural monster, but at a certain point they should have cut this thing down to a more manageable length. Why didn't they?
Well, my guess is that some of the best scenes really don't have much to do with the actual point of the story. They COULD have taken out the opening fifteen minutes without losing anything crucial to the plot – most of the info laid out there is revealed later – but the opening is good. Then there's another scene involving a naked high schooler (I know, right? But I guess they implied she was eighteen, so it's okay.) that is really just an excuse for nudity and another kill, so I guess they didn't want to throw that baby out with the bath water.
But there are a lot of scenes of our hero running around discovering clues, and it's interesting for the first half-hour before becoming tedious and uninteresting. They dangle a lot of threads about our hero's mysterious past that I guess they hoped would keep the viewer interested until the end, but it's not enough. The wrap-up of the movie feels like an attempt to be clever but simply comes too late because you've checked your watch twice before it arrives.
There's a lot to like in The Empty Man, from the cinematography of Anastas N. Michos (Texas Chainsaw, The First Purge) to the score by Christopher Young (Pet Sematary remake and Sinister) with Lustmord (The Crow and Underworld) to the acting of the leads, including a cameo by Stephen Root.
Ultimately, though, the whole affair goes on too long, so I can't whole-heartedly recommend it unless you enjoy complex mysteries with horror elements to them like the original Jacob's Ladder. However, if long dark stories are your thing, there are definitely worse ways to spend your time.
This page includes affiliate links where Horror DNA may receive a small commission at no extra cost to you.