The Entity Collector's Edition Blu-ray Review
Written by Robert Gold
Blu-ray released by Scream Factory
Directed by Sidney J. Furie
Written by Frank De Felitta
1983, 125 minutes, Rated R
Released on June 11th, 2019
Starring:
Barbara Hershey as Carla Moran
Ron Silver as Phil Sneiderman
David Labiosa as Billy
George Coe as Dr. Weber
Margaret Blye as Cindy Nash
Jacqueline Brookes as Dr. Cooley
Richard Brestoff as Gene Kraft
Review:
Carla Moran is a single mother attending secretarial school and raising her three children while working a part-time office job. Her life is upended when she is attacked in her bedroom by an unseen assailant. When no one is found in the house, the incident is dismissed by her teenage son as a nightmare, but Carla knows she was raped. She is assaulted again in her bathroom and seeks the help of a psychiatrist named Dr. Sneiderman. He is skeptical of her claims and believes her bruises and bite marks are self-inflicted, brought on as the result of a childhood sexual trauma. Carla begins to lose her grip as she is repeatedly attacked in her car, in the bath and even in front of her children. Once there are witnesses to the crime, she seeks the help of parapsychologists. Conventional science doubts her but those studying the supernatural give her hope. Together they plan an experiment to contain this vengeful entity and free her from its grasp.
The Entity is inspired by an actual case that occurred in Los Angeles, 1976. The victim claimed to have been sexually assaulted by an unseen presence on numerous occasions. The events were thoroughly documented and it was these filings that served as the basis for Frank De Felitta's novel and subsequent screenplay. Director Sidney J. Furie (The Ipcress File) tells an intimate story of a woman who is well aware of what is happening to her but unable to convince others of her claims. This film follows a woman's journey through violence, doubt and ultimately vindication.
Barbara Hershey (Insidious) stars as Carla Moran, a working mother trying to provide for her family. She begins to question her sanity after repeated physical encounters with a malevolent force that wants to dominate her. She seeks the help of a myopic psychiatrist, Dr. Sneiderman (Ron Silver, Blue Steel), but he is more interested in her sexual history than her current situation. Sneiderman represents the uncaring world of men who won't be bothered by the ravings of hysterical women. It is through the sympathetic efforts of parapsychologist Dr. Cooley (Jacqueline Brookes, Ghost Story) that Carla becomes empowered with the strength to fight back against her attacker.
The Entity is a powerful example of feminist horror and is beautifully executed as it tells the story of a woman in peril fighting back. The frequency and intensity of the rape scenes is alarming and horrific and Hershey gives it her all with a brave performance that is vulnerable and sensitive and keeps audiences firmly on her side. The adult men in her life are worthless and unable or unwilling to believe her, dismissing her claims and treating her as less than credible. Director Furie throws audiences into the deep end and delivers one suspenseful sequence after another and seldom lets up before starting the next challenging scene. The film is widely hailed as one of the scariest movies of the 1980s and it holds up well. Pick this one up and turn off the lights and crank the audio for a jarring experience that will leave you haunted.
Video and Audio:
Anchor Bay released this title in 2012 and this edition appears to carry the same solid transfer. Presented in the 2.35:1 aspect ratio, colors are bold and black levels are solid with plenty of small-object detail.
There are three audio options, including a DTS-HD MA 5.1 surround mix, a DTS-HD MA 4.1 theatrical presentation and a DTS-HD MA 2.0 stereo track. All three choices are winners, but I default to the 5.1 mix which is robust and full of activity.
Optional English subtitles are included for anyone in need.
Special Features:
Sidney J. Furie biographer/ filmmaker Daniel Kremer provides an audio commentary that takes the time to cover the director's entire career. There is a lot of interesting information and while the stories may wander at times, Kremer keeps things moving at a steady pace without falling into gaps of extended silence or onscreen narration.
Actress Barbara Hershey sits down for the all-new interview Inner Strength (19 minutes) in which she shares her memories of the production. She talks about her close working relationship with the director and the importance of credibility.
In Seeing is Believing (14 minutes) actor David Labiosa reveals how he got the part of Carla's son Bill. He shares a few production stories, including one about refusing to do a stunt and another in which he breaks his arm. He also reveals the existence of some material filmed but cut from the final edit.
Composer Charles Bernstein is the subject of High Dread (17 minutes) in which he discusses writing music according to character and creating themes. He has fond memories of the production and is proud of the finished film.
Spirits & Sprocket Holes (12 minutes) catches up with editor Frank J. Urioste, who discusses the editing process and happily shares stories of the unexplained from the set.
The vintage featurette The Entity Files (28 minutes) provides a visit from parapsychologist Dr. Barry Taff, the man who documented the original case this film is based on. He recounts the events and provides insight into what happened. This is a really interesting segment worth checking out.
The original theatrical trailer is included along with two TV spots and two radio ads providing a look at the marketing campaign.
Trailers from Hell presents the film's trailer with an introduction and commentary by filmmaker Luca Guadagnino (Suspiria, 2018).
A still gallery (2 minutes) featuring publicity shots and international poster art plays as a silent slideshow.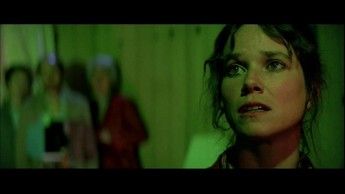 Grades:

Movie:


Video:
Audio:
Features:
Overall:
This page includes affiliate links where Horror DNA may receive a small commission at no extra cost to you.