The Final Girls Movie Review
Written by Karin Crighton
Released by Stage 6 Films
Directed by Todd Strauss-Schulson
Written by M.A. Fortin and Joshua John Miller
2015, 88 minutes, Rated PG-13
Theatrical release on October 14th, 2015
Starring:
Taissa Farmiga as Max
Malin Akerman as Nancy/Amanda
Alexander Ludwig as Christopher
Alia Shawkat as Gertie
Nina Dobrev as Vicki
Review:
Max (Taissa Farmiga) lost her actress mother Amanda (Malin Akerman) three years ago in a car accident that tore her life apart. Now a senior in high school and anxious to face the adult world on her own, her friends convince her to attend a film festival showing her mother's most popular film, Camp Bloodbath, when a fire breaks out. Believing she and her friends can escape via an exit behind the screen, she cuts open the curtain...to end up inside the movie itself. Max is finally reunited with the mother she lost, but now there's a bigger problem: serial killer Billy Murphy is due to come kill all the counselors at camp over the next 92 minutes of 1980s celluloid – and there can only be one Final Girl.
Yeah, I know the synopsis sounds a bit cheesy and it honestly offers up some groan moments. And yes, sometimes the script tries a little too hard to be funny. Thomas Middlechurch (as Gertie's cinephile new stepbrother Duncan) is great with quips and his banter with Alia Shawkate is hilarious; they don't need forced lines to make their humor work. The script nearly ruins the most important moment of the movie with a shitty one-liner for Farmiga as Max, but once the story gets rolling the awkwardness of the script ends and the actors take over with aplomb. Adam Devine kills it as the camp hunk looking to score with all the ladies, of course. I have no idea how anyone gets work done around his sharp improv. Alexander Ludwig is a good actor, I wish he was in more stuff after seeing what he can do as jock Christopher, ex to Vicki and interested in Max. Malin Akerman is charming and witty and emotionally vulnerable; she was perfectly cast in the dual roles of Amanda and the character she played, Nancy. Taissa Farmiga can be a little wooden when she's supposed to be in bad-ass Final Girl mode, but I think that bad-ass mode was actually the bad choice, not her. It's so human until the story becomes the final showdown of the movie, when it reverts to being a movie, it's kind of a letdown. Finally, I always forget Nina Dobrev can act because of Vampire Diaries, but when she's given a real character she's way better than the WB ever let her be. She plays desperate Vickie without judging her and redeems the typical Evil Beauty Queen with a remarkable act of selflessness.
But the mostly great script, strong acting, and strong directing aren't even the best part of The Final Girls. It's the message underneath.
The Final Girls isn't a slasher flick, despite all the slashing. It isn't a teen sex romp, despite all the sex jokes and the murders occurring immediately after implied nudity. It's about what we would choose to do if we knew what time we had left; if we'd accept the paths laid out for us or fight to be and do more. More than that, it offers a glimpse into breaking the stereotypes that horror movies have laid out for us. Amanda's character "Nancy" bemoans her fate as the "shy girl with the clipboard and the guitar" when she finds out there's a murderer on the loose. But with the help of her daughter, they begin to change her role in the movie. Proof that not everyone has to fit the cookie cutter mold that we've come to expect from horror (and all) movies. The shy girl can be the hero. The bitchy popular girl can be a good friend. Even the hunky football player Christopher (Ludwig) is a sensitive guy who readily admits when he is frightened, that he loves his two dads, and cries when his ex is attacked by Billy. He's a breath of fresh air.
The Final Girls challenges us to make more of our genre, but unlike Cabin in the Woods, it comes from a place of familial love. It seems to ask when you love a genre like family, wouldn't you want more for it? And when you see it achieve more, it's brilliant.
It's not perfect, but it's one of the best comedic horror movies I've seen in a long while.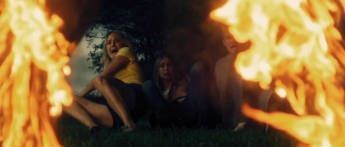 This page includes affiliate links where Horror DNA may receive a small commission at no extra cost to you.