The Gathering DVD Review

Written by Charlotte Stear

DVD released by Anchor Bay UK
Directed by Brian Gilbert
Written by Anthony Horowitz
2003, Region 2 (PAL), 92 minutes, Rated 15 (UK)
DVD released on 28th March 2011

Starring:
Christina Ricci as Cassie Grant
Ioan Gruffudd as Dan Blakeley
Stephen Dillane as Simon Kirkman
Kerry Fox as Marion Kirkman
Simon Russell Beale as Luke Fraser
Robert Hardy as The Bishop
Harry Forrester as Michael Kirkman
Jessica Mann as Emma Kirkman
Review:
Christina Ricci leads in this mysterious British horror film about a small isolated town that makes a horrifying ancient discovery.  Sound familiar? It probably does.
The story surrounds a wanderer, Cassie Grant (Christina Ricci), who on arriving in the small town of Ashby Wake is hit by a car and instantly taken to hospital by the driver, Marion Kirkman (Kerry Fox). She loses her memory and cannot remember why she is there and who she was staying with. Riddled with guilt, Marion takes her in to her lavish home that she shares with her husband and his two children. Cassie soon bonds with the children, especially their son Michael, and becomes their nanny while recovering from her accident. She starts experiencing premonitions involving Michael and some of the townsfolk and is unsure whether this is a side-effect of her injury, or something more sinister. Meanwhile, Marion's husband Simon (Stephen Dillane) has been called in to help the church with a bizarre new discovery. After a tragedy in the surrounding fields of their town, a buried church from the First Century was discovered. But what they find down there leads them to believe it was buried for a reason. These two events seem to be linked, and as Carrie's premonitions get stronger she must work out what danger the little boy is in to save his life.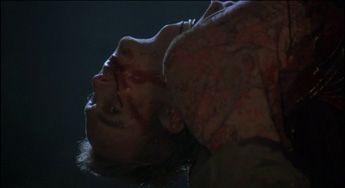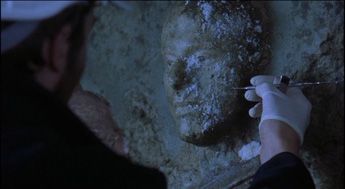 This small British horror film has a wealth of decent actors in it; Ricci still keeps her American accent but does a reasonable job of the female lead, while Ioan Gruffudd is a fine choice as a mysterious, slightly creepy townsman.  Some of the dialogue is rather cheesy and stunted and there is far too much of Christina Ricci looking around confused. Yes she has lost her memory but after an hour of slow pans of her puzzled face, we've got the point.
This is definitely more of a thriller than it is a horror, there is little to no gore which is actually a good thing. It leaves it up to the viewer to fill in the gaps and would probably take away from some of the suspense and mystery. The tension in the film does build up slowly which is good, but it often jitters around and the ending is slightly overdone.
The film has a definite Omen and Wickerman feel to it, and setting it in the West Country certainly gives it that quaint edge. That sort of isolation that works for the story though, at times, the film is in danger of becoming too clichéd.
The script was written by Children's author Anthony Horowitz, who is also known for his TV screenplays for British drama Midsomer Murders, and the strongest thing about this film is definitely the intriguing storyline. After a somewhat dreary and slow first section, interest is piqued with the revelation that the church has documentation from a witness at the crucifixion of Jesus. The crucifixion was observed  by a gathering of people who were condemned for their sins of curiosity and lust. This is when the film gets going and it could become pretty damn exciting from here on in. However, the film makers don't utilise the story enough and unfortunately the outcome is slow-paced and the scares and reveals are too few and far between to make them compelling.
After watching this film I felt an overall sense of disappointment that the filmmakers didn't realise what they could have done. It's not a bad little film, but the missed opportunities give a sense of what it could have been, and that detracts from what it is.
Video and Audio:
Both video and audio are crisp and clear for the feature. Presented in 2.35: 1 aspect ratio.
Special Features:
None
Grades:

 

Movie:
Video:
Audio:
Features:
Overall:
© 2011 Horror DNA.com. No use of this review is permitted without expressed permission from Horror DNA.com.