The Human Centipede III (Final Sequence) Movie Review
Written by Simret Cheema-Innis
DVD released by Monster Pictures
Written and directed by Tom Six
2015, 102 minutes, Rated 18 (UK)
DVD released on July 13th 2015
Starring:
Dieter Laser as Bill Boss
Laurence R. Harvey as Dwight Butler
Tom Six as Himself
Eric Roberts as Governor Hughes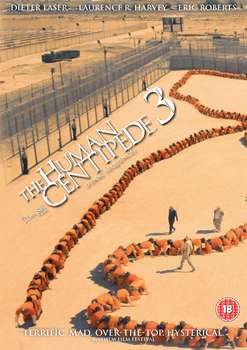 Review:
Sordid, gratuitous, grotesque and misogynistic are just a mere indicator of how the other two Human Centipede movies were received and the third doesn't stray too far from the others in tone. It provides a narrative that is laughable, but actually quite possible depending on how far you push your imagination and just where the US government could be headed if characters like Bill Boss (Dieter Laser) and Governor Hughes (Eric Roberts) were to run state penitentiaries.
In the drying desert wilderness looms a huge prison run by warden Bill Boss and his accountant sidekick Dwight (Laurence R Harvey). The two struggle to keep the prison in check with constant rioting among the inmates and general outlandish behaviour. With numerous failed punishments, including castration by hand and a meal for one, Bill Boss and Dwight find their jobs are at stake when Governor Hughes tells them to buck up their ideas or face termination.
Bill Boss is enraged with frustration but he blames the sweltering heat for his psychotic behaviour which makes him act out even more. The prisoners understandably hate him with his tried and tested punishments which have pushed them to the edge. But there's more to come.
Dwight tells Bill Boss to watch the Human Centipede movies for inspiration, his idea is to create a 500 man centipede out of the inmates which would serve as a deterrent for crime, cut down prison costs and implement new order. At first Bill Boss thinks the idea is ridiculous until he finds himself directly in the firing line.
The Human Centipede 3 is an absurd film which relies on uncouth characters pushing through the narrative to make the film watchable. It's a farce, with 100% hammed up performances by duo Dieter Laser and Laurence R Harvey, who are so ridiculous it's cringeworthy. But this is the exact point of the whole movie. There's context and the films finally have a purpose. It is to be the most shocking, repulsive and disgusting and the characters do wonderfully to advocate this. Director Tom Six even features (and vomits) in his own movie, further securing this franchise in the world of exploitative body horror, even if it's not Salo or Cannibal Holocaust.
Six has played into the notion of spectacle creep where sequels provide bigger and better sequences using the same story. In this instance Six has been able to use his sequel and final sequence to justify his story and provide audiences with one last splatterfest for the road. He has successfully taken ownership of his work while hurling his worst piece of meat towards the screen and he crosses the line several times with dialogue like, "Thank god for Africa" followed by character Bill Boss gulping down circumcised clitorises. This is just a taster of the other controversial yet humorous scenes in this movie.
The idea of creating a Human Centipede as a way to cut government costs, build new highways and residential homes is viable. After all, the Human Centipede design is "100% medically accurate" and if US government law is anything to go by, a Human Centipede sentencing wouldn't be far from reality (in some states). Again, imagination and politics is a dangerous marriage.
You'll try not to laugh during this film because it's highly offensive, but you'll catch yourself looking around to see if anyone else is laughing before you explode. Most of the movie is in such bad taste and yet so hilarious you can't help but let it rip. One could say it's comical and enjoyable in the same way as Sacha Baron Cohen movies such as The Dictator (2012) or Bruno (2009), but just the horror equivalent.
Six has created three very different films from Euro-centric clinical horror, to gritty British Noir finally settling with a commercialised US, albeit trashy, finale which is exactly what it says on the packet.
The Human Centipede 3 is a pizza and popcorn movie providing you can keep it all down.
This page includes affiliate links where Horror DNA may receive a small commission at no extra cost to you.